The fabric is a key element in the choice of a wedding dress. A high quality fabric can make even the simplest bridal dress fabulous.
Whether your bridal gown is modern or traditional, make it wonderful with our top quality 100% silk bridal fabrics, all Made in Italy.
Which fabric is best for wedding gowns?
Every fabric has its own unique properties, so be sure to choose the most appropriate for your wedding dress: silk chiffon, drap (also called silk cady), satin and georgette are perfect for wedding dresses with soft, simple, flowing lines; duchesse, taffettà, faille and shantung with their lightweight stiffness, are ideal for more structured or sculpted models; finally, organza is a lightweight and delicate fabric that can be used to make romantic and elegant bridal gowns.
Here's our guide to the most recommended fabric among silk for making wedding gowns.
---
Silk Cady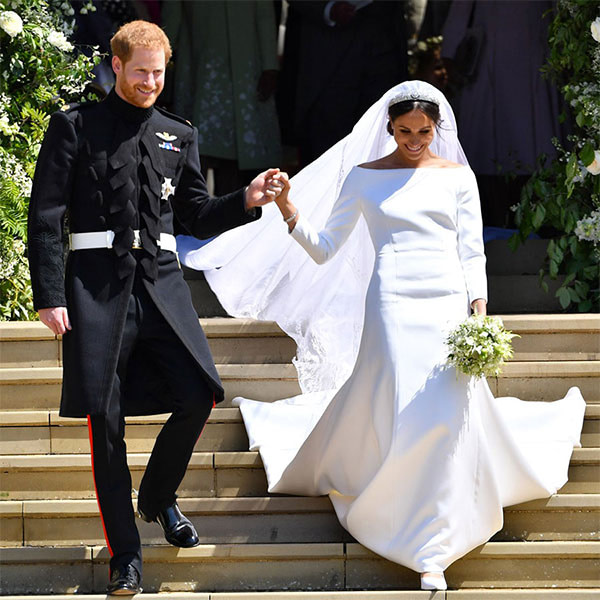 Silk drap (also called silk cady) is an elegant and classic fabric, made on lustrous silk warp yarns with a weave that is double face in weft. The weft is matte silk crepe that covers almost all of the shine of the warp.
With a fluid drap and semi-crepe texture, this fabric is well suited for making wedding dresses with an elegant and discreet look, both classic and modern.
Meghan Markle's Givenchy minimalist wedding gown was made of double-bonded silk cady cushioned by an underskirt in triple silk organza.
---
See our Silk Cady fabrics
---
Silk Chiffon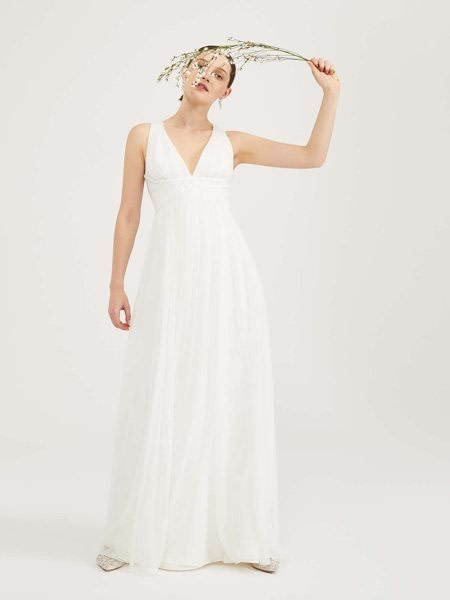 Silk chiffon is a very light fabric produced with the thinnest silk yarns on the market, soft to the touch but resistant.
Sheer and ethereal, with a matte finish, silk chiffon conveys innocence and delicate beauty. It lends itself well to hanging and draping with a natural, fluid look.
Less transparent than tulle, it can be used in layers or as an overlay to achieve a romantic and dreamy weightless cloud-like effect. It is a popular choice for sophisticated wraps around the bride's shoulders.
---
See our silk chiffon fabrics
---
Silk Crepe Back Satin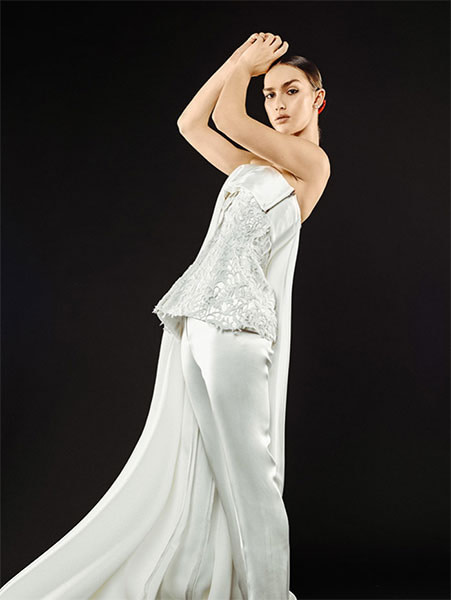 Silk crepe back satin is a fine, shiny and smooth fabric that can be a good choice for any style of wedding dress. It can be used alone to create very tightly fitting slip dresses, that slide over the body exalting the shapes or in combination with more structured fabrics, able to give support, for the creation of dresses with wider lines.
---
See our Silk Crepe Back Satin fabrics
---
Silk Duchesse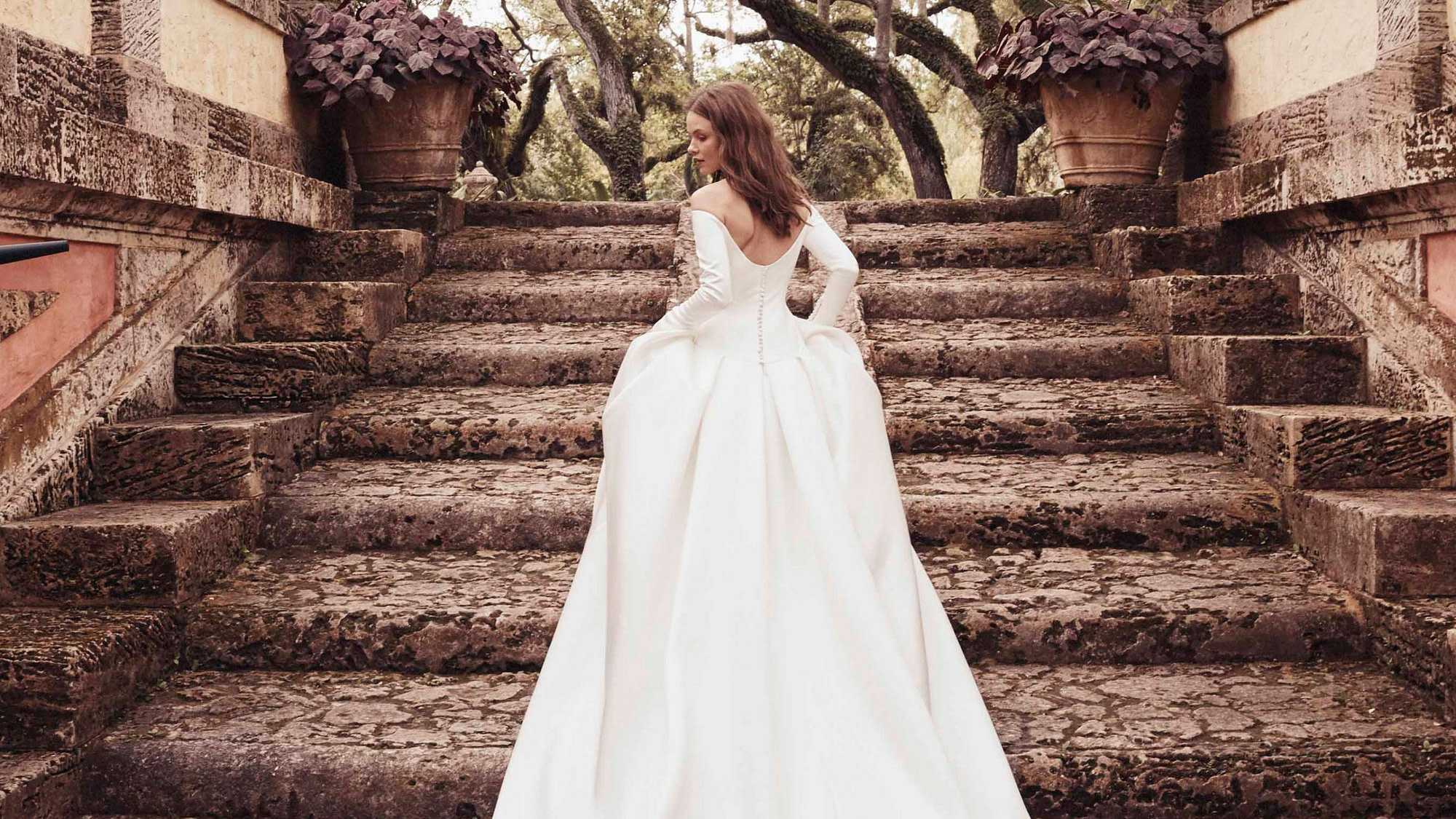 Silk Duchesse is a smooth fabric, stiff to the touch and rather firm, very comfortable to wear. What makes it so unique is its compact semi-lustrous satin shimmer. Versatile and glamorous, silk duchesse is perfect for the bride who dreams of an elegant and well-structured wedding dress, that outlines the female figure.
Princess Charlene of Monaco's Giorgio Armani wedding gown was made up of 50 metres of duchesse silk, and 80 metres of silk organza.
---
See our Silk Duchesse fabrics
---
Silk Faille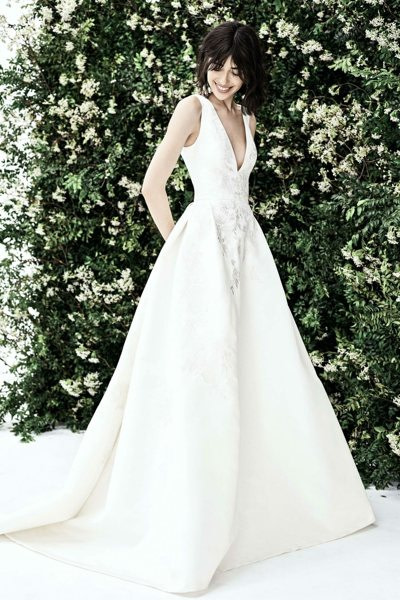 Silk Faille is a quality of taffetà, a structured fabric, rather rigid and sustained, recognizable by reliefs and regular ribs in the sense of the texture. Made of pure silk, faille is a very precious and refined fabric. In wedding dresses it is often used in combination with tulle to create large skirts with a vaporous effect.
Grace Kelly's unforgettable wedding dress had a bell-shaped skirt of ivory faille, supported by three attached petticoats, fans out into a graceful lace train.
---
See our Silk Faille fabrics
---
Silk Georgette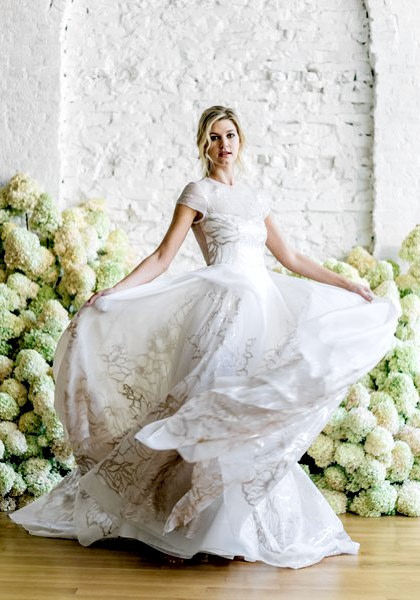 Silk Georgette is a sheer, floaty and light fabric, similar to chiffon, but a little heavier and more opaque, with a crepe surface. It is often used for wedding dress overlays and train embellishments, which can soften the silhouette of the dress. Thanks to its transparency, it can be used to give the dress a romantic and sensual touch.
---
See our Silk Georgette fabrics
---
Silk Mikado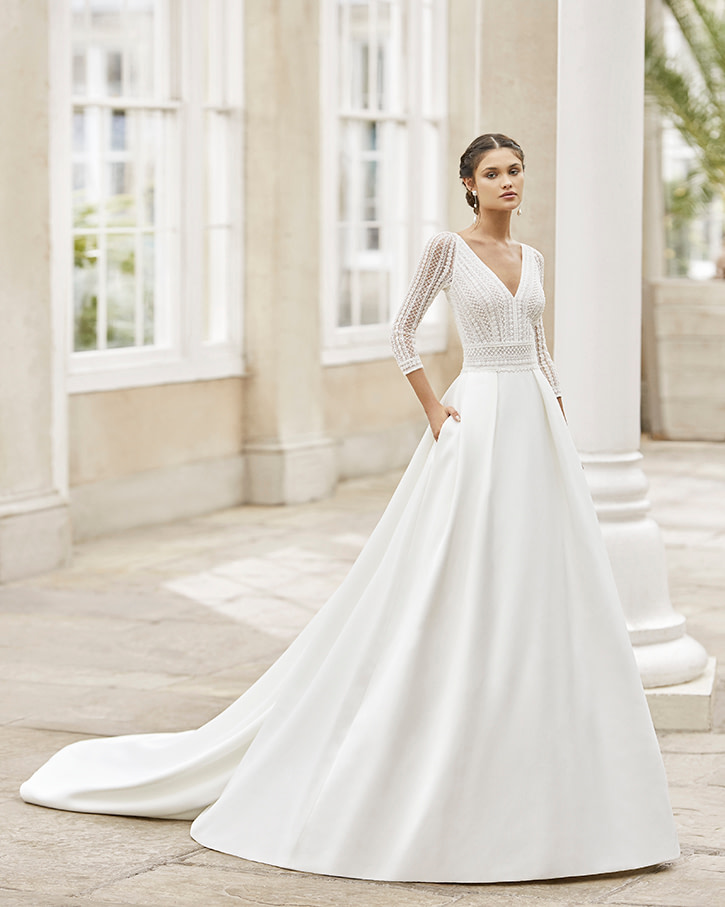 Mikado is is a precious silk fabric made according to an ancient Japanese silk processing technique, which makes the fabric slightly grainy on the surface, but at the same time shiny and extraordinarily bright.
Its stiff drape, dramatic behavior and exquisite folding capability make it perfect for the bride who wants a structured gown that will hold its shape.
This wedding dress fabric is a popular choice for fit-and-flare, trumpet, or A-line silhouettes.
---
See our Silk Mikado fabrics
---
Silk Organza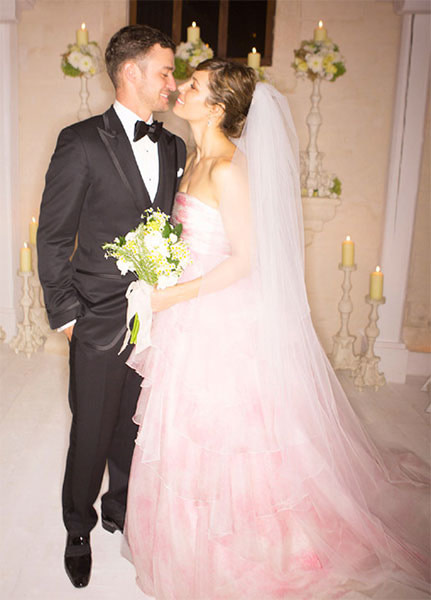 Silk Organza is a lightweight, thin, transparent and versatile fabric that looks similar to chiffon but is stiffer. It is often used in haute couture dresses, works well with many other fabrics and it's especially great for overlay embellishments, such as trains, full skirts, and wedding veils, offering brides a light, ethereal and romantic effect.
---
See our Silk Organza fabrics
---
Silk Shantung Satin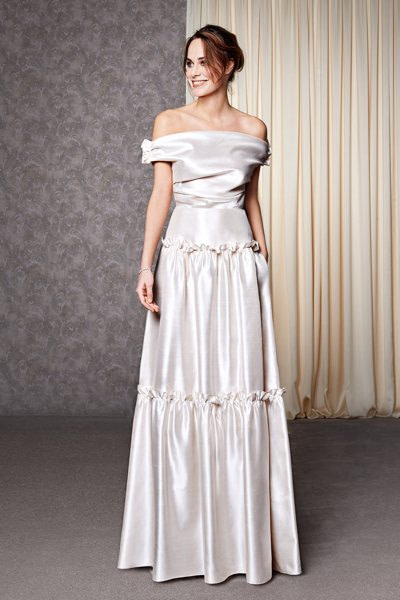 Silk Shantung Satin is a shimmery and elegant silk fabric with a unique rough and irregular surface. It is ideal for sophisticated draped style wedding gowns. Shantung satin is flattering on most every body type, provides a very elegant and rich effect and looks gorgeous in photos.
---
See our Silk Shantung Satin fabrics
---
Silk Taffettà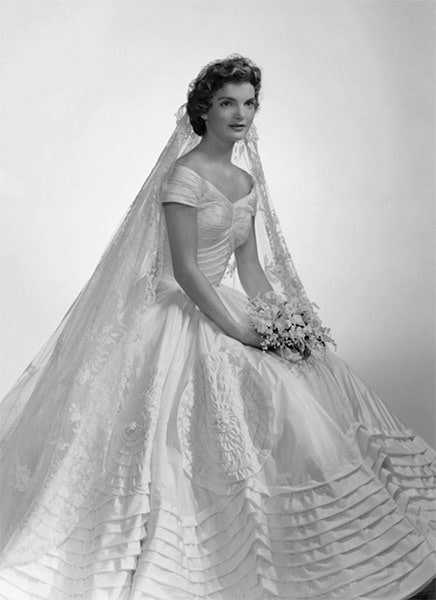 Silk Taffettà is a very tightly woven, stiff, crisp and highly structured fabric, making it an ideal bridal fabric choice for brides who want structured ball gown style wedding dresses. Taffeta has a gorgeous sheen and makes a distinctive rustling sound as it rubs against itself.
Jackie Kennedy's fairy-tale silk taffeta wedding dress is one of the most well remember and often imitated wedding looks of all time. The gown was the creation of African-American fashion designer Ann Lowe, who never received credit for it during her lifetime.
---
See our Silk Taffeta fabrics