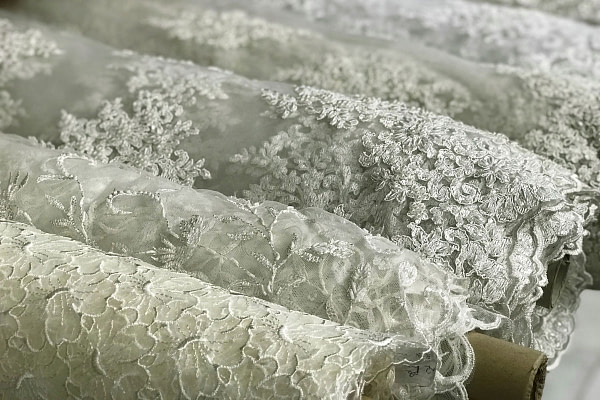 Laces & Embroidery
Explore our luxurious range of lace fabric and embroidery, perfect for creating elegant evening gowns, bridal dresses and special occasion garments.
Read more
Register to view prices, place an order or request free samples
Login / Register
75% VI, 25% PA
130 cm
301 g

/ m
Shop online our fine lace fabric and our selection of embroidered, beaded and sequined fabrics, for bridal, dressmaking, fashion, couture and sewing projects, available in beautiful colors and patterns.
When it comes to creating breathtaking bridal gowns, elegant evening dresses, and enchanting special occasion garments, one cannot underestimate the transformative power of lace fabric and embroidered tulle. These exquisite materials have long been synonymous with sophistication and grace, elevating any outfit to a level of sheer elegance.
At new tess, we take immense pride in offering a diverse range of lace fabrics and embroidery that are sure to fulfill your design aspirations.
The Timeless Allure of Lace Fabric
Lace has an enduring allure that transcends generations, making it the quintessential choice for bridal couture and eveningwear.
At new tess, our lace fabrics come in an array of colors and types to cater to every style preference, from classic black lace, a staple for evening and formal wear, to pure white or ivory lace, for brides seeking ethereal romance, from delicate pastel shades, perfect for bridesmaids' dresses or charming daywear to lace fabrics in vivid colors, for those who dare to make a statement.
Here's a glimpse into our lace fabric offerings:
Chantilly Lace: Known for its delicate floral patterns and fine ground, Chantilly lace exudes romance and femininity. It's the ideal choice for creating dreamy bridal gowns that embody timeless elegance.
Macramé Lace: With its intricate knotting and textured designs, macramé lace adds a touch of vintage charm to any garment. It's perfect for those seeking a unique, bohemian-inspired look.
Rebrodé Lace: Rebrodé lace is characterized by its bold motifs and raised designs. This lace type is perfect for making a statement with evening gowns and special occasion wear.
Among our exquisite lace fabric offerings, Dentelle de Calais-Caudry lace stands as a testament to the timeless artistry and unmatched craftsmanship that lace-making has to offer. Hailing from the historic lace-making district of Calais-Caudry, France, this lace variety carries with it a legacy of elegance and a reputation for being among the finest lace fabrics in the world.
At new tess, we are honored to offer you a curated selection of Dentelle de Calais lace in various colors and patterns, allowing you to turn your fashion vision into reality.
Refined, elegant and extremely feminine, lace fabric is experiencing a comeback and can be used in many sophisticated variations: from romantic evening dresses in "modern princess" style, to intriguing inserts in lingerie-style tops, t-shirts that play with a nude look effect, romantic skirts and dresses in urban chic style.
Embellished Elegance: Embroidered, Beaded, and Sequined Fabrics
To add a touch of opulence to your creations, consider our exquisite embroidered tulle and our fabrics embellished with beads, sequins or applications. These materials offer a shimmering, ethereal quality that's perfect for making a grand entrance at any event.
At new tess, we're committed to providing you with the best online shopping experience. We offer fast international shipping and excellent customer service, so you can shop with confidence. The price/quality ratio of our fabrics is the best you can find online.