Read this article to find out what are the Spring 2020 wedding dress trends and the dreamy bridal creations you can take inspiration from to create an unforgettable wedding dress.
As more brides are buying multiple outfits for their wedding, there's no longer a single "look" to stick to; the 2020 bride can choose a bridal blazer for the rehearsal dinner, a dramatic ball gown for the ceremony, and a short sequined dress for the reception.
Major Trends of the Spring 2020 Bridal Season
From modern takes on the classics to the most original boho-chic dresses with floral decorations or to fresh alternatives to white and ivory, these are the top styles every spring 2020 bride should have on their mood board.
---
Classic voluminous ball gown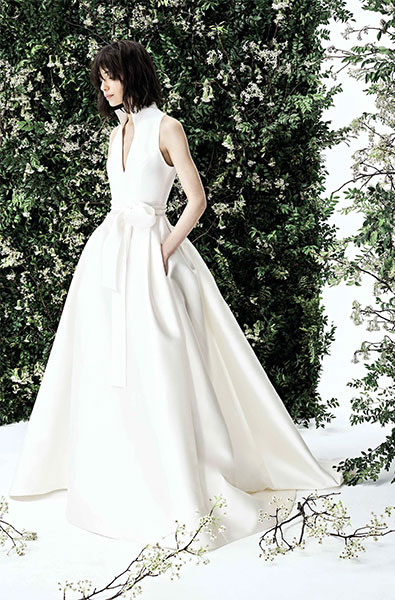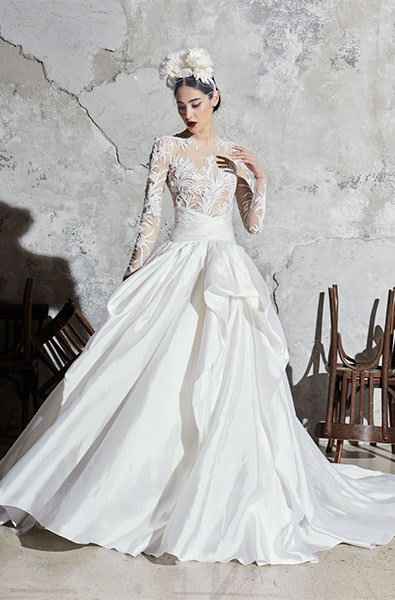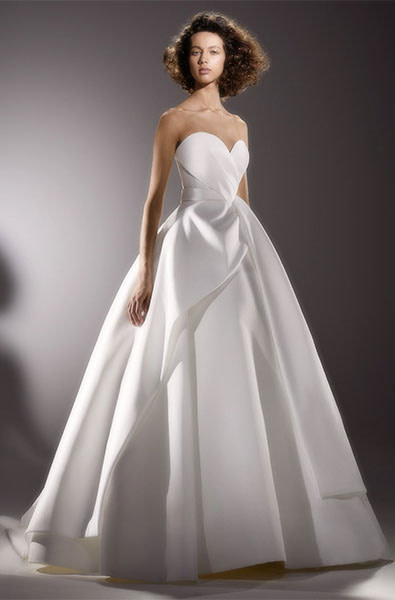 Have you been dreaming of a princess wedding dress? Don't worry, we saw plenty of traditional ball gowns that echoed an Old Hollywood era sensibility. Wide and fluffy ball gowns are presented in combination with sculpted corsets that emphasize the neckline and waist, slimming the silhouette.
The novelty is that nearly every designer spoke about how much lighter they've become: from underskirts and crinolines to embroideries, corsetry and boning, all the components that make the dress voluminous are lightening up.
Carolina Herrera "romantic dream" collection was defined by its lightness and presented many regal bridal gowns, such as the V-neck silk mikado ballgown with stand collar and detachable ribbon belt, that seems made for the modern Cinderella.
Monique Lhuillier collection is a celebration of romance where rose jacquard, duchess satin and mosaic lace transform classic silhouettes, creating an air of royalty, such as in the clean, long-sleeved ballgown in duchesse satin.
There is no lack of princely dresses, with wide skirts, in the collections of Zuhair Murad and Reem Acra, where we find models enriched with lace, embroidery and tulle.
Viktor & Rolf first look was a ball gown with an enormous rose folded at the hip, but they also showed an off-the-shoulder ball gown with a huge, deconstructed bow in the back, like a bustle and sculptural sash drape gown where a soft, modern mikado creates a charming take on the classic voluminous ball gown.
---
Multi-layered tulle skirts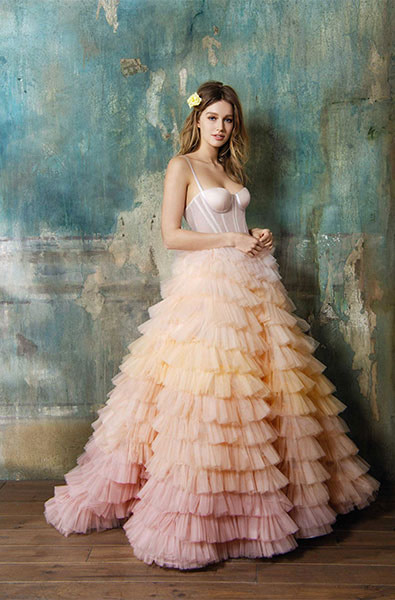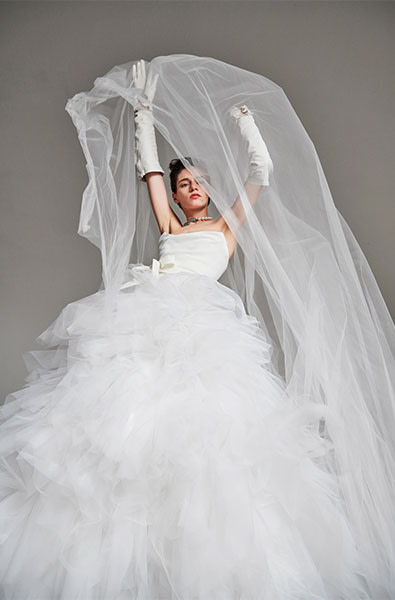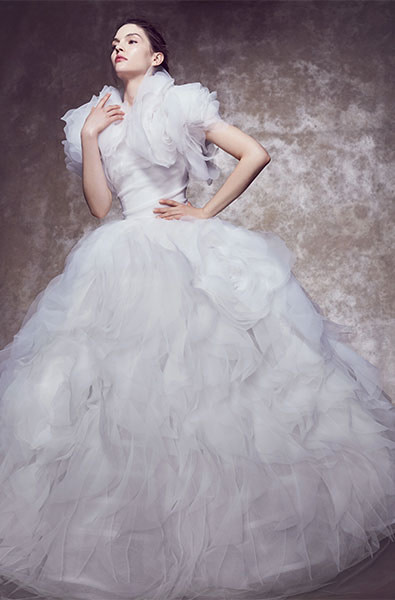 Absolutely spectacular, soft and irresistible, the cloud-like effect wedding gowns have left their mark on the 2020 bridal catwalks.
These models are characterized by a wide use of ruffles, trainers and many layers of tulle or organza.
The result? A sophisticated bride destined not to go unnoticed.
Blumarine celebrates the cloud-like style presenting a wedding dress with a lingerie-effect bodice and wide skirt in multicolored tulle ruffles.
Marchesa's Georgina Chapman and Keren Craig staged their first-ever bridal show in Barcelona, Spain, as guest designers of the city's Bridal Week. The collection staged feminine and ethereal voluminous gowns, each with a couture embellishment: 3-D petals, crystal embroideries, gigantic bows, stacked tulle rosettes.
Inspired by the original Vivienne Westwood Princess gown, the Crystal gown showcases over 90 metres of tulle in cascading rose petals.
---
Boho-chic wedding dresses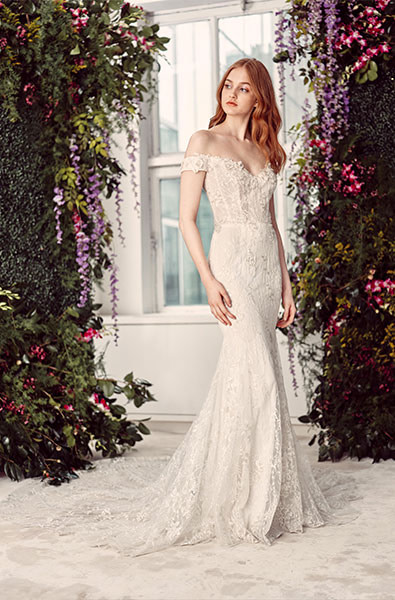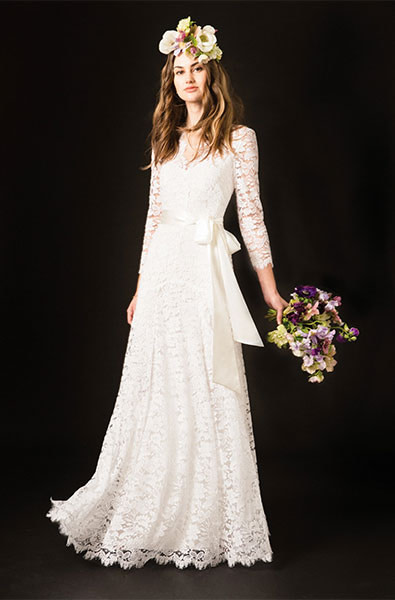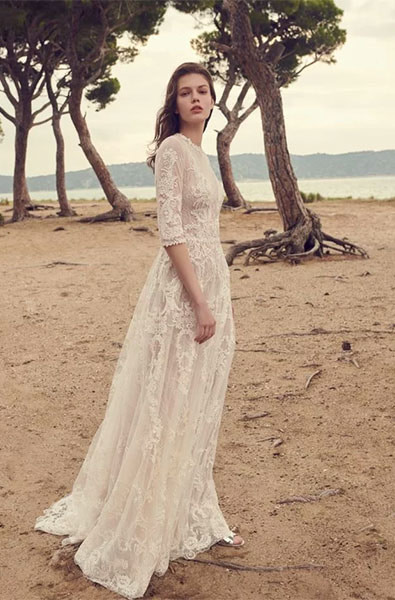 Simple but sophisticated boho or country style is widely used for 2020 wedding dresses. The floral ramage enriches these models making them even more romantic and chic: floral patterns develop on bodices, bustier, sleeves and embellish the skirt.
In the use of fabrics 2020 sets a new trend: not only lace for the boho-chic wedding dress, but also macramé, crochet and sangallo.
From the Dior ready-to-wear collection comes the inspiration for the boho-chic model. The maison for spring/summer 2020 presents a dress with perforated inserts and small flowers sewn into the fabric. Lace and chiffon are delicate.
Zuhair Murad proposes a boho-chic dress enriched with feathers, deep V-neck and meticulous floral embroidery. Quintessentially British, deeply romantic, ethereal and decadent wedding dresses, exquisitely executed from the finest tulles, silks and laces and adorned with intricate embroidery, are proposed by Temperley London.
Lace and delicate floral decorations dominate the romantic spring 2020 collections of Costarellos and Rita Vinieris.
---
Clean, ultra-minimal dresses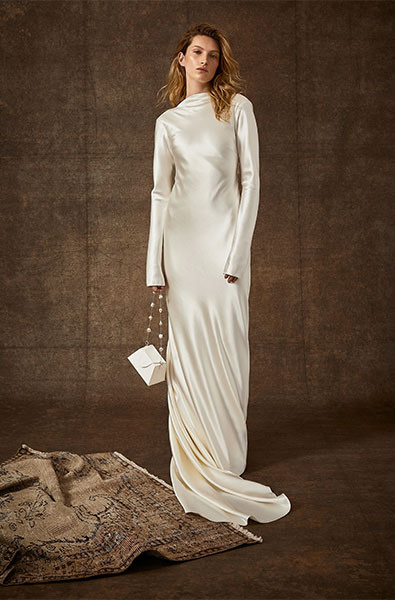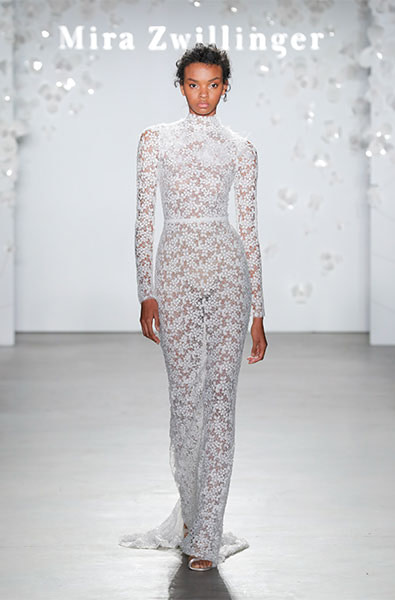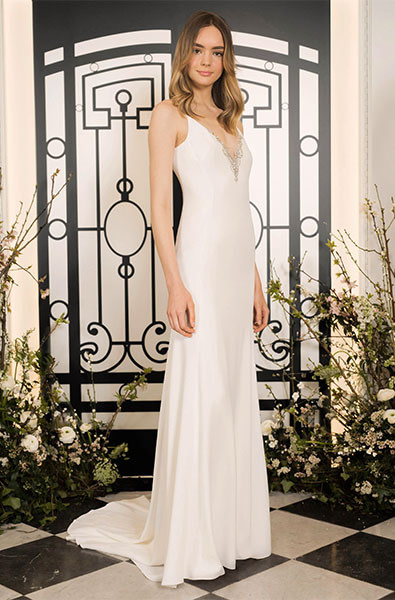 Brides-to-be with minimalist tastes will be inspired by the tapered satin dress with long sleeves proposed by Danielle Frankel, by the simple and linear dresses proposed by Amsale in different lengths or by the long and neckline lace dress in Victorian style by Mira Zwillinger.
Jenny Packham presents a pretty '90s silk satin slip paired with a beaded mini cape.
---
Bridal Blazers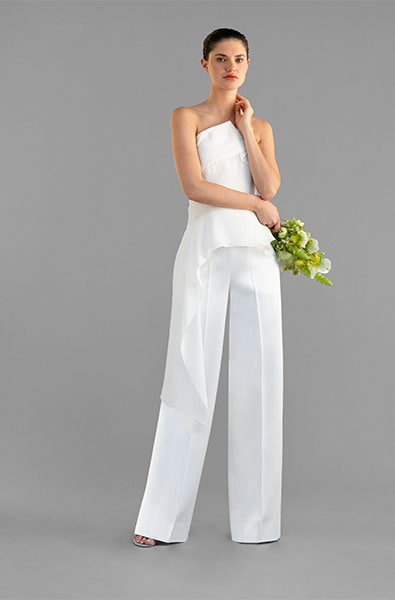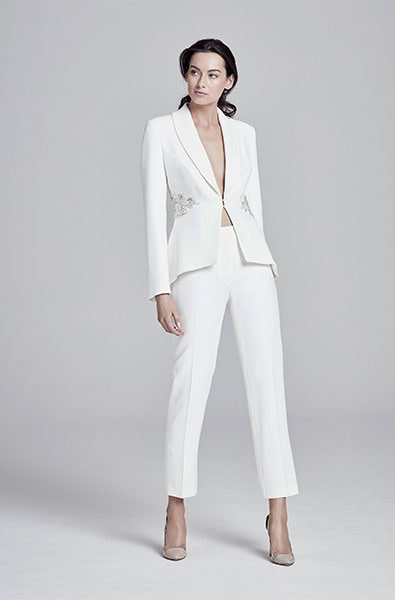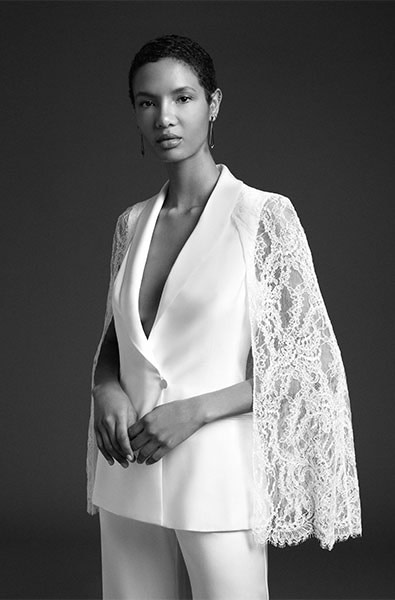 Blazers make a grand entrance into the bridal world for spring 2020.
We saw power blazers, statement-making pantsuits and trousers paired with elaborate veils and stunning accessories or even a modern take on the bridal train at Danielle Frankel, Viktor&Rolf, Roland Mouret, Cushnie, Reem Acra, Carolina Herrera and Oscar de la Renta to name a few.
---
short dresses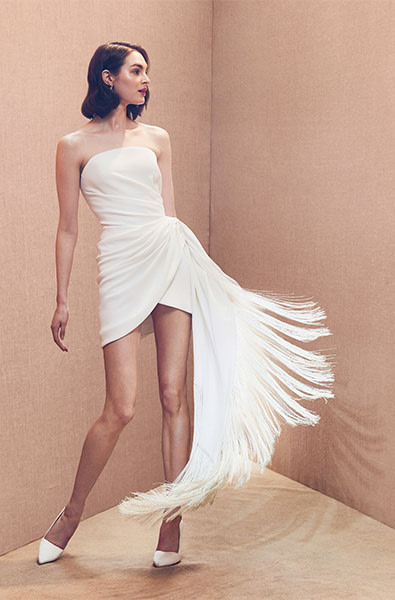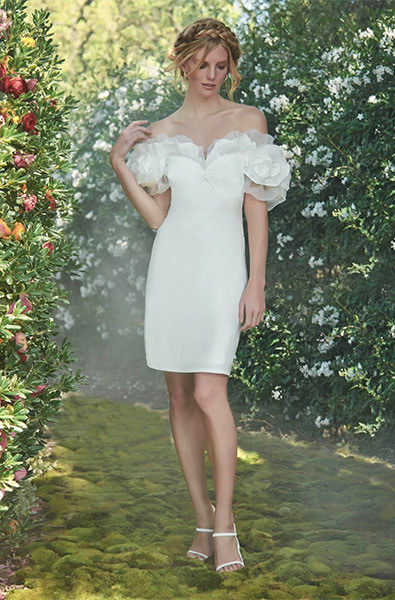 Modern brides want to feel comfortable in the dress and experiment with new lengths and silhouettes. Many of them buy a second dress to wear during the reception and this is where the mini dresses come in.
Asymmetric cuts, strategic slits, maxi pockets, balloon skirts and feathered sleeves are just some of the details that make the 2020 short wedding dresses a mix of elegance, sophistication and originality.
These dresses, able to give a trendy and refined look to the bride, represent an alternative to the classic long dress, equally refined and classy.
Max Mara presented a bustier line minidress in silk-blend duchesse.
Blumarine proposed short pink dresses with vaporous inserts in detachable tulle to allow the bride to make the dress even more comfortable at the end of the ceremony.
Oscar de la Renta opened the fashion show with a stunning fringed minidress.
Naeem Khan showed a few playful minidresses for the after-party: in lace, satin or feathers.
---
Detail research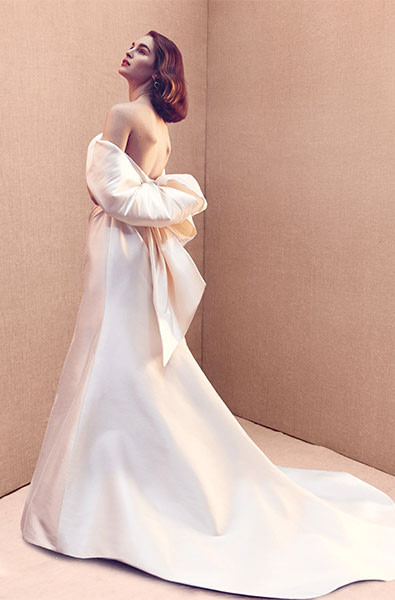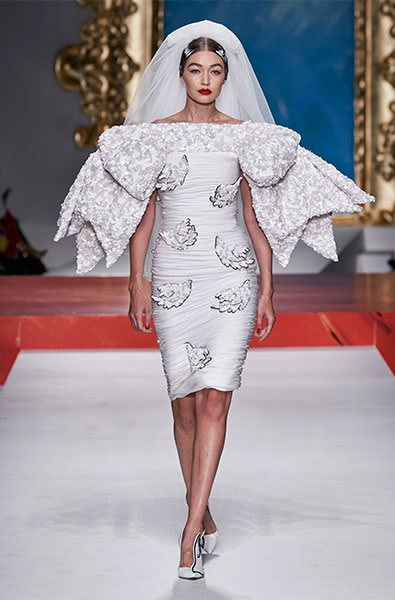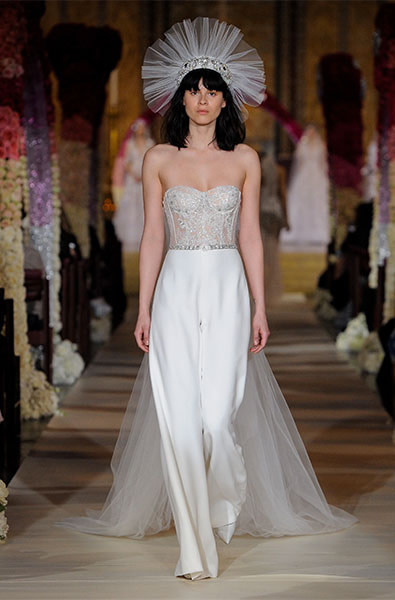 Feather Trims
We saw wispy ostrich feathers lined sleeves, necklines, and hems on several runways in white and pale pink, giving off an Old Hollywood glamour.
Jenny Packham showed an embellished tulle gown with a feather trim bolero.
Sahroo proposes a high-necked caftan with tiers and tiers of fluffy white ostrich feathers, but also a whimsical blazer crafted of luxurious raw silk and adorned in tiny, glimmering glass crystal beetles which climb up the front & fluffy ostrich feathers that flutter along the hems and sleeves.
Off-the-Shoulder Puff Sleeves
Bridal designers hit us with a wave of Renaissance-inspired off-the-shoulder dresses featuring voluminous short puff sleeves that make a statement simply by taking up space.
We saw them at Viktor & Rolf, Anne Barge, Lela Rose, Vera Wang.
Bow
The bow has always been one of the most used accessories in wedding dresses and on the catwalks of the latest collections, back to being one of the great protagonists.
Viktor & Rolf first look was a ball gown with an enormous rose folded at the hip, but they also showed an off-the-shoulder ball gown with a huge, deconstructed bow in the back, like a bustle.
Moschino proposes a romantically eccentric bride who wears with ease a short sheath dress with applications, puff sleeves and a large bow to frame the shoulders.
Oscar della Renta presents a pantsuit with a maxi bow that falls on the back like a train.
Train
Train is proposed not only on classic models, but also in the most modern pantsuits. Designers such as Gracy Accad, Oscar de la Renta and Sébastien Luke showed tailored and elegant trousers, combined with a modern version of the wedding train – sometimes in lace, or with an exaggerated bow.
---
New colours for the spring 2020 wedding dress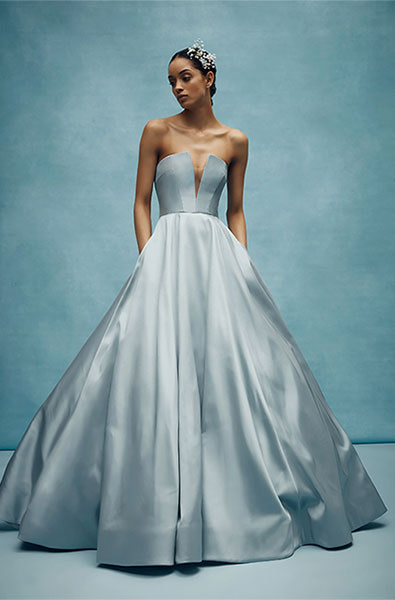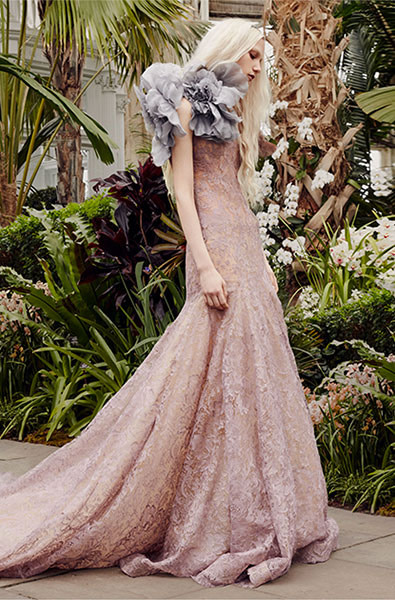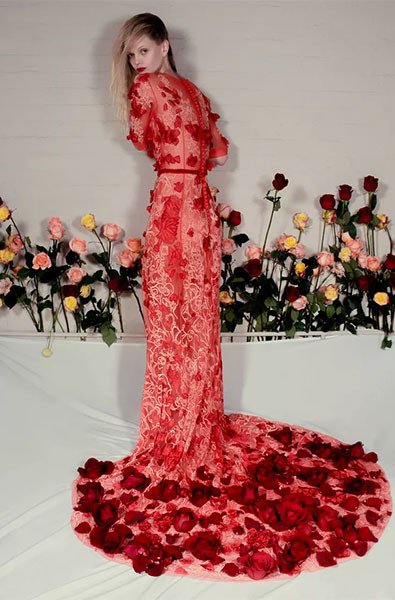 Pastel shades wedding dresses
Pastel colours, first introduced by Vera Wang years ago, have all made their appearance in the Spring 2020 bridal collections.
The classic white, never démodé, is accompanied by colours such as blush pink, champagne, soft blue, lilac and natural green, also combined together, as in the proposals of Blumarine and Willowby Watters that imagine extremely romantic "rainbow tulle" wedding dresses.
"Colors in wedding dresses is a trend we see season after season," says Lhuillier. "But brides are finally ready for it."
Ines di Santo imagined his bride as the "blue princess", proposing a mermaid dress in soft blue with pleated tulle ruffles and embroidery on the bodice. A royal blue dress is also proposed by Anne Barge.
Nicole Spose has chosen the delicacy of the champagne shade creating a princely dress with a champagne tulle skirt and lace bodice with humeral neckline.
The green proposal can be seen on the catwalks of Elisabetta Delogu, who designed an ivory chiffon wedding dress with a slight green tinge on the bottom and Monique Lhuillier, where romantic green floral embroidery recalls the theme of Italian gardens, which inspired the entire collection.
Vera Wang introduced a collection dominated by pastel colors, mixing framboise and pistache hues with moodier hits of gray, sage, and deep burgundy.
–
Red wedding dresses
The red wedding dress is the usual choice in many countries and cultures, from China to India, but they are also gaining ground in the West. The color red has historically symbolized luck, success, good omen, love, happiness and even fertility. In Indian culture, it means the rising sun; according to astrology, the planet responsible for marriages, Mars, is also red.
For brides who want to show off this colour, there is no lack of inspiration in the spring 2020 bridal collections as well as in the ready-to-wear or haute couture ones.
Hermione de Paula designed a dress with a blaze of red roses all along the length. Monique Lhuillier for the Spring 2020 ready-to-wear collection presented a dress with a voluminous silhouette, buttoned sleeves and bejewelled belt, all ruby red.
Even the most minimalist dress becomes elegant and sophisticated when made in a deep red tone. An example: the Resort 2020 red dress by Valentino elegantly draped, with high collar. Pair it with a bold earring for a beautiful and "lucky" look.
---
High-Quality Bridal Fabrics. Discover New Tess' Collection!
Discover New Tess' collection of high-quality bridal fabrics: the perfect choice for brides who want to create a unique and refined dress. Explore our wide selection of fabrics, including luxurious silks, delicate laces, intricate embroideries, and trendy floral prints, perfect for creating your custom-made wedding dress.
Browse now our exclusive collection of wedding dress fabrics and be inspired by our selection of precious and high-quality materials, to make your special day even more unforgettable.