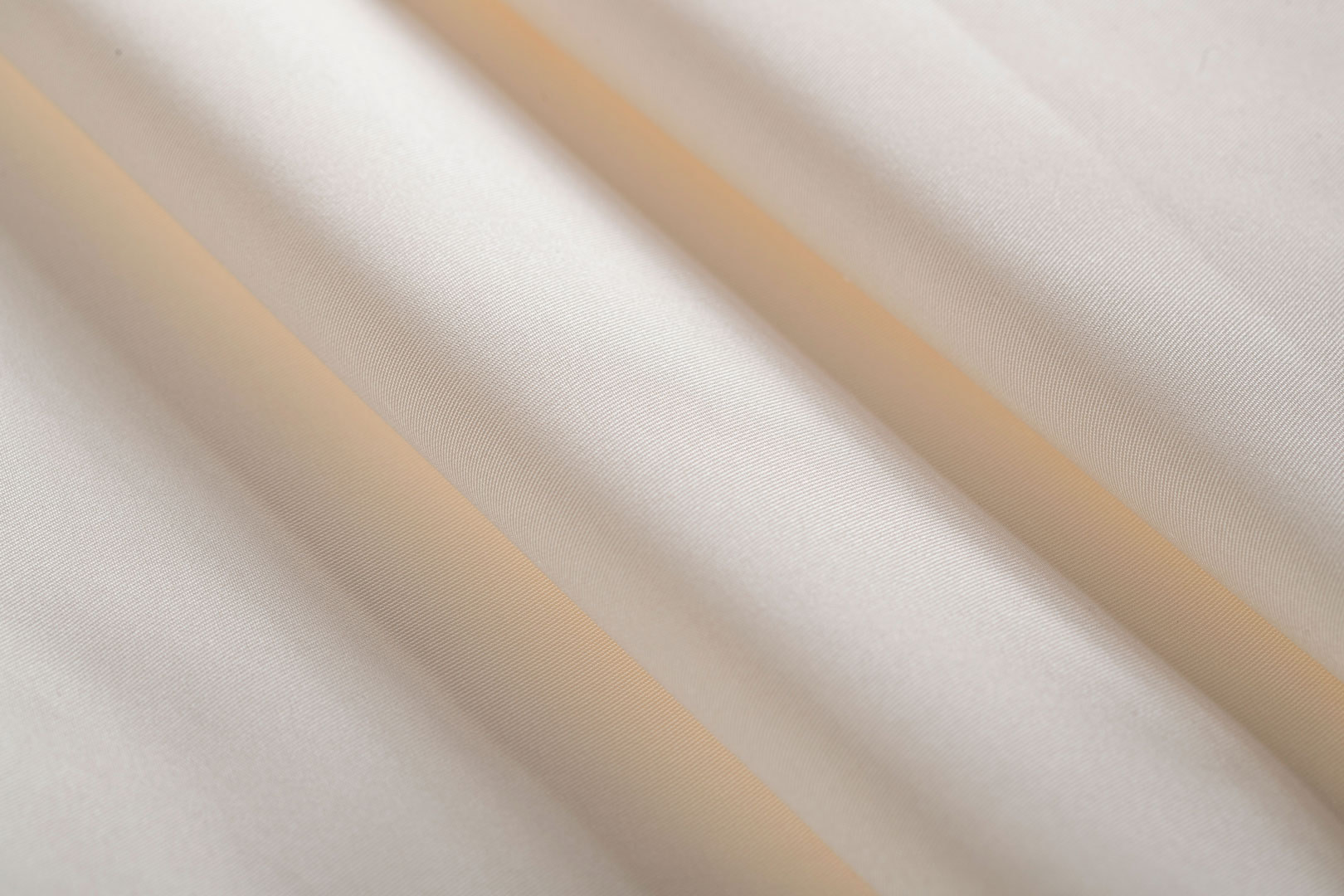 Mikado fabrics
Shop online our luxurious pure silk mikado fabric of the highest quality, made in Italy.
Our silk mikado is a luxurious and opulent fabric that exudes elegance and sophistication. Made from 100% pure silk, it is renowned for its rich texture, smooth finish, and structural integrity.
What kind of material is mikado?
It is a precious fabric made according to an ancient Japanese silk processing technique, which makes the fabric slightly grainy on the surface, but at the same time shiny and extraordinarily bright.
The name of this precious fabric is the same term used to refer to the emperor of Japan.
Mikado fabric is characterized by its weight and stiffness, which gives it a structured and voluminous appearance, making it perfect for creating glamorous and statement-making garments.
The stiff drape of the raw silk in the warp plays with the softness of the weft. The weave is double weft, the warp does not appear because it is used to give the support and stiffness typical of luxury fabrics. The weft softens and gives shine to the fabric.
One of the standout qualities of silk Mikado fabric is its incredible luster. The fabric possesses a natural sheen that catches the light, adding a touch of luxury to any design. The luminosity of the fabric enhances the richness of colors, making them appear more vibrant and captivating.
For which garments is mikado suitable?
Silk Mikado is a sumptuous and striking fabric that adds a touch of glamour to any garment. Its dramatic behavior and exquisite folding capability work well for bold and structural silhouettes and architectural designs.
Silk Mikado fabric is also highly versatile, allowing for a wide range of design possibilities. It is commonly used in creating bridal gowns, evening dresses, cocktail dresses, and formal attire.
Its luxurious feel and stunning appearance make it a popular choice for special occasions, where the aim is to make a statement and stand out from the crowd.
Draping qualities of mikado.
With its substantial weight and subtle sheen, silk mikado creates structured and sculptural designs that make a bold statement.
One of the exceptional characteristics of silk mikado is its ability to hold its shape while still providing a beautiful drape. The fabric possesses a crisp and slightly stiff texture that allows it to effortlessly maintain its form, creating clean lines and precise folds. Whether you envision a voluminous ball gown or a tailored cocktail dress, silk mikado delivers a structured silhouette with an elegant drape.
The substantial weight of silk mikado gives it a unique presence. It drapes and falls gracefully, creating a sense of opulence and grandeur. The fabric's ability to hold its shape adds a sculptural quality to the garment, accentuating the wearer's figure and adding a touch of drama to the overall design.
Watch the following video to get a better idea: