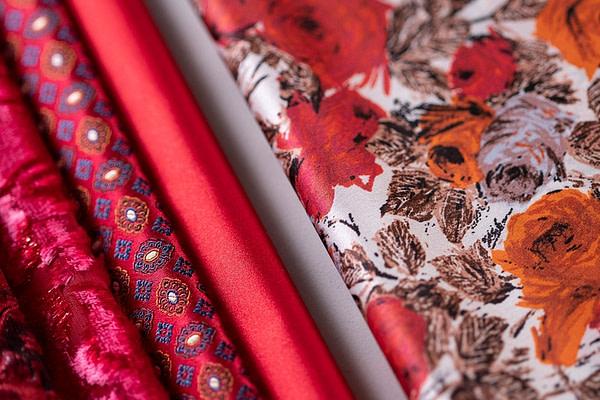 Red fabrics
Unleash the power of passion with our exquisite Red Fabrics for dressmaking and high fashion.
In this section you can find our wide selection of plain, woven, printed, embroidered, velvet and sequined red fabrics in silk, cotton, linen, wool, viscose or polyester, perfect for creating exclusive garments.
Read more
Register to view prices, place an order or request free samples
Login / Register
new
Elegant and Glamorous: Exploring the World of Red Fabrics for Dressmaking and High Fashion
Red has long been associated with haute couture, symbolizing boldness and a willingness to stand out. It is an embodiment of passion, confidence, and timeless allure. Our carefully curated collection of red fabrics is designed to infuse your wardrobe with vibrancy and elegance. Whether you're a fashion maven seeking bold statements or a designer aiming to capture attention, our red matrials are the perfect choice to elevate your style.
The Allure of Red Fabrics
Our red materials are a celebration of the striking and captivating nature of this timeless hue. From deep, sultry shades to vibrant, fiery tones, each fabric in our collection is chosen for its ability to radiate elegance and make a powerful fashion statement. Embrace the allure of red, a color that transcends seasons and trends.
Versatility for Every Occasion
Red is a color that effortlessly transitions from casual chic to formal elegance. Our red textiles provide the versatility to create a spectrum of designs, from everyday wear to show-stopping evening gowns. Whether you're designing for a special event or aiming to turn heads on the street, our red fabrics are your key to making a memorable impact.
For those who dream of capturing the spotlight, our red fabrics are the epitome of red carpet glamour. Imagine walking into an event adorned in a gown that not only fits perfectly but also radiates confidence and sophistication. Our red fabrics guarantee a show-stopping entrance that will be remembered long after the event concludes.
Impeccable Quality
Our red fabrics are sourced from the finest materials and undergo rigorous quality checks to ensure that they meet the highest standards. The result is a collection of fabrics that not only look exquisite but also feel luxurious against the skin.
At new tess, we're committed to providing you with the best online shopping experience. We offer fast international shipping and excellent customer service, so you can shop with confidence. The price/quality ratio of our fabrics is the best you can find online.
To touch our fabrics and see the different colours, you can order our
Sample Sets
(only available for plain fabrics in continuous stock).