Getting married in winter is magical, and winter wedding dresses prove it.
Discover the most popular trends and fabrics for fall-winter 2023/2024 wedding dress.
The models presented at New York bridal week range from classic to modern, from laborious to minimal, from romantic with precious details such as lace sleeves and floral appliqués to sensual with fitted lines and bold details.
Here are the trendy fall-winter 2023/2024 wedding dresses.
---
Princess wedding dress/ballgown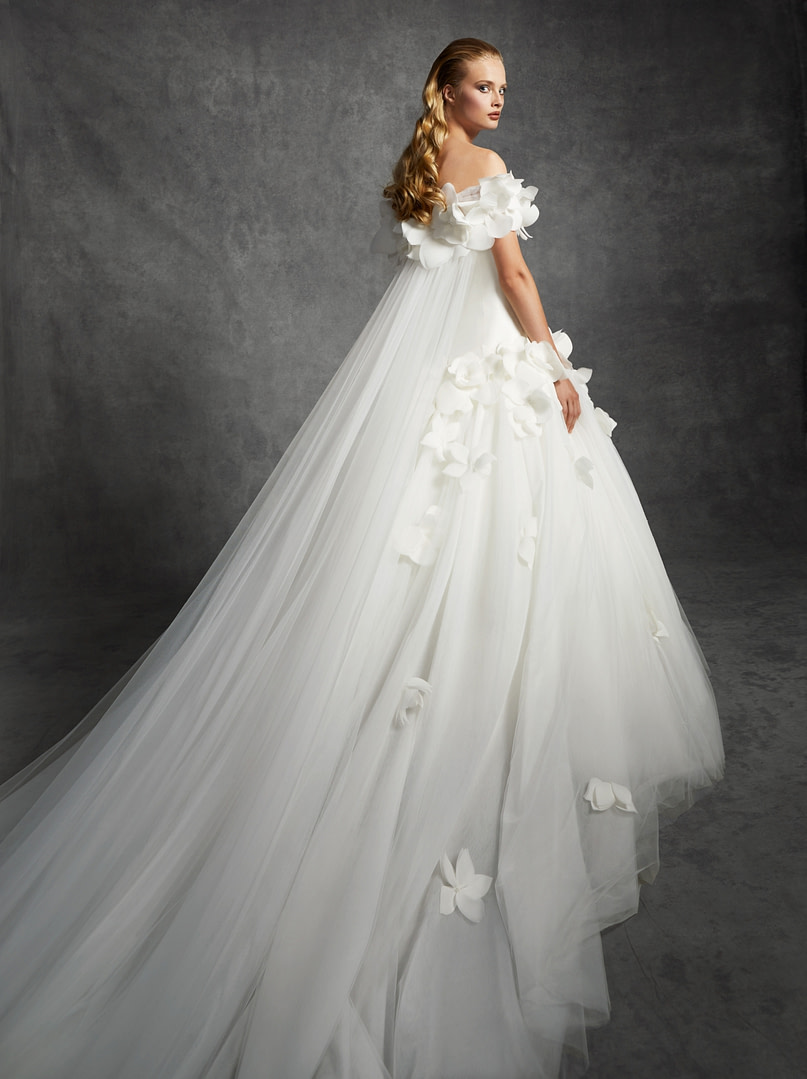 For the Fall/Winter 2023-2024 season, many designers presented voluminous ball gowns.
The Viktor&Rolf brand for Fall/Winter 2023 made wide ball gowns adorned with organza flowers.
Elie Saab's Bridal Fall 2023 collection features breathtaking gowns inspired by the beauty of Ancient Greece embellished with delicate details such as laurel leaves, sequins and bead embroidery. The ball gowns exude femininity and beauty as well as a majestic and regal appeal. Chantilly lace blooms on sweetheart necklines and translucent sleeves in princess dresses open at the back.
For Fall 2023, Zuhair Murad's bride is distinguished by grace and sophistication. Precious, opulent, finely crafted models abound, such as a princely lace wedding dress with a veil and tiara.
The ball gown also makes an appearance in Monique Lhuillier's elegant, floral fall 2023 bridal collection, which offers a ballgown with thin tulle straps with floral embroidery, and in Justin Alexander's with a beaded gown, soft tulle flounced skirt and slit.
new tess offers a selection of precious lace (Chantilly lace, macramé lace, rebrodé lace) and embroidery ideal for making an enchanting and princely ballgown wedding dress.
---
Wedding dress with simple lines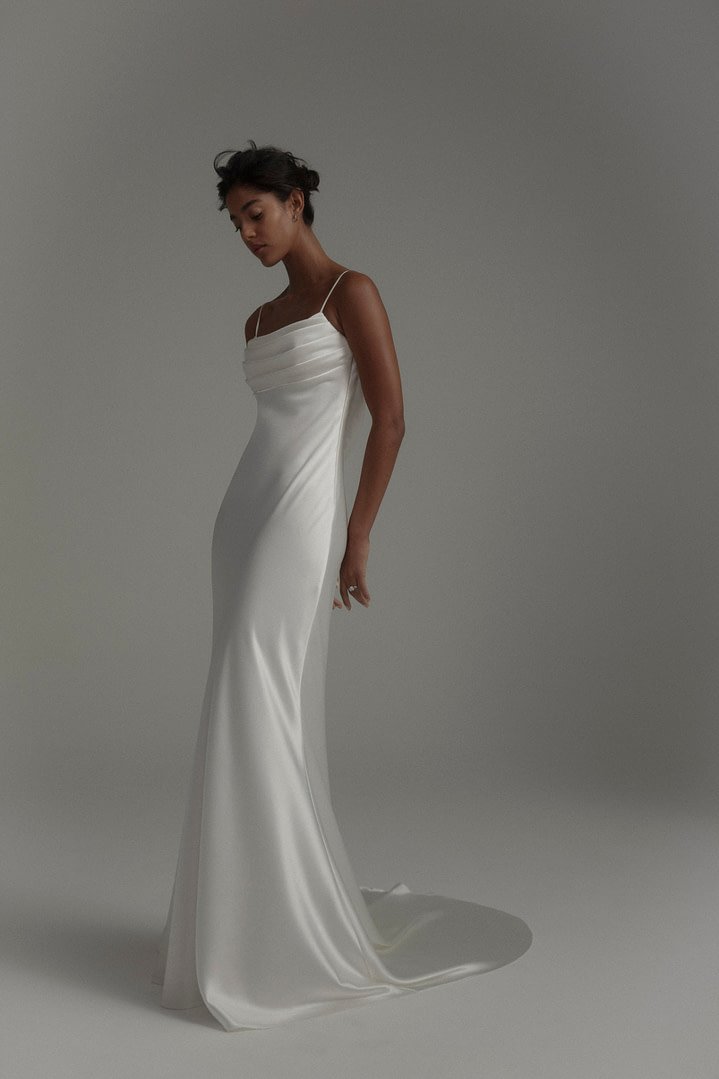 Simplicity is never a flaw especially when combined with the right amount of elegance and sophistication.
Savannah Miller knows this well, and for the cold season of 2023 she offers simple, flowing bridal gowns that are distinguished by clean lines and a lack of embellishment. The focus is on the cut of the dress, the sartorial construction and the quality of the fabric (silk, shantung satin and mikado).
Pronovias by Vera Wang uses simple lines for a strapless mermaid gown with a Victorian-style ruffled collar; Amsale presents a linear wedding dress that is very dramatic thanks to the deep back neckline.
Linear silhouettes, minimal elegance, and fine fabrics also represent the choice of Jenny Yoo and Maticevski's fal-winter 2023/2024 collections.
new tess offers a wide selection of the best Italian silks for wedding dress, in solid colors or floral patterns perfect for creating a minimalist gown with refined elegance.
---
Short wedding dress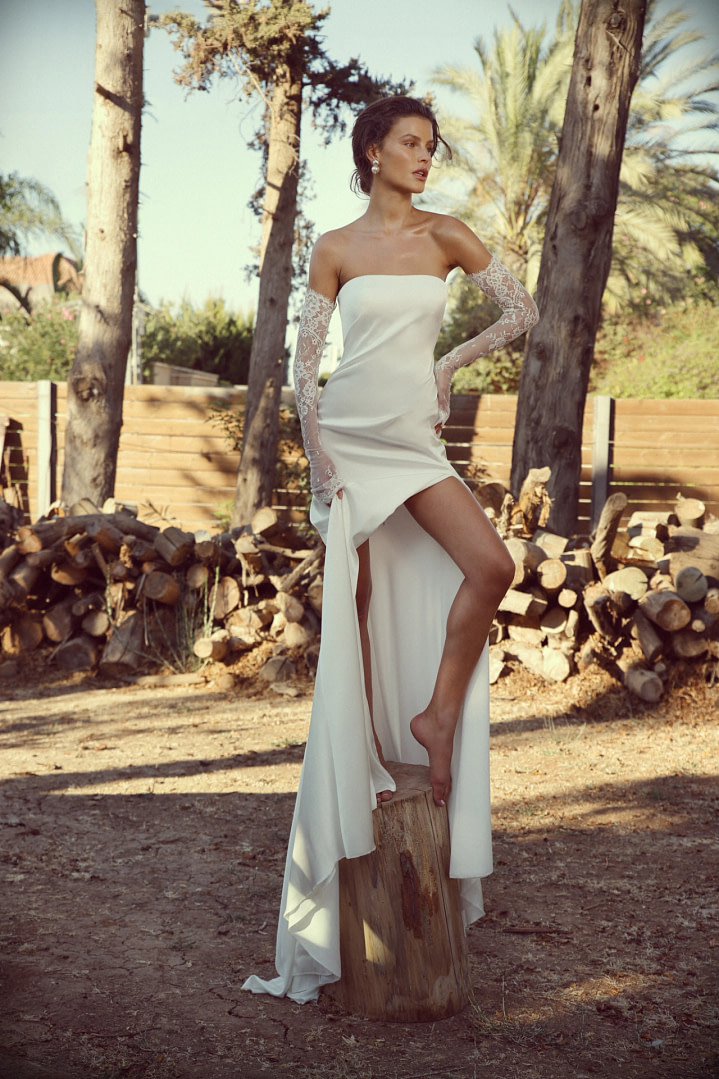 Who says the short dress is not fashionable in the cold season? Wearing a short wedding dress is a precise style choice in which innovation, comfort and understated elegance are blended.
Sareh Nouri for the fall 2023 collection designs a sculptural short dress covered with applied flowers; Theia a mini dress with sequins; Christie Nicole a short wedding dress with floral details, puff sleeves and beads.
Amsale, Monique Lhuillier and Kim Kassas offer the mini dress with long train and tulle tails, combining the freshness of the short dress with the classic design of a wedding gown.
new tess offers a selection of fine appliqués with beads and rhinestones embroidery, beautiful sequin embroidery fabric and tulle with applications perfect for making a precious mini wedding dress.
---
Wedding dress with flowers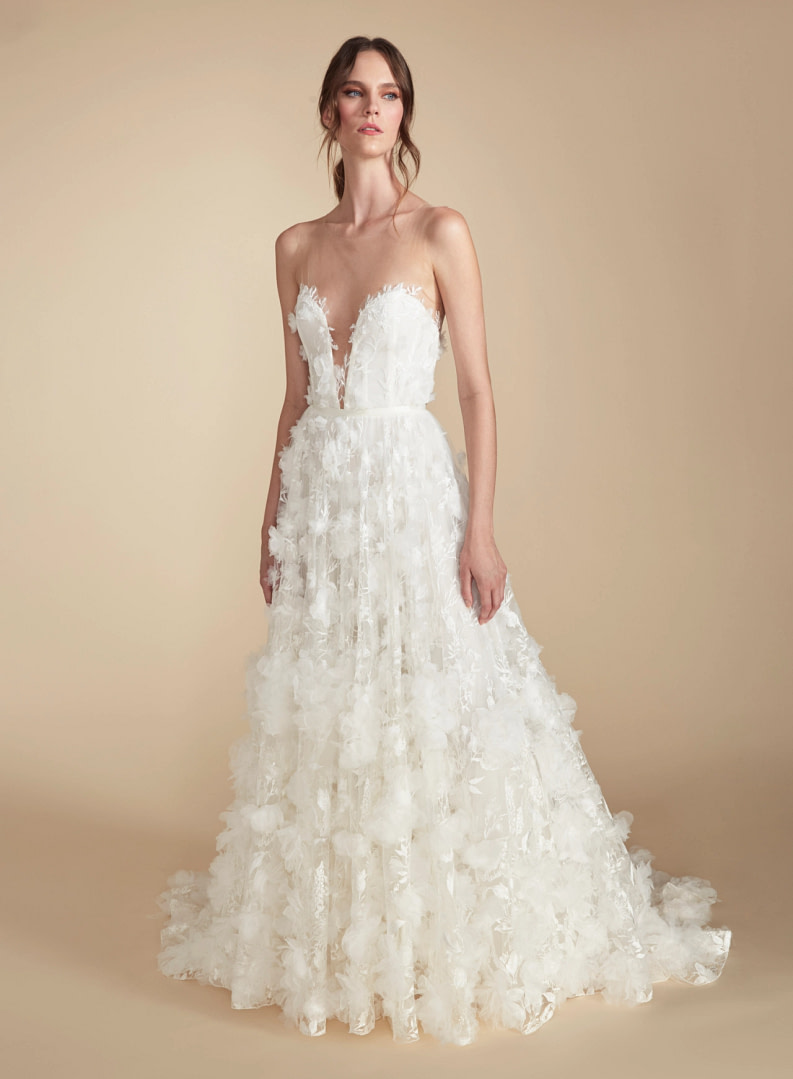 Although floral motifs are normally associated with the spring season, they are equally suitable for a fall wedding.
The Claire Pettibone brand offers for the fall-winter 2023/2024 bride gowns with floral details to adorn slinky silhouettes and light fabrics.
Marchesa Notte, Ines di Santo and Hermione De Paula also use embroidered tulle and floral appliqués to embellish wedding dresses and accessories.
Justin Alexander's Bridal Fall 2023 collection features a fine wedding dress in stretch crepe with 3-D flowers; a floral Chantilly lace gown with long sleeves and a low back; and a lace and tulle gown with detachable straps and a chapel train covered with flowers and leaves.
Madeline opens the fall 2023 collection with a wide skirt covered with embossed fabric roses.
A riot of flowers is showcased by Monique Lhuillier, which pays homage to the splendor of wildflowers and French embellishments in its fall 2023 bridal collection, offering exaggerated hemlines, sculpted bodices, bold botanical prints, and sumptuous textures.
new tess offers a selection of high-quality floral wedding dress fabrics (brocades, jacquards, prints and embroideries in silk, silk blend, viscose or polyester), as well as lace and tulle with floral embroidery and appliqués.
---
Wedding dress with feathers, pearls, sequins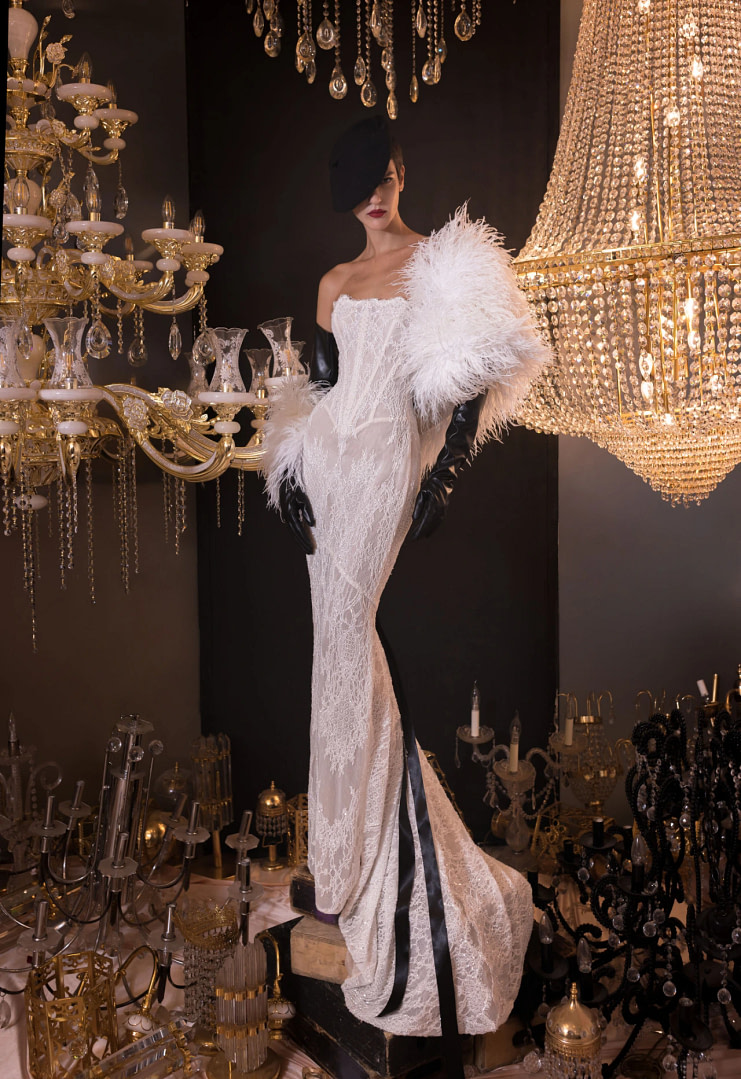 Feathers, feathers and more feathers the winter bride is covered in feathered appliqués and fabrics. Whether the fabric is white, pink or, for the most daring black, feathers on the wedding dress are always a chic, refined and trendy choice.
Rami Al Ali offers a gown with a minimal design embellished with feathers on the neckline; Christie Nicole uses feathers as a finishing touch on the sleeves of her wedding dress; Galia Lahav adorns the hem of the skirt with a feathered fabric; Kelly Faetanini chooses a black feathered fabric for a refined and glamorous wedding dress; and Lela Rose uses a fabric with feathers and flowers for a short dress.
Feathered fabrics giving movement and gracefulness to wedding dresses are the perfect choice for choreographed and elegant looks.
Feathers are not the only choice to embellish the gown, many brands (Atelier Couture, Elie Saab, PatBo, Eve of Milady, Kim Kassas, Claire Pettibone) have made wedding dresses with fabrics embroidered with sequins and pearls.
new tess offers beautiful fabrics embellished with embroidery, luxurious pearls and sequins to create a dream wedding dress.
---
Wedding dress with slit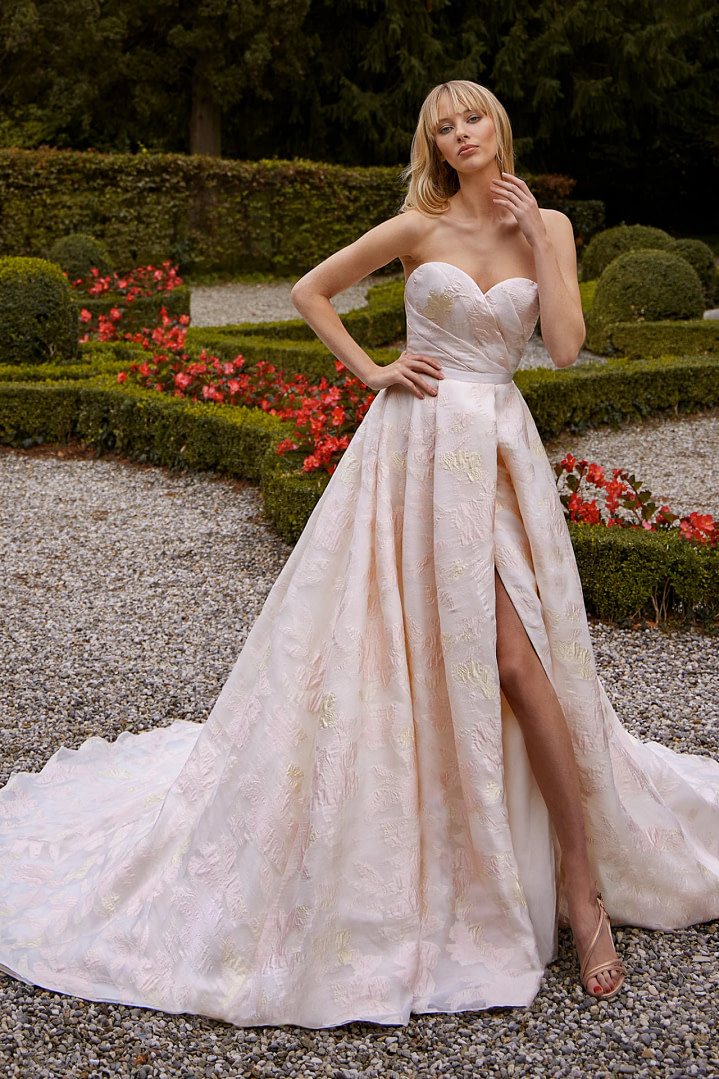 In the fall winter 2023 bridal collections we see a great use of the side slit. Synonymous with sensuality and femininity, the slit gives movement to the dress without sacrificing elegance.
Arava Polak and Atelier Pronovias use the side slit on an embroidered lace dress with a wide V-neckline; Rebecca Schoneveld and Savannah Miller on wedding dresses with simple lines and a train; Badgley Mischka on a dress with gold appliqués and a boat neckline with ruffles in the light blue shade; Ines di Santo on an asymmetrical dress with puffed sleeves.
The side slit on the dress is also found in the fall winter 2023/2024 bridal collections of Madeline Gardner, Katherine Tash, Nadia Manjarrez.
new tess offers a wide selection of the most beautiful Italian wedding dress silks, in solid colors or with floral patterns perfect for creating a dress with a slit.
---
High-Quality Bridal Fabrics. Discover New Tess' Collection!
Discover New Tess' collection of high-quality bridal fabrics: the perfect choice for brides who want to create a unique and refined dress. Explore our wide selection of fabrics, including luxurious silks, delicate laces, intricate embroideries, and trendy floral prints, perfect for creating your custom-made wedding dress.
Browse now our exclusive collection of wedding dress fabrics and be inspired by our selection of precious and high-quality materials, to make your special day even more unforgettable.