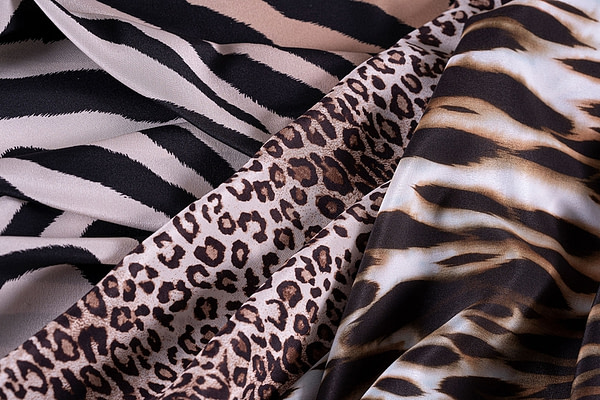 Animal Print Fabrics
Explore our luxurious range of fine animal print fabrics for apparel and fashion, perfect for creating elegant and bold dresses, blouses, trousers, jackets and light coats.
Whether you're looking for a touch of the exotic or a bold statement piece, our fabrics provide the canvas for your unique style.
Read more
Register to view prices, place an order or request free samples
Login / Register
Step into the untamed allure of the wild with our captivating range of animal print fabrics. At new tess, we've curated a collection that seamlessly merges fashion with the untamed beauty of the animal kingdom. Discover the essence of the jungle, printed or woven into fabrics that redefine style.
Leopard Print: Ferociously Chic
Channel your inner wildcat with our leopard print fabrics. The distinctive spots exude a ferocious chicness that's perfect for making a bold statement. Whether you're creating a sassy blouse or a daring dress, leopard print adds an element of fierce sophistication to your wardrobe.
Zebra Stripes: Timeless Elegance
Unveil the classic allure of zebra stripes. With their timeless black and white palette, these fabrics are a symbol of elegance and style. Perfect for dresses, skirts, or statement jackets, zebra stripes offer a refined yet adventurous touch to your fashion repertoire.
Snake Print: Serpent-Inspired Glamour
Embrace the allure of the serpent with our snake print fabrics. From subtle, muted patterns to bold and vivid designs, snake prints exude a mysterious glamour. Elevate your fashion game with dresses, blouses, or accessories that capture the slithering beauty of the reptile kingdom.
Cheetah Spots: Speed and Style
Get ready to sprint into style with our cheetah spot fabrics. Representing speed and agility, cheetah spots make a striking addition to your wardrobe. Incorporate them into skirts, jumpsuits, or statement coats for a look that's as fierce as it is fashionable.
Tiger Stripes: Strikingly Bold
Unleash your bold side with our tiger stripe fabrics. The distinctive stripes convey strength and power, making them the perfect choice for those who dare to stand out. From chic blazers to edgy trousers, tiger stripes make a bold fashion statement.
At new tess, we believe that fashion is an expression of individuality. Our animal print fabric collection allows you to infuse your wardrobe with the untamed spirit of the wild.