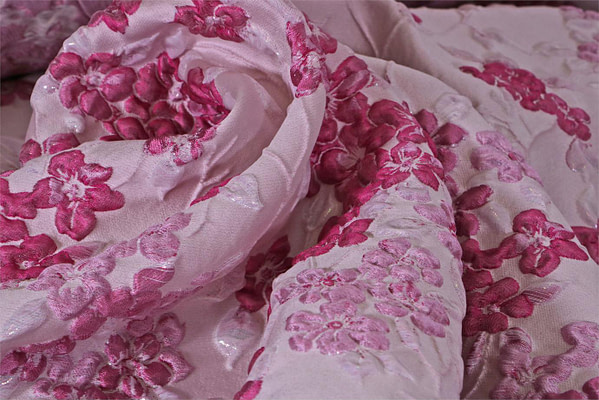 Jacquard
Explore our luxurious range of Jacquard Fabrics for apparel and fashion, perfect for creating elegant gowns, special occasion garments, dresses, jackets and light coats.
Read more
Register to view prices, place an order or request free samples
Login / Register
32% PL, 30% PA, 24% PM, 14% SE
128 cm
196 g

/ m
What is Jacquard fabric?
Jacquard fabric is a true masterpiece of textile art, where craftsmanship and creativity merge to create intricately detailed and complex designs. This technique is named after Joseph Marie Jacquard, the ingenious inventor of the Jacquard loom in 1801, which revolutionized the entire textile industry by enabling the production of fabrics adorned with highly detailed patterns.
A Wide Selection of Elegant and Versatile Jacquard Fabrics
new tess offers a broad range of elegant and versatile jacquard. These fabrics feature floral, geometric, and abstract designs, making them perfect for creating unique clothing pieces.
Jacquard Fabric: Diverse Weights and Fiber Options
Jacquard fabric comes in various weights and can be crafted using a variety of fibers, including natural silk, wool, cotton, polyester, and synthetic acrylic. Additionally, some of these fabrics boast raised patterns, such as matelassé or brocade. This diversity of fabrics offers an infinite array of color combinations and shades.
Discover the Timeless Beauty of new tess Jacquard Fabrics
Let yourself be inspired by the timeless beauty of our Jacquard fabrics at new tess to create truly extraordinary garments. Whether you're designing an outfit for a special occasion or seeking to add a touch of refinement to your everyday life, our fabrics provide unparalleled versatility and unbeatable quality.