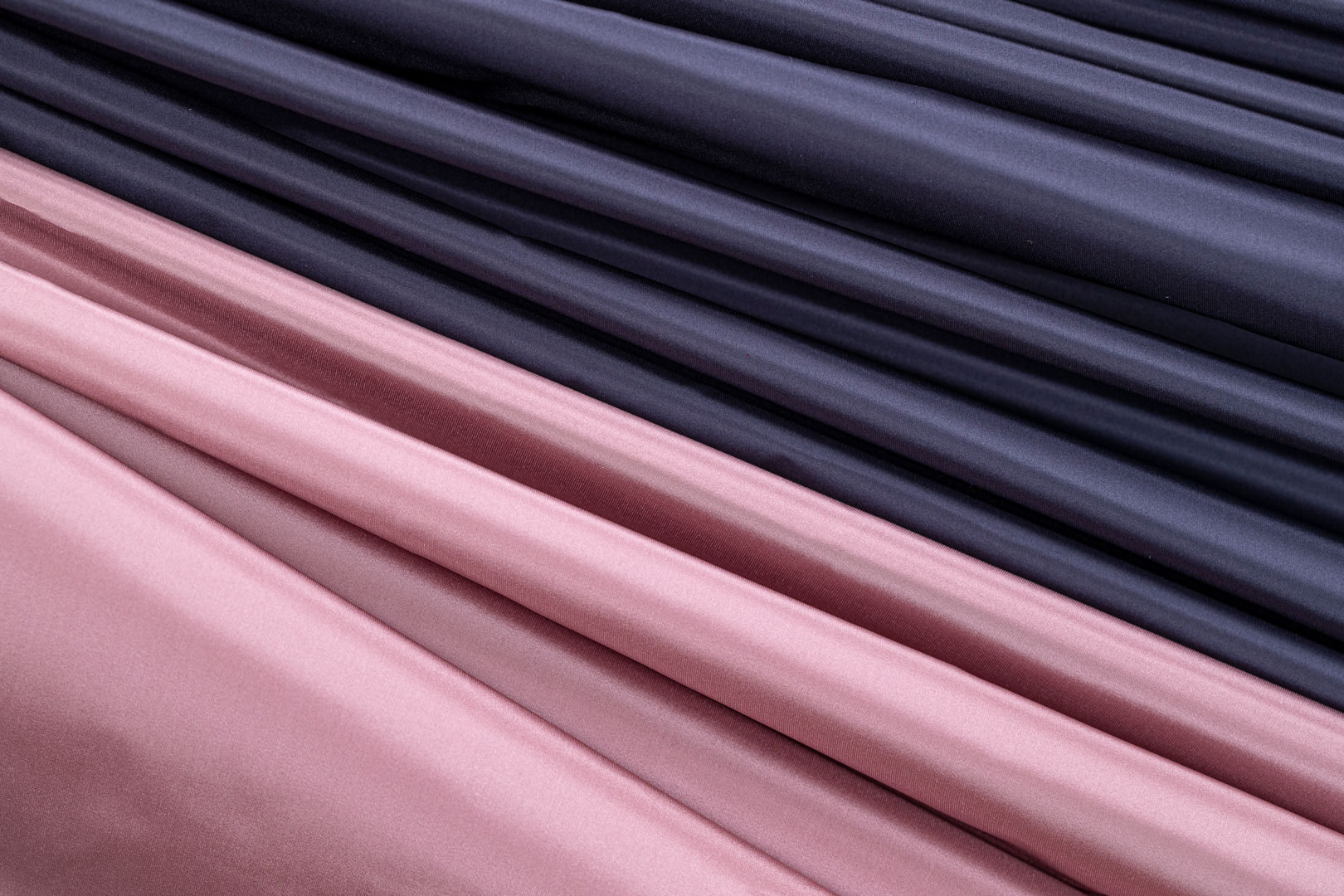 Taffeta fabrics
View fabrics
Shop online our luxury apparel and couture silk taffeta fabric, made in Italy in Como silk district.
What kind of material is taffeta?
Taffeta is a high-end fabric, with a beautiful, smooth surface and unique characteristics.
Our silk taffeta is a crisp, plain-woven fabric, made with yarn-dyed organzino both in warp and weft.
What makes it unique is that the threads are twisted as they are woven, which creates the stiffness and structure of the resulting fabric.
It features a softly lustrous, shiny appearance and a sustained, crisp hand, ideal to create a beautiful, structural silhouette.
One of its characteristics is the typical rustling sound, called "scroop" (combination of scrape and woop), that it makes when the wearer moves.
Taffeta was first produced in the Middle East in the twelfth century, and the word taffeta comes from the Persian word "taftah" meaning "crisp, woven."
For which garments is taffeta suitable?
Elegant and lightweight, silk taffeta is the ultimate fabric for ball gowns and evening dresses, but it also makes an excellent fabric for elegant daywear and jackets or sophisticated bridal gowns and prom dresses.
You can add body to your taffeta garment by underlining it in organza.
Taffeta is also frequently used for undergarments like corsets, where the stiff fabric is needed to hold in the waistline and create a silhouette.
Taffeta is a staple of fashion thanks to its lustrous appearance and the beautiful shapes the texture creates, that's why is frequently used by iconic designers like Coco Chanel and Christian Dior.
For Valentino's Rendez-Vous Spring/Summer 2022 collection, Pierpaolo Piccioli reworked the concept of tailoring, using taffeta, the iconic material of couture, for oversized shirts, Bermuda shorts, jackets and anoraks, offered in new volumes and contrasting vivid colors.
Choosing the right colour
Our dressmaking pure silk taffeta fabric is available in many beautiful solid colours, sold online by the metre.
To see the colors and texture of our taffeta in-person, order our free samples set.
Draping qualities of taffeta.
One of the exceptional characteristics of taffeta is its ability to hold its shape while still providing a beautiful drape. The fabric possesses a slight stiffness that allows it to effortlessly fall and flow, creating graceful folds and pleats. Whether you desire a voluminous ball gown or a sleek, tailored silhouette, taffeta has the versatility to deliver.
The unique draping qualities of taffeta make it a popular choice for creating dramatic and eye-catching designs. The fabric has a natural ability to create structured silhouettes, making it an ideal choice for statement-making dresses. The crispness of taffeta allows it to retain its shape, giving a distinct sculptural quality to the garment.
Watch the following video to get a better idea:
58% SE, 42% PL
150 cm
198 g

/ m