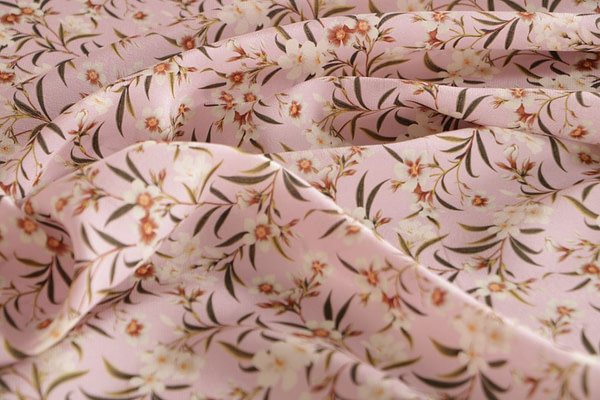 Floral fabrics
Explore our luxurious range of fine floral fabrics for apparel and fashion, perfect for creating dresses, tops, or jumpsuits that bloom with sophistication.
From vintage charm to contemporary allure, our floral fabrics are here to make your fashion journey blossom.
Read more
Register to view prices, place an order or request free samples
Login / Register
new
Explore new tess, your premier online fabric shop, where you can immerse yourself in a world of exquisite floral fabrics designed to elevate your dressmaking and fashion projects. Our extensive collection boasts a diverse range of high-quality floral fabrics that come in a splendid array of colors and captivating patterns.
At new tess, we understand that fashion is an art form, and our floral fabrics are your canvas to create truly unique and inspired pieces. We offer a selection that caters to a variety of tastes, from the subtle charm of delicate blossoms to the timeless elegance of romantic vintage floral prints and the complexity of intricate foliage.
Our printed floral fabrics breathe life into your creations, infusing them with the beauty of nature. Each design is a testament to the artistry of botanical elements, giving you the power to craft clothing that tells a story of vibrant and colorful gardens. The rich, vivid colors and intricate patterns of our woven floral fabrics add a layer of sophistication and depth to your projects.
For those who appreciate a touch of opulence, our embroidered flower fabrics are an exquisite choice. These textiles are adorned with meticulously crafted floral designs that exude luxury and artistry, allowing you to create garments that are truly one-of-a-kind.
At new tess, we aim to inspire the designer in you. Our extensive selection of fabrics is a treasure trove for seamstresses, designers, and fashion enthusiasts. Each fabric is a testament to our commitment to quality and innovation in the world of textiles.
Embark on your next sewing adventure and let your creativity flourish with our exceptional floral fabrics. With the convenience of our online fabric store, you can explore our collection at your own pace and choose the perfect fabrics for your projects. Transform your ideas into reality, and let nature's beauty be your muse. new tess is your partner in fashion and design, bringing you the finest floral fabrics that bridge the gap between nature and artistry.