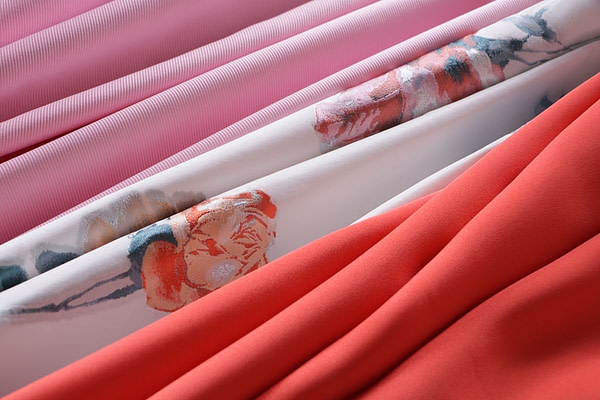 Silk fabrics
Explore our luxurious range of Italian Silk Fabrics for apparel and high fashion, perfect for creating elegant gowns, blouses, dresses, jackets and lingerie.
Our silk fabrics come in a wide range of colours and prints, making them ideal for a variety of sewing projects.
Read more
Register to view prices, place an order or request free samples
Login / Register
new
new tess offers a wide selection of fine Italian online silk fabric and stretch silk fabric in plain colours, yarn-dyed or piece-dyed, in continuous supply.
We also offer a wide selection of fancy silk materials: stunning jacquards, printed silk crepe, georgette and satin, intricate brocades and sumptuous velvet.
Top Projects for using Silk Fabric
Silk has a long history of being the material of choice for dressmaking projects that demand an extra touch of luxury and sophistication. Its natural sheen, soft texture, and breathability make it the ultimate material for creating stunning garments.
These are the top dressmaking projects that best showcase silk's unparalleled beauty and elegance.
High-Fashion Couture – Silk's fluidity, ability to hold vibrant colors, and luxurious look and feel make it a top choice for creating memorable runway creations.
Bridal Gowns – The natural sheen of silk ensures that the bride shines on her special day.
Evening Wear, cocktail dresses and formal gowns – Silk's drape and ability to capture and reflect light make it perfect for red-carpet moments.
Blouses – Silk blouses have a luxurious feel and a flattering drape.
Robes – Silk robes exude refinement and are favored by those who appreciate impeccable craftsmanship.
Lingerie and Sleepwear – The softness of silk against the skin is unparalleled, making it the perfect choice for intimate apparel.
Most Popular Types of Silk Material
How many different types of silk fabrics are there?
Silk comes in a huge array of weights, textures and styles.
Choosing the right one for your project depends on the use of the garment, the type of texture and drape you're looking for, and your sewing skills.
The most popular types of silk are:
Silk Crepe Satin: Silk crepe satin is renowned for its smooth, glossy surface and luxurious drape. It's a popular choice for evening gowns, lingerie, and high-end blouses.
Silk Chiffon: Chiffon is known for its sheer and lightweight properties. It's commonly used in women's formal wear and scarves.
Silk Organza: Organza is a sheer and crisp silk fabric often used for bridal gowns and eveningwear, and decorative purposes.
Silk Georgette: Georgette silk has a slightly crinkled texture and is popular for flowy dresses and blouses.
Silk Crepe de Chine: Crêpe de chine is a lightweight fabric, with a subtle texture and a gentle, graceful drape. It is a versatile material and one of the easiest silks to sew.
Silk Duchesse Satin: Silk Duchesse Satin is a luxurious and elegant fabric featuring a semi-lustrous satiny sheen and a slightly firm hand that lends dramatic structure to any design. It is primarily used for bridal gowns and for special-occasion garments, but is also perfect for both day and evening dresses, elegant skirts, jackets and light coats.
Silk Taffeta: Taffeta is a high-end material, with a beautiful, smooth surface, a softly lustrous, shiny appearance and a sustained, crisp hand, ideal to create a beautiful, structural silhouette.
Organic Silk fabric
We sell online two eco-friendly GOTS (Global Organic Textile Standard) certified 100% pure silk fabrics: organic silk georgette and organic crepe-back satin.
In order to produce our organic silk materials all production processes are totally traceable from the mulberry trees to the spinning, weaving and dyeing with no toxic chemical products, in full respect of the social and environment responsibility.
What type of fabric is silk?
Silk is a natural protein fiber produced by silkworms and, in some cases, spiders. It's considered one of the finest and most luxurious textile fibers in the world. The primary source of commercial silk production is the domesticated silkworm species known as Bombyx mori.
Silk is categorized as a natural fiber, and it's classified under the protein fiber group because it's composed primarily of fibroin, a protein produced by the silk-producing insect larvae. The fibers are harvested from the cocoons of these insects.
Silk is known for its softness, smoothness, and natural sheen. It has excellent draping qualities, making it a popular choice for high-end clothing, lingerie, accessories, and home textiles. Its natural properties, including breathability and moisture-wicking ability, contribute to its comfort when worn.
There are several different types of silk, including mulberry silk, tussah silk, muga silk, and spider silk, each with its unique characteristics and qualities. However, mulberry silk from the Bombyx mori silkworm is the most widely used and highly prized for its quality and fine texture.
At new tess, we're committed to providing you with the best online shopping experience. We offer fast international shipping and excellent customer service, so you can shop with confidence. The price/quality ratio of our fabrics is the best you can find online.
To touch our fabrics and see the different colours, you can order our
Sample Sets
(only available for plain fabrics in continuous stock).