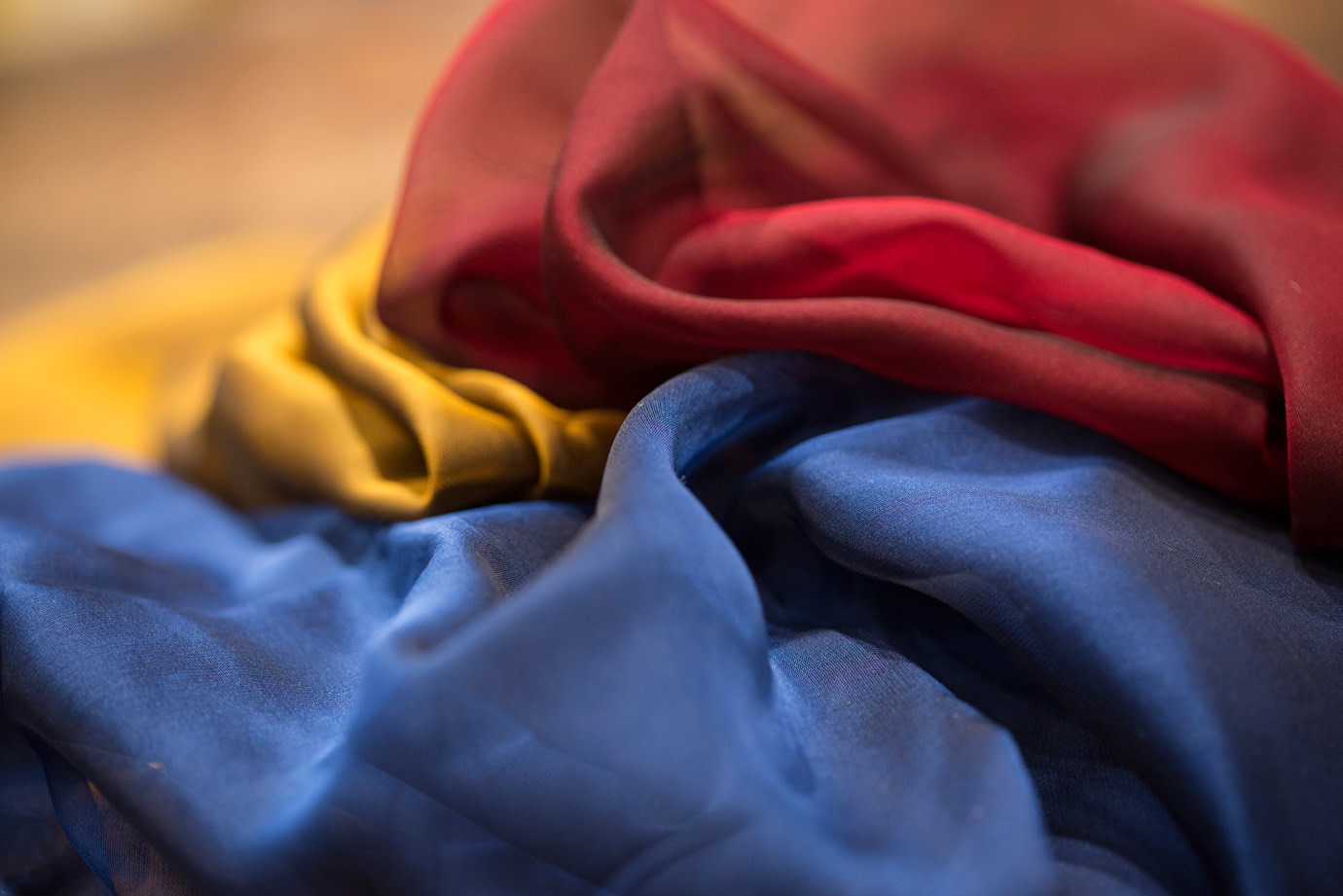 Silk fabrics
Discover our huge selection of fine Italian silk fabrics for dressmaking, fashion, wedding dresses and couture, sold online by the metre.
Only with us you can find such a wide offer of the best Italian silk fabrics in plain colours, yarn-dyed or piece-dyed, in continuous supply.
We also offer a wide selection of fancy fabrics in 100% pure silk or in silk blends: stunning jacquards, printed crepes, georgettes and satins, intricate brocades and sumptuous velvets.
Definition of silk
Silk is a natural protein fiber that has always been considered a symbol of luxury and elegance.
Discovered in ancient China, where it was reserved for use by emperors and dignitaries, silk is considered the "queen of fabrics" thanks to its natural beauty and many properties.
The Chinese maintained a monopoly on silk production for thousands of years, exporting to Europe and the Middle East via the legendary Silk Road. It was only at the time of Crusades that Italy became known for its sericulture (silk production).
Today China is once again the largest producer of silk. For more information about our suppliers, you can read our brochure "Clerici Tessuto's journey towards sustainability".
Characteristics of silk
Silk retains its shape, drapes well, caresses the figure, shimmers with a luster all its own, is naturally hypoallergenic, yet is still breathable; it has good absorbency and reduces humidity, which makes it cool in the summer and warm in the winter.
Searching for the perfect silk fabric for dressmaking?
Silk comes in a huge array of weights, textures and styles.
Choosing the right one for your project depends on the use of the garment, the type of texture and drape you're looking for, and your sewing skills.
You can find more information on silk fabric in our Textile Glossary.
Our fine silk fabrics or silk-blend fabrics are ideal for dresses, evening gowns, special occasion and formal wear, bridal dresses, skirts, blouses and tops, trousers, elegant jackets and light coats, lingerie.
Types of silk
At our online store, you can find the following silks:
Chiffon | Crêpe de Chine | Crêpe de Chine Stretch | Crêpe Satin | Cady / Drap | Dogaressa | Double Shantung | Duchesse satin | Faille | Georgette | Habutai | Organza | Mikado | Radzemire | Satin Stretch | Shantung satin | Taffeta
Organic Silk fabrics
We sell online two eco-friendly GOTS (Global Organic Textile Standard) certified 100% pure silk fabrics: georgette and satin.
In order to produce our organic silk all production processes are totally traceable from the mulberry trees to the spinning, weaving and dyeing with no toxic chemical products, in full respect of the social and environment responsibility.
Coloured Silk – Choosing the right colour
We have the largest selection of yarn-dyed and piece-dyed silk sold online.
In order to choose the most suitable colour and silk type for your sewing project, you can order our free Sample Sets (available only for plain fabrics in continuous supply).
new

77% SE, 23% PM
134 cm
62 g

/ m