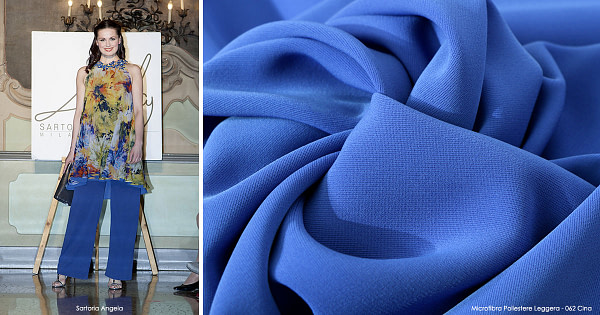 Fabrics for Pants
Explore our wide range of fine Pants Fabrics for apparel and fashion, perfect for creating casual everyday pants, professional trousers, or statement pieces for special occasions.
Read more
Register to view prices, place an order or request free samples
Login / Register
new
Women's pants are a wardrobe essential that can effortlessly transition from casual to formal, depending on the occasion. To achieve the perfect balance of comfort, style, and durability in women's trousers, the choice of fabric is of utmost importance. At new tess, we take pride in offering a diverse range of fabrics tailored for crafting stunning women's pants that cater to every preference and need.
Choosing the right fabric for pants is essential to ensure comfort, fit, and durability over time. new tess offers fabrics in cotton, linen, silk, wool, stretch, and polyester, each with its own characteristics and features.
Cotton is a natural, breathable, and durable fabric, perfect for comfortable and casual pants.
Linen is a fresh and lightweight fabric, ideal for the summer season and for elegant and casual pants.
Silk is a precious, soft, and lightweight fabric, perfect for elegant and refined pants.
Wool is a warm and comfortable fabric, ideal for work pants or for the winter season.
Stretch fabric is an elastic fabric that perfectly adapts to the body's curves, offering comfort and freedom of movement.
Polyester is a durable, easy-to-maintain and wash fabric, perfect for work pants or for daily use.
new tess offers a wide range of colors and patterns for each type of fabric, ensuring the possibility of choosing the perfect color for every occasion. The choice of fabric and color for pants depends on individual style and preferences.
Choose the quality of fabric, the type of fabric, the material, and the most suitable color to make the pants of your dreams. Thanks to the wide range of fabrics available from new tess, it is possible to create unique and customized pants, suitable for every occasion and style. Let yourself be conquered by the beauty and quality of our fabrics and create elegant, comfortable, and high-quality pants.
To touch our fabrics and see the different colours, you can order our
Sample Sets
(only available for plain fabrics in continuous stock).