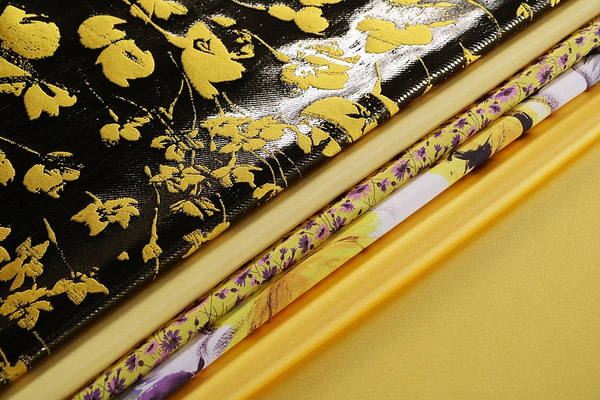 Yellow fabrics
Embrace sunshine: discover the beauty of Yellow Fabrics for dressmaking and high fashion.
In this section you can find our wide selection of plain and patterned yellow fabrics in a variety of styles, fibers and designs, perfect for creating exclusive garments.
Read more
Register to view prices, place an order or request free samples
Login / Register
new
When it comes to fashion, color plays a vital role in conveying emotions and setting the tone. Among the vibrant hues available, yellow stands out as a symbol of joy, energy, and optimism. Fine yellow fabrics offer a plethora of possibilities to express individuality, radiate confidence, and make a bold style statement.
In our online fabric store we offer a wide selection of yellow apparel and fashion fabrics in a variety of fibers, each offering its own unique characteristics and benefits.
Silk: Yellow silk fabrics exude luxury and elegance. The natural luster and smooth texture of silk beautifully enhance the vibrancy of yellow. Silk drapes gracefully and feels incredibly soft against the skin, making it perfect for creating glamorous evening gowns, delicate blouses, or scarves that add a touch of sophistication to any outfit.
Wool: Yellow wool fabrics offer warmth and comfort with a cozy feel. Wool's natural insulating properties make it ideal for colder seasons. Yellow wool can add a cheerful and vibrant element to winter coats, cozy sweaters, or tailored skirts, allowing you to embrace the beauty of yellow even on the chilliest days.
Cotton: Yellow cotton fabrics are versatile and breathable, perfect for warmer weather. Cotton's lightweight and natural fibers make it highly comfortable and suitable for everyday wear. Yellow cotton fabrics are excellent choices for casual dresses, shirts, or shorts, infusing a sunny and relaxed vibe into your wardrobe.
Linen: Yellow linen fabrics exude a refreshing and effortless elegance. Linen's breathable and lightweight nature makes it a go-to choice for summer fashion. Yellow linen garments, such as dresses, blouses, or trousers, offer a chic and relaxed style, allowing you to embrace the sunny side of life with ease.
Viscose: Yellow viscose fabrics combine the softness and drape of natural fibers with the affordability and versatility of a semi-synthetic material. Viscose fabrics offer a smooth and silky feel, giving a luxurious touch to yellow garments. Yellow viscose can be used to create flowing dresses, skirts, or blouses that embody a vibrant and modern aesthetic.
Polyester: Yellow polyester fabrics are durable and easy to care for, making them suitable for a range of applications. Polyester offers vibrant color retention and excellent wrinkle resistance. Yellow polyester fabrics can be used to create eye-catching yellow blazers, pants, or formal dresses, adding a pop of color and modernity to your wardrobe.
---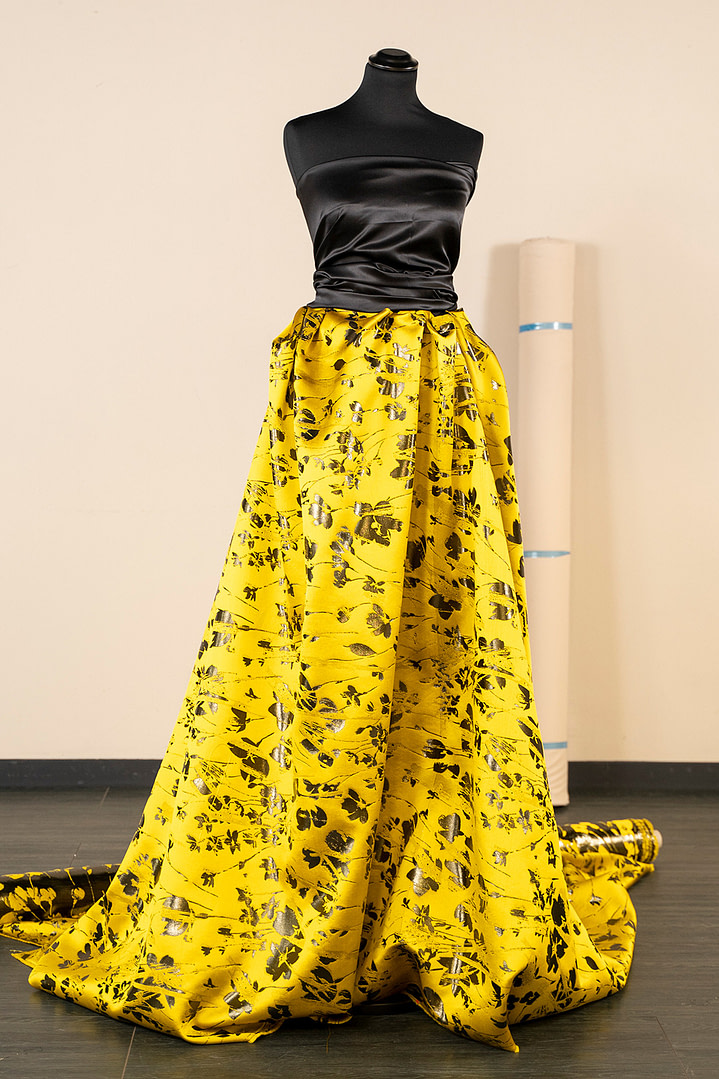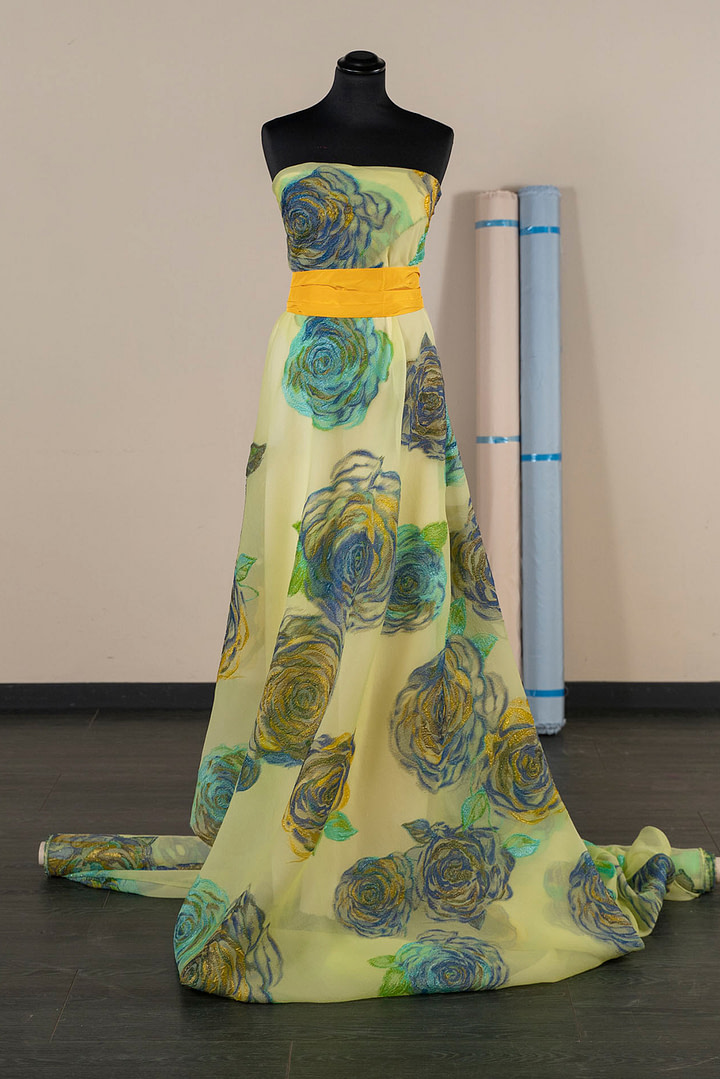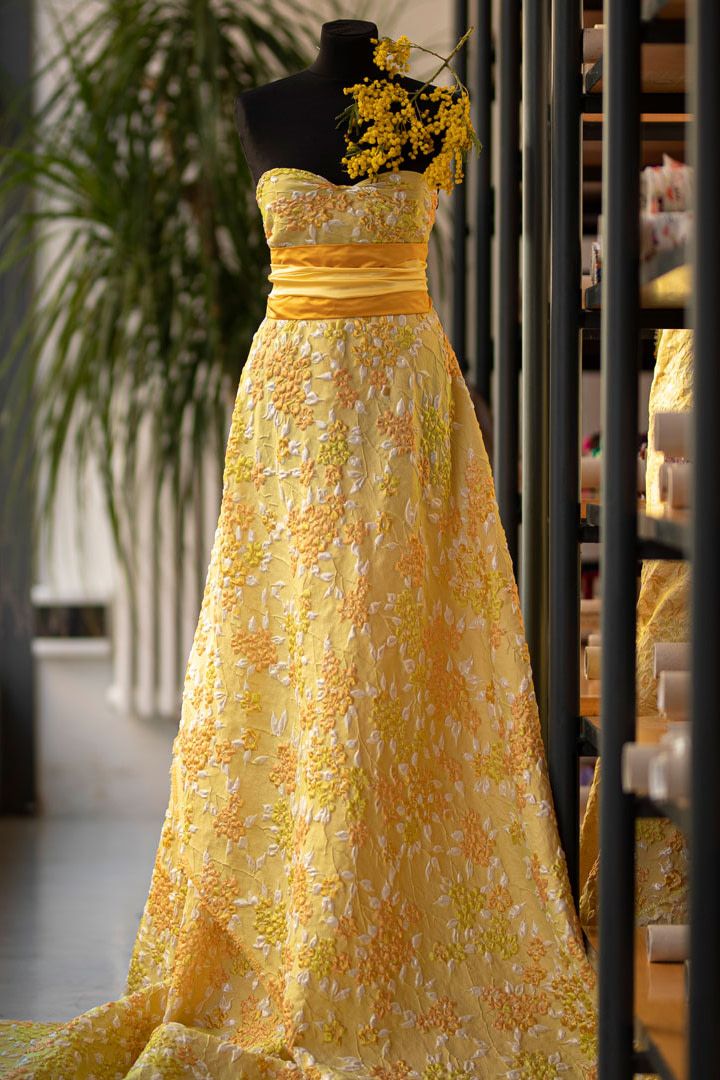 ---
Versatile Fashion Stapless
Yellow fabrics can be fashioned into a wide range of apparel suitable for any occasion. A yellow sundress embodies the spirit of summer, radiating sunshine and capturing the essence of carefree days. A tailored yellow blazer brings a burst of energy and professionalism to formal settings. A yellow skirt or trousers can add a playful and fashion-forward element to any outfit. With yellow fabrics, the possibilities are endless.
Complementary Color Pairings
Yellow fabrics can be paired with a range of colors to create captivating and harmonious ensembles. For a vibrant look, combine yellow with contrasting colors such as deep blues, rich purples, or bold oranges. To achieve a softer and more delicate style, pair yellow with pastel shades like baby blue or blush pink. For a timeless and classic combination, opt for a black and yellow ensemble that exudes sophistication and modernity.
Choosing the right shade of yellow
Choosing the perfect shade of yellow fabric can be an exciting yet challenging task. The right shade can enhance your complexion, complement your style, and bring a vibrant energy to your wardrobe. Here are a few tips to help you select the ideal yellow fabric:
Consider Your Skin Tone: Start by determining your skin undertone—warm, cool, or neutral. If you have warm undertones, opt for yellow fabrics with golden or peachy hues. Cooler undertones pair well with lemony or pastel yellows. Neutral undertones have the freedom to experiment with a wide range of yellow shades.
Understand Color Associations: Different shades of yellow evoke different emotions and have varying associations. Bright and bold yellows bring energy and enthusiasm, while soft and muted yellows create a calm and delicate vibe. Consider the mood and impression you want to convey when choosing your yellow fabric.
Think About the Occasion: The occasion for which you'll be wearing the yellow fabric is crucial. For formal events, consider rich and deeper shades of yellow, such as mustard or ochre, for a sophisticated look. Lighter and brighter yellows are great for casual or summery occasions, adding a cheerful and refreshing touch to your outfit.
Test it Out: Not sure about which shade of yellow best fits you? Order our sample sets (available only for plain fabrics in continuous supply).
At new tess, we're committed to providing you with the best online shopping experience. We offer fast international shipping and excellent customer service, so you can shop with confidence. The price/quality ratio of our fabrics is the best you can find online.
To touch our fabrics and see the different colours, you can order our
Sample Sets
(only available for plain fabrics in continuous stock).