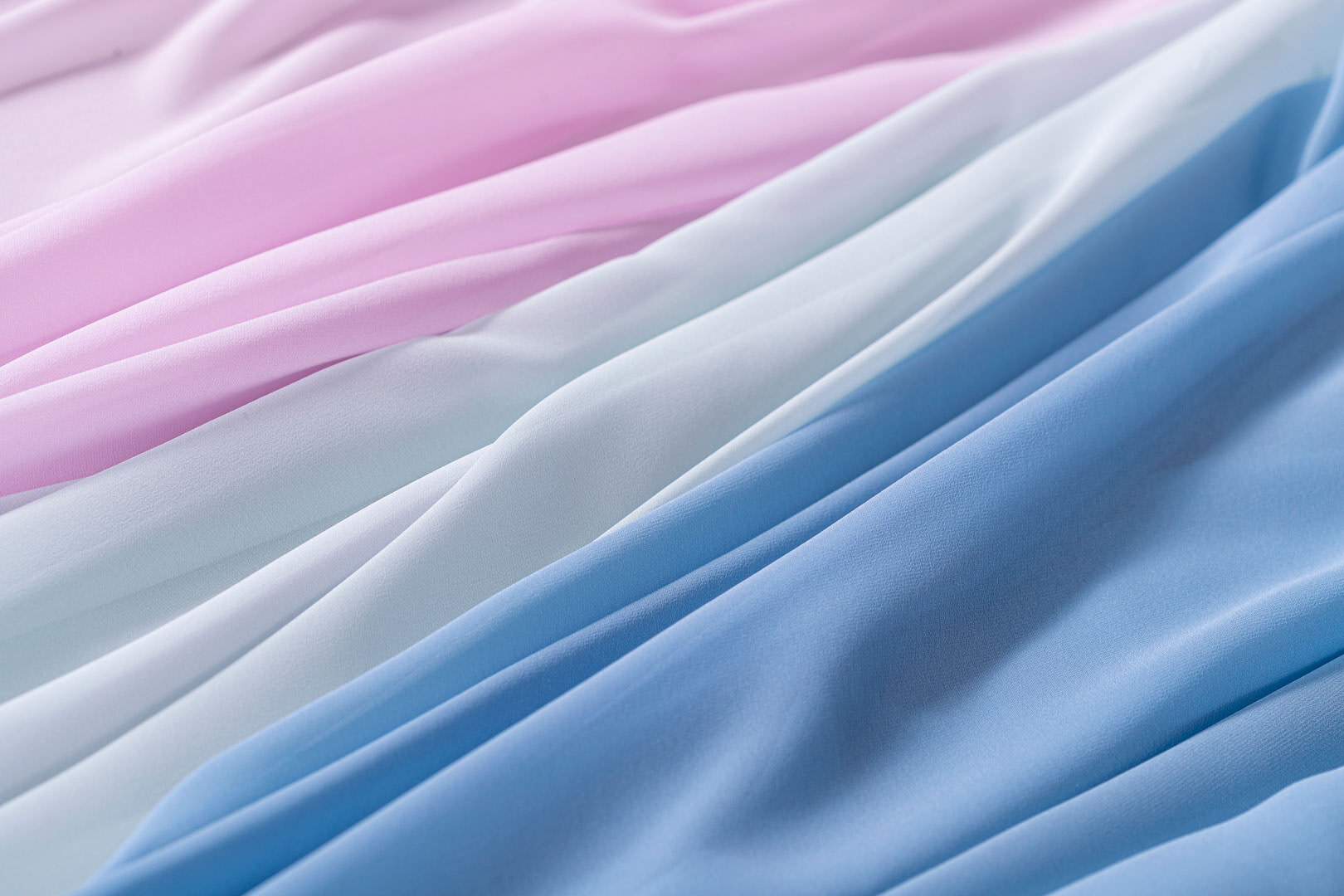 Georgette fabrics
View fabrics
Silk georgette fabric is a luxurious textile that embodies a sense of timeless elegance. It is a lightweight, semi-sheer fabric that possesses a unique drape, making it highly sought after in the world of fashion and design.
Its drape is reminiscent of a bygone era, evoking the glamour and allure of old Hollywood. It exudes a sense of luxury and refinement that transcends trends, making it a perennial favorite among discerning fashion connoisseurs.
On new tess e-shop you can find the highest quality pure silk georgette fabric for dressmaking, high fashion, couture and wedding dress, made in Italy and available in more than fifty plain colors and in a selection of beautiful prints: florals or botanicals, geometric or abstract shapes, animal or conversational patterns, and much more.
What kind of material is georgette?
Our apparel and fashion silk georgette is a thin, semi-transparent and matte fabric, fluid yet crisp, soft and shivery at the same time.
Produced with silk crepe high twist yarn both in warp and weft alternating 2S-2Z, it features a slightly raised effect and a crepe appearance. Plain weave.
Working with silk georgette fabric requires skill and attention to detail due to its delicate nature. Sewing techniques such as French seams, rolled hems, or using tissue paper for stabilization are commonly employed to ensure clean finishes and prevent fraying. The lightweight nature of the fabric also makes it suitable for gathering, pleating, and creating soft, romantic details.
For which garments is georgette suitable?
The soft, sheer quality of our silk georgette lends an aura of femininity and sensuality. As it drapes around the body, it reveals just enough, teasing the imagination and leaving a trail of allure in its wake. Its diaphanous nature allows for a subtle hint of skin to peek through, adding a touch of intrigue and sophistication to any garment.
Despite its lightweight feel, silk georgette possesses a remarkable resilience. It effortlessly falls into graceful folds, creating elegant silhouettes and flattering contours. The fabric's inherent ability to hold its shape, combined with its delicate movement, makes it a versatile choice for a variety of designs, from flowing evening gowns to ethereal scarves.
Silk georgette's draping qualities also make it a favorite among designers for its versatility in layering and creating dimension. Its semi-transparent nature allows for creative interplays, as it can be used to overlay other fabrics, adding depth and texture to an ensemble. Whether as a billowing top layer or a subtle underlay, it adds a touch of sophistication and intrigue to any garment.
What is the difference between georgette and chiffon?
Silk georgette is very close in appearance to chiffon, but is slightly heavier and has a slightly denser crepe appearance. It is sturdier, thicker, stronger, more durable and a bit easier to work with. Silk chiffon has a better sheer and a better drape, in terms of layers and volume.
Choosing the right color
Our georgette fabric in 100% pure silk is available in many beautiful solid colors, from soft pastels to vibrant hues, sold online by the meter.
In order to choose the most suitable color for your sewing project, you can order our Sample Set.
Draping qualities of georgette.
Silk georgette fabric, with its exquisite drape and ethereal quality, is a textile that embodies elegance and grace. Its lightweight nature and delicate texture lend it a flowing and fluid drape that is unparalleled. It gently caresses the skin, creating an air of sophistication and allure.
Watch the following video to get a better idea: