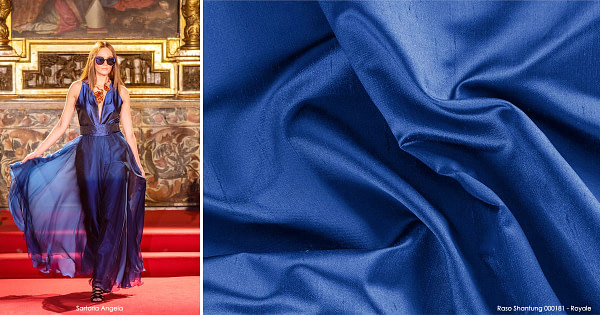 Party and Evening Wear Fabrics
Explore our luxurious range of Fabrics for Evening Gowns and Party Dresses, tailored to make your evening and cocktail dresses truly exceptional.
Read more
Register to view prices, place an order or request free samples
Login / Register
32% PL, 30% PA, 24% PM, 14% SE
128 cm
196 g

/ m
When it comes to evening or cocktail dresses, every detail matters. The fabric you choose plays a pivotal role in defining the overall look, comfort, and style of your attire.
new tess is the perfect choice for those seeking high-quality fabrics for party dress and evening gowns. Our wide selection of solid, printed, jacquard, and embroidered fabrics, available in silk, wool, polyester, and stretch materials, offers you the opportunity to choose the ideal fabric to create your masterpiece.
Our section dedicated to fabrics for evening gowns allows you to choose between lightweight and flowing fabrics, or heavier and more shaping ones, to create the perfect dress for any occasion. All new tess fabrics are entirely made in Italy, using high-quality materials and paying attention to every detail, ensuring the highest quality.
Opulent Satin. Satin is the epitome of luxury and sophistication. Its smooth, glossy surface reflects light beautifully. Ideal for creating classic and timeless evening gowns.
Glamorous Sequin and Bead-embellished Fabrics. Perfect for making a statement at cocktail parties. They exude glamour and captures attention effortlessly.
Sumptuous Velvet. Velvet is a timeless choice for a rich, elegant look. It drapes beautifully, offering both comfort and style. Ideal for creating regal evening dresses.
Delicate Lace. Lace adds a touch of romance and femininity. It's perfect for crafting elegant cocktail dresses.
Sheer Fabrics. Sheer fabrics, such as organza, tulle or chiffon, create an ethereal look. They're perfect for flowing evening gowns. Ideal for a dreamy, whimsical appearance.
Embroidered Elegance. Embroidered fabrics offer intricate detailing. They're perfect for crafting unique and artistic dresses. Exude elegance and charm effortlessly.
Beautiful Jacquards and Brocades. They exude luxury and add depth to your attire. Perfect for creating stunning evening or cocktail dresses.
Whether you're attending a glamorous gala, a chic cocktail party, or a romantic dinner, our collection has the fabrics you need to make a lasting impression.
To touch our fabrics and see the different colours, you can order our
Sample Sets
(only available for plain fabrics in continuous stock).