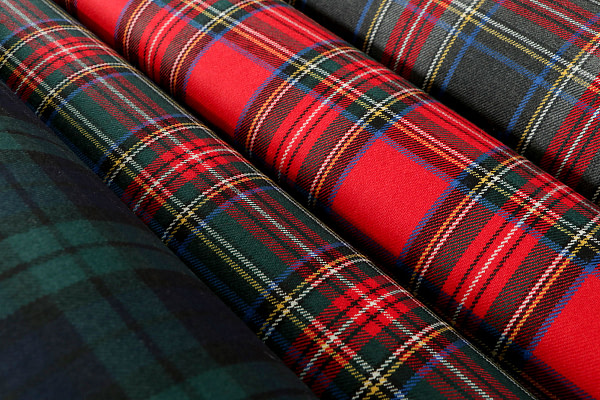 Tartan - Madras
Embrace the timeless elegance of our fine tartan fabrics, perfect for creating cozy winter dresses, chic skirts and statement jackets.
Read more
Register to view prices, place an order or request free samples
Login / Register
Discover the allure of wool tartan fabrics for women's apparel and fashion. With their rich heritage and distinct patterns, tartan materials have become a symbol of tradition and sophistication. Made from premium quality wool, these fabrics offer both warmth and style, making them perfect for the colder seasons.
What kind of material is tartan?
Tartan, a type of plaid, is a checked fabric with warp and weft matches of different, usually bright colours.
Its origin is Scottish, and the different patterns were used to distinguish the members of the clans located in the Highlands of Scotland.
The traditional costume was a combination of a knee-length skirt and a shawl fastened to the shoulder with a clasp.
The weft is woven as a single twill, with the warp passing two threads on top and two on the bottom, advancing one thread at a time. The pattern consists of alternating bands of coloured wool yarns woven at an angle. This forms diagonal cross-hatching at the crossing sites and creates new colours from the mixture of the two original shades.
The classic tartan fabric of carded wool is slightly elastic and has good insulating properties.
For which garments is tartan fabric suitable?
Our collection features a selected range of tartan patterns, each with its own unique charm. From classic Scottish plaids to contemporary interpretations, there's a tartan fabric to suit every taste and style. Whether you're looking to create a cozy winter dress, a chic skirt, or a statement jacket, these fabrics will add a touch of heritage and refinement to your wardrobe.
The versatility of wool tartan fabrics knows no bounds. They effortlessly transition from casual to formal wear, allowing you to create a variety of looks. Pair a tartan blazer with jeans for a stylish yet relaxed outfit, or opt for a tartan dress for a sophisticated and eye-catching ensemble.
Fashion designers have always appreciated this fabric very much, often proposing it on the winter catwalks for dresses, suits, accessories or outerwear.