Glamorous and feminine the 2023 wedding dress trends are many and varied:
from short and slim gowns to voluminous ones; from classic tulle, lace or silk gowns to over-the-top 3D floral-themed appliqués; from white dresses, sometimes with playful transparencies, to colorful solutions, especially in pastel blue and pale pink.
Let's discover together the main new trends for wedding dresses in 2023 that you can use as inspiration to make the dress of your dreams.
---
Texture 3D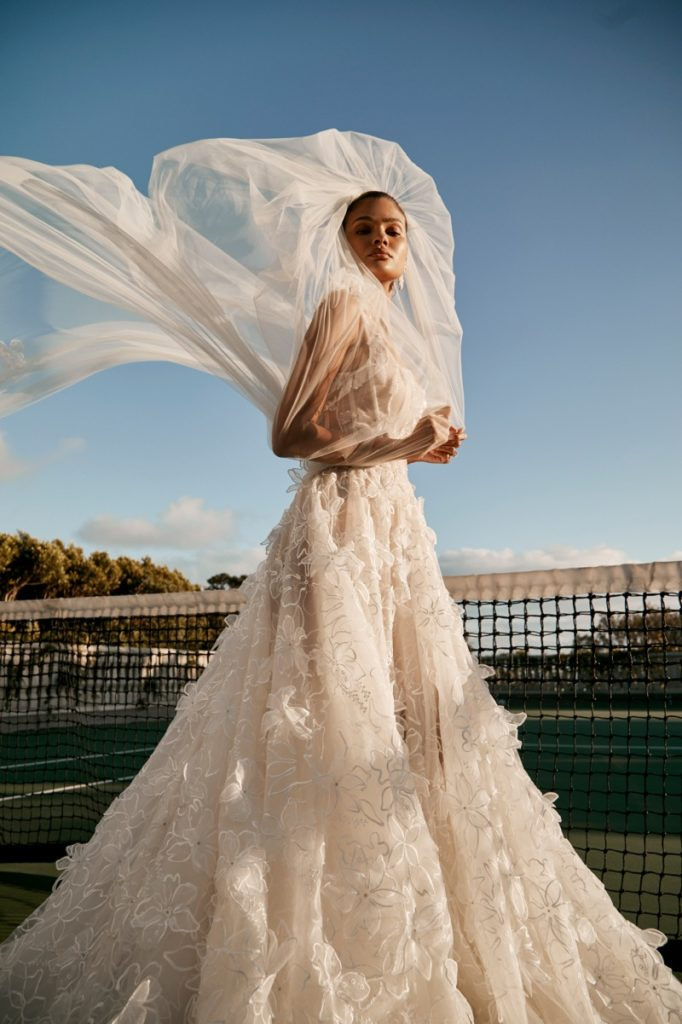 Traditional silhouettes take on a glam touch thanks to the use of perfect textures to create volume or movement.
Especially depopulated in the spring summer 2023 bridal collections are floral appliqués that make the dress surprisingly artistic and delicate. A perfect trend for the bride who wants a romantic, timeless, chic and refined dress, but also with bucolic features. Brands such as Marchesa for Pronovias, Jesús Peiró, Ines de Santo, Amsale, Oscar de la Renta, Sachin & Babi, Alexandra Sophie for Elie Saab, Lahav, Benjo Arwas and Rosie Assoulin have added 3D floral inserts on bodices, skirts, veils and capes, thus creating gentle movements in the lines of the dress
The most original inspirations we admired in the collection of Amsale who proposed a dress with a bodice that becomes a maxi flower and by Rosie Assoulin who designed a dress with a skirt completely covered with 3D satin daisies and pearls.
---
"See-through" transparencies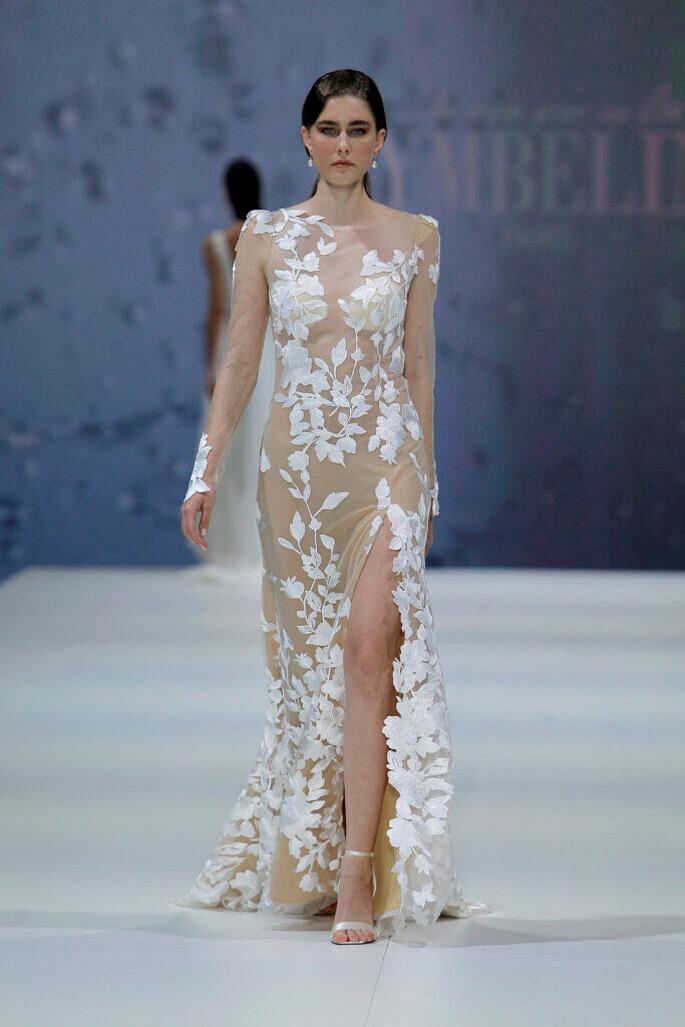 Delicate transparent fabrics were another major style trend we saw repeated in the Bridal Fashion Week 2023 collections.
On some gowns sheer fabrics are used to add coverage (such as a mock neckline), on others, often embroidered or studded with small luminous inserts, they serve to add luster and a refined sensuality.
In the 2023 bridal collections, transparencies, placed throughout the gown or only in certain areas such as the bodice or sleeves, are achieved with floral embroidery, precious brocades, and see-through effects.
In the Yolancris 2023 collection, made up of boho-chic looks, we admired interesting models with very light fabrics and transparencies. Key detail of the collection is precisely the "see-through," both vertically and horizontally, achieved through the use of lace and fabrics such as chiffon, silk tulle and worked organza.
Brands such as Cymbeline, Marco & María and Agnieszka Światły, Galia Lahav, Dana Harel, Yolancris, Pnina Tornai, Mira Zwillinger, Monique Lhuillier, Ines Di Santo, Reem Acra, and Zuhair Murad wanted to pay homage to the concept of femininity and sensuality by introducing transparencies in the 2023 bridal collections.
---
The pantsuit and mini-dresses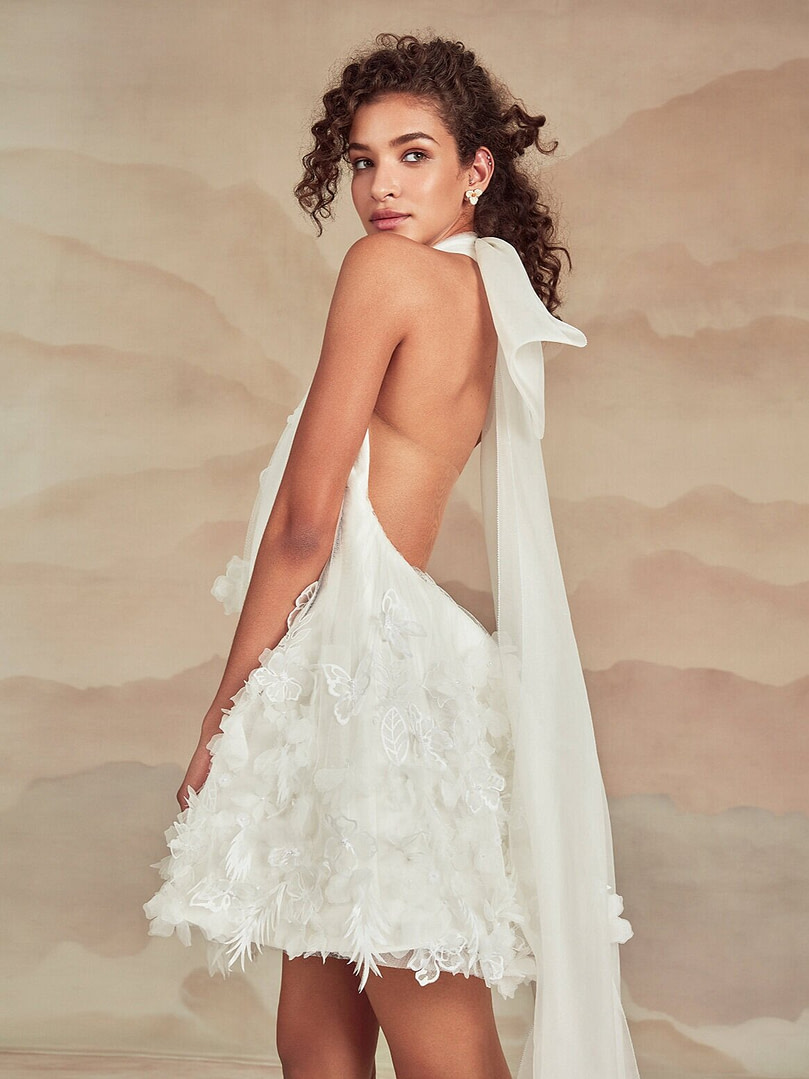 For brides who dare and seek a touch of modernity, the 2023 collections offer pantsuits and short dresses.
Pants and mini dresses design a contemporary and elegant bride. Two-piece dresses, blazers with feminine lines, paired with deep V-necks, straight pants or skirts, are perfect for creating versatile and current looks.
There is also no shortage of lace, lace, ruffles, and trains on the pantsuits and short dresses: Viktor & Rolf adorn the mini dress with ruffles and a feathery train; Isabel Sanchís gives volume to the short skirt with minute naturalistic details; Amsale offers a jacket and pantsuit with an elegant tulle train.
From Monique Lhuillier to Ines Di Santo, Elizabeth Fillmore, Scorcesa, Safiyaa, Galvan, Costarellos, Naeem Khan many are the big brands that proposed on the Bridal Fashion Week 2023 runways brides in pantsuits or miniskirts.
---
Simple lines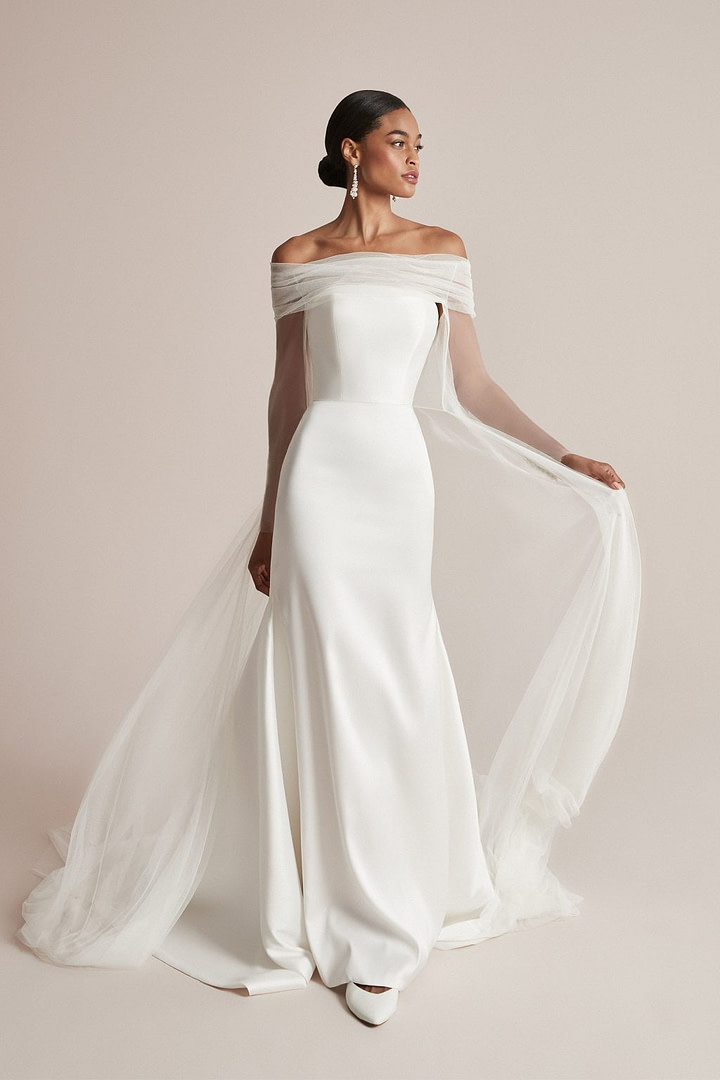 For brides seeking a timeless, classic look in 2023, modern, elegant silhouettes with few frills are back in vogue. Clean lines and sartorial precision combined with simple necklines and minimal details are used to create linear and refined gowns.
There are many "clean lines" garments designed by designers for the 2023 bride: in the collections we see more and more elegantly understated gowns with long flowing skirts that emphasize simplicity and naturalness. Simple wedding dresses are in luminous mikado, crepe or very light tulle, and barré organza.
Justin Alexander offers an elegant gown with harmonious lines: the A-line cut on an optical white mikado wraps the figure softly, while the belt gives movement. Costarellos presents a linear dress with a heart-shaped bodice that is extremely romantic; Anne Barge and Nadia Manjarrez use accessories to embellish simple dresses such as a flower crown and long, worked gloves.
---
Volume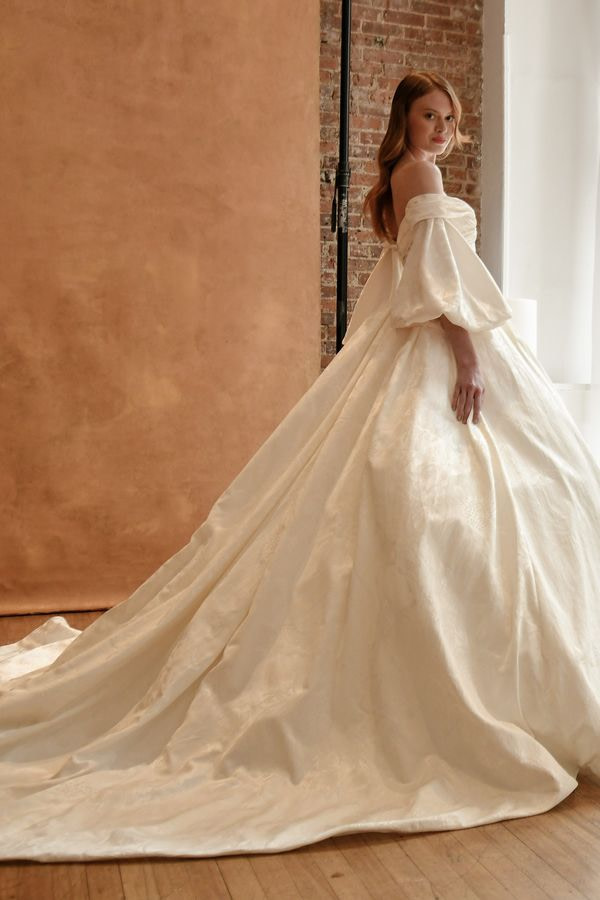 In total contrast to the minidress trend, these dresses with long, fluffy skirts create a princely, fairy-tale look. Often adorned with cascading floral embellishments and ruffles the voluminous dresses amaze and enchant.
Benjo Arwas, Reem Acra, Ines Di Santo, Monique Lhuillier, Alexandra Sophie for Elie Saab choose volume in the 2023 bridal collections and offer dresses with vaporous redingote or layered skirts with voluminous hemlines.
But volume is not only depopulated on skirts, designers also love maxi size on details such as sleeves, bows, hems: Oscar de la Renta amazes us with a mermaid gown in precious silk with layers and layers of tulle on the shoulders; Marchesa plays with volume by creating wide floral work on the sleeves and at the waist. Also beautiful is the mermaid gown by Rivini by Rita Vinieris with a wide flounced skirt in hand-pleated structured tulle.
---
Cut-out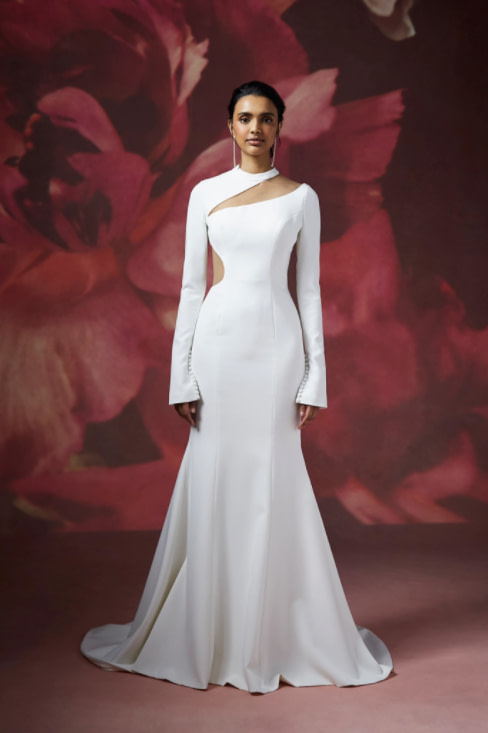 Bold and feminine cut out wedding dresses 2023 are perfect for those seeking an unconventional look.
The two most popular trends seen in bridal collections are the cut out wedding dresses with center cuts and those with symmetrical side cuts. These gowns, perfect for highlighting the silhouette thanks to the slipped fabrics and strategic cutouts, give a youthful and sensual air.
There are many designers offering us this trend on the Bridal Fashion Week runway: Yolancris, Michela Ferriero, Nicolas Montenegro, Rosa Clarà, Marco y Maria, Isabel Sanchis, THEIA, Galia Lahav, Scorcesa, Houghton.
---
Colors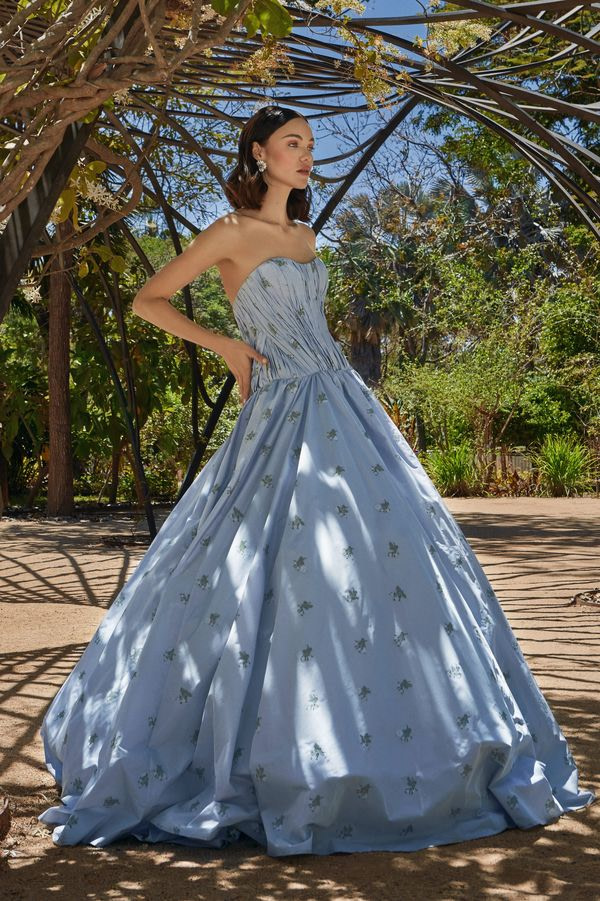 Colors such as baby blue and blush pink were the two most popular shades in these collections. Hints of these two colors can be seen in small, as on the embroideries, or in large, over the entire length of the gown.
In the 2023 bridal collections, Yolancris offers a light blue gown played on transparencies and adorned with floral motifs; Marchesa for Pronovias and Modica use pastel shades to liven up the final part of the gown. In Monique Lhuillier and Nadia Manjarrez, light pink and light blue provide the backdrop for bucolic prints.
If you are a bride who likes to shine to pastel tones you may prefer gold details. Gold is perfect to insert a touch of glamorous light and give luster to the dress. The Viktor & Rolf brand uses gold-colored workings to surround floral embellishments; Isabel Sanchis illuminates optical white with gold and silver details, made of multiple materials, on necklaces, headbands or as scenic elements on wedding dresses.
---
High-Quality Bridal Fabrics. Discover New Tess' Collection!
Discover New Tess' collection of high-quality bridal fabrics: the perfect choice for brides who want to create a unique and refined dress. Explore our wide selection of fabrics, including luxurious silks, delicate laces, intricate embroideries, and trendy floral prints, perfect for creating your custom-made wedding dress.
Browse now our exclusive collection of wedding dress fabrics and be inspired by our selection of precious and high-quality materials, to make your special day even more unforgettable.