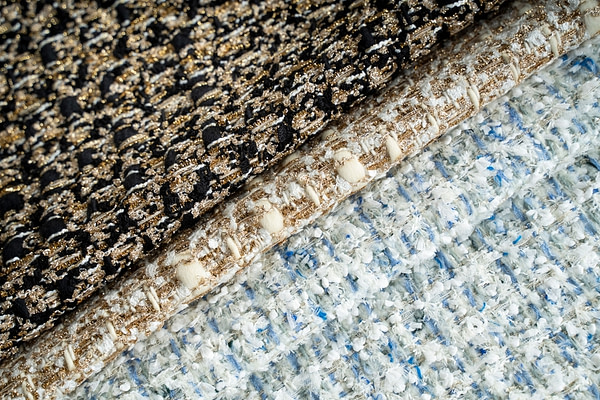 Bouclé - Tweed
Explore our exquisite selection of luxurious bouclé and tweed fabrics, perfect for crafting elegant dresses, skirts, and outerwear.
Read more
Register to view prices, place an order or request free samples
Login / Register
98% WO, 2% PA
135 cm
400 g

/ m
What is Tweed, and what are its characteristics?
Tweed is a robust woolen fabric with its origins in Scotland, known for its porous and durable texture. Its longevity is unquestionable, and it comes in a wide range of colors and textures, including plain, twill, herringbone, pied-de-poule, and checkered patterns. This fabric is perfect for creating sports jackets, blazers, and skirts, and its palette of natural colors is a timeless classic.
What is Bouclé, and what styles can we create?
Bouclé is a fabric characterized by irregular loops or knots in the yarn, with origins in the French word "boucle" (loop). It is available in a vast array of colors and shades. Celebrated for its iconic style, it was made famous by Chanel and adored by many fashion designers. Coco Chanel transformed tweed into a feminine fabric in the 1930s, revolutionizing the concepts of comfort and modernity. Later on, she created the iconic Chanel jacket, a symbol of style and elegance.
Thanks to its chic details and endless shading possibilities, bouclé fabric is suitable for both elegant evening looks and more casual outfits, even paired with denim.
Choose the quality of our Bouclé and Tweed Fabrics
Opt for our high-quality bouclé and tweed fabrics for your fashion and clothing needs. Explore our extensive range of tweed and bouclé fabrics in a variety of captivating colors and textures, perfect for creating dresses, skirts, jackets, and outfits for the transitional seasons.
Select the superior quality of our fabrics to add a touch of timeless elegance to your wardrobe.