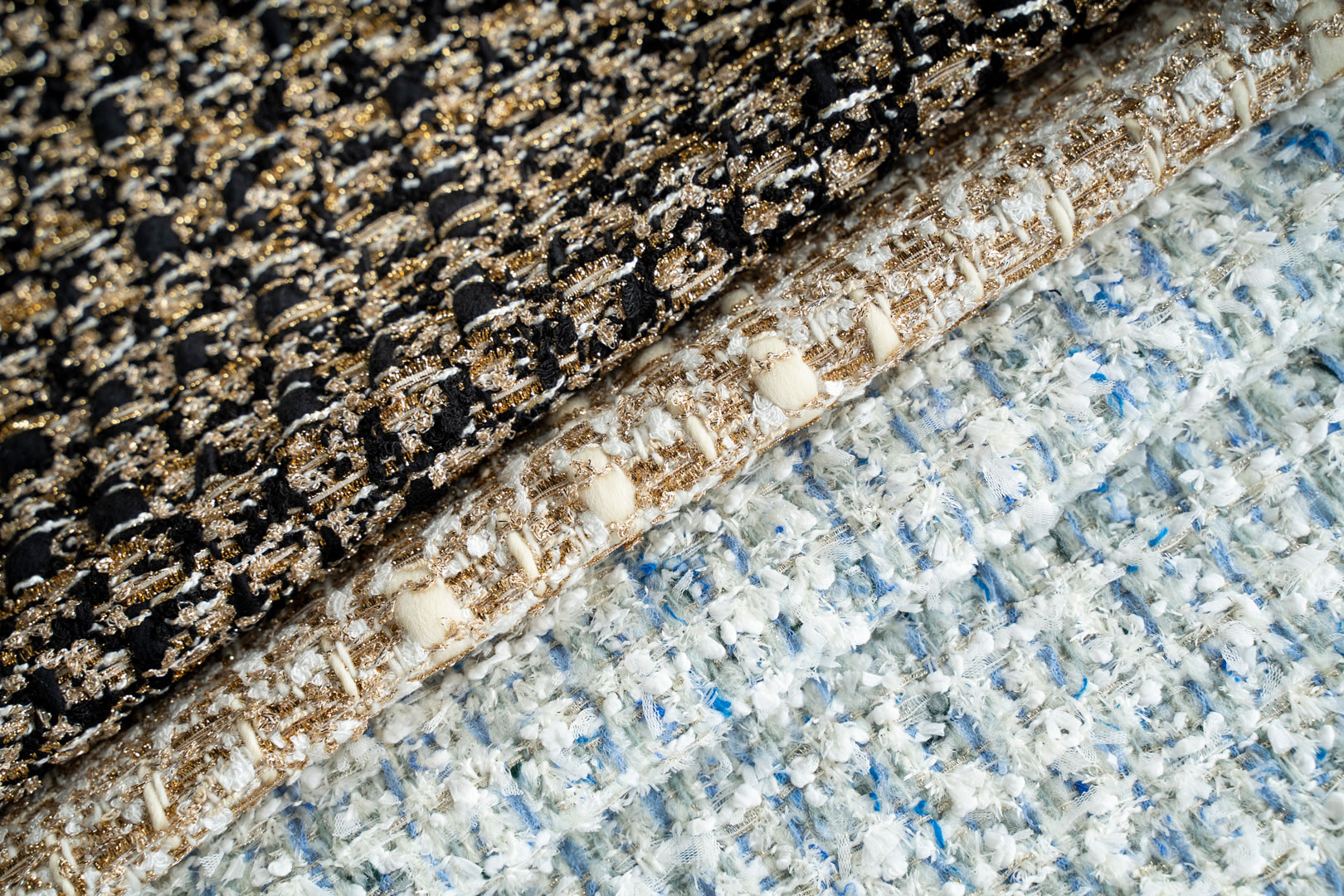 Bouclé - Tweed
Shop online by the metre the highest quality bouclé and tweed fabrics for dressmaking and fashion.
Get inspired by our selection of versatile tweed and bouclé fabrics, available in beautiful colours and textures, suitable for dresses, jackets, blazers, skirts or even light coats.
Tweed
Tweed is a medium to heavy weight wool or wool-blend fabric most often found in jackets, coats and suits. Originally used for leisure-class hunting expeditions in the Scottish, English and Irish countryside, it has become a fabric of choice for many designers.
IT is a rough, typically unfinished style of woolen fabric, that is usually crafted in a plain or twill weave, though houndstooth, herringbone and multicolored designs are also quite popular. The classic color palette of tweed fabrics is dominated by earthy tones.
Bouclé
Bouclé is a loosely woven fabric made with looped, curly yarns, more or less evident and regular, that create a rich, multidimensional texture. Derived from the French word for "curl", this type of cloth can be made in a single color or in a combination of several shades.
When you think of a bouclé jacket, suit or dress, you can't help but think of Chanel iconic style.
Coco Chanel discovered the functionality of tweed fabric in the 1930s and began using the rough, unfinished wool in her couture designs. Twenty years later, she started to experiment with a new form of the material, a buckled tweed, to make a tailored, but slightly loose jacket for women, that would come to be known as the Bouclé Jacket.
You can style bouclé fabric in many ways, from elegant and evening outfits to casual looks.