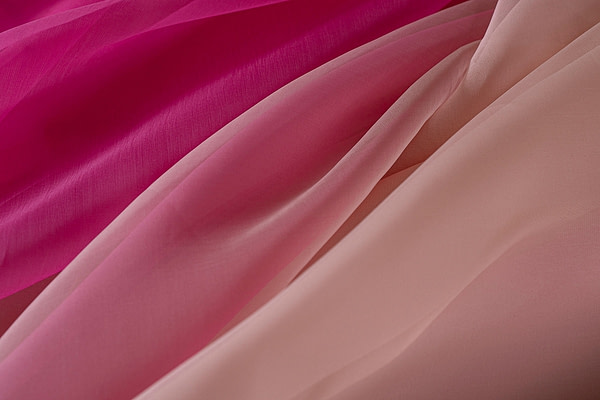 Organza fabrics
Shop online our top quality pure silk organza fabric for dressmaking and high fashion, made in Italy in our weaving factory and available in beautiful colours.
Read more
Register to view prices, place an order or request free samples
Login / Register
60% PL, 40% SE
140 cm
133 g

/ m
What kind of material is organza?
Organza is a gorgeous, lightweight, sheer, nearly transparent silk fabric with a firm and crisp hand and matte appearance.
Made from the finest yarns, it is a plain-woven fabric. Its fundamental characteristic is the crisp hand created by the sericin or outer part of the silk, also called raw silk.
For which garments is organza suitable?
Often used in bridal and evening wear as an underlining fabric to add body to skirt, silk organza can be quite showy if used in special occasion garments, like a gorgeous ruffled gown or sheer blouse.
It has an outstanding drape and is known for its volume and body that makes a gown look full.
It can also be placed atop other silk fabrics to transform their look and feel.
What is the difference between organza and chiffon?
Organza is a fabric similar to chiffon, relatively transparent and slightly heavier. The main difference is its stiffness, that makes it a more natural choice for structured gowns with more shape. Like chiffon, organza is quite delicate.
Choosing the right colour
Our pure silk organza fabric is available in many beautiful solid colours, sold online by the metre.
To see the colors and texture of our organza in-person, order our sample set (available only for plain fabrics in continuous supply).
Draping qualities of organza.
One of the remarkable characteristics of organza is its ability to create beautiful, airy drapes. The fabric has a crisp texture that allows it to effortlessly fall and float, creating soft folds and gentle movement. Whether you desire a billowy skirt or cascading ruffles, organza has the drape to bring your vision to life.
Organza is also known for its ability to hold shape and maintain structured elements. Its stiffness allows for the creation of crisp pleats, sculptural ruffles, and elegant drapes. This makes it an ideal choice for creating garments with architectural details or those that require a defined silhouette.
Watch the following video to get a better idea: