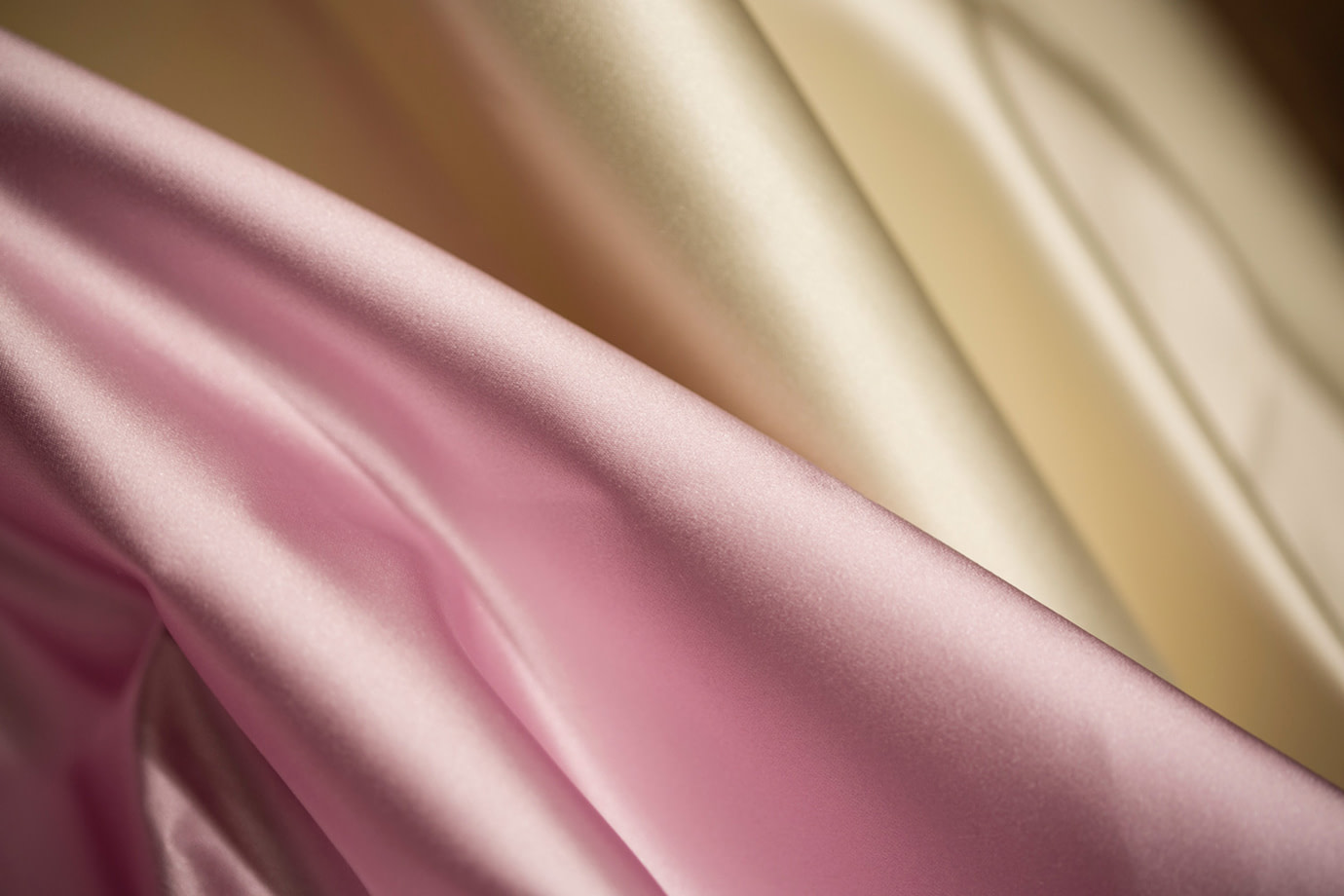 Crêpe Satin fabrics
View fabrics
Silk crepe back satin fabric is a luxurious textile that epitomizes elegance and opulence. It combines the lustrous sheen of satin on one side with the subtle texture of crepe on the other, creating a versatile and visually captivating material.
Shop online the highest quality pure silk crêpe back satin fabric for dressmaking, high fashion, couture and bridal dress, made in Italy and available in more than sixty plain colours and in a selection of beautiful prints.
What kind of material is crepe-backed satin?
It's a crepe fabric with satin weave. The warp features a smooth and lustrous satin finish, known for its elegant sheen and soft drape. The satin side of the fabric has a subtle glow that catches the light, adding a touch of sophistication to any garment. It reflects a luxurious and refined aesthetic, making it a popular choice for formal attire and special occasions.
The weft is matte silk crepe with a slight pebbled appearance, woven alternating S and Z. This side offers a matte finish with a subtle grainy texture, adding depth and interest to the fabric. The crepe texture gives the fabric a unique tactile quality, creating a beautiful contrast to the smooth satin side.
Another remarkable quality of silk crepe back satin is its incredible softness and comfort against the skin. The silk fibers used in its construction make it a breathable and lightweight fabric, ensuring a comfortable wearing experience. It is ideal for both warm and cool weather, as it regulates body temperature and allows the skin to breathe.
For which garments is crepe backed satin suitable?
Sophisticated, enveloping, fluid and sensual, silk crêpe back satin is a very chic fabric. Its luxurious drape makes it ideal for form-fitting dress patterns.
Whether it is used for flowing gowns, tailored dresses, or romantic blouses, this fabric has a natural ability to accentuate the body's curves and movements, enhancing the overall grace and beauty of the wearer.
Silk crepe back satin is a versatile fabric that lends itself to a wide range of designs. Its fluidity and luxurious appearance make it suitable for evening gowns, bridal dresses, lingerie, and high-end fashion pieces. It is a fabric that effortlessly combines glamour and comfort, making it a favorite among fashion designers and discerning customers.
Choosing the right colour
Our crêpe back satin fabric in 100% pure silk is available in many beautiful solid colours, sold online by the metre.
In order to choose the most suitable colour for your sewing project, you can order our free Sample Set.
Draping qualities of crepe-backed satin.
Silk crepe back satin is known for its excellent draping properties. It effortlessly cascades and flows, creating elegant lines and flattering silhouettes.
Watch the following video to get a better idea: