The full skirt is a wardrobe essential and a must-have for the Fall Winter 2023/2024 that can be effortlessly transformed to suit any occasion.
Read the article and learn all the secrets of this sartorial masterpiece that stands the test of time.
---
On the AW23 runway
Flattering and feminine, the full skirt is an iconic and beloved silhouette that has recently made a huge comeback in fashion.
After years of comfort dressing, starting from the autumn/winter 2022 catwalks we've seen a general return to elegance and fine dressing, with designers focusing on reviving classics and proposing more tailored and structured silhouettes, such as the 1950s New Dior skirt shape.
For the Fall Winter 2023/2024 season, the full circle skirt is making a comeback with new interpretations, ready to conquer the runways and wardrobes of fashion enthusiasts around the globe. Discover the latest trends in full skirts and find the perfect one to add to your wardrobe.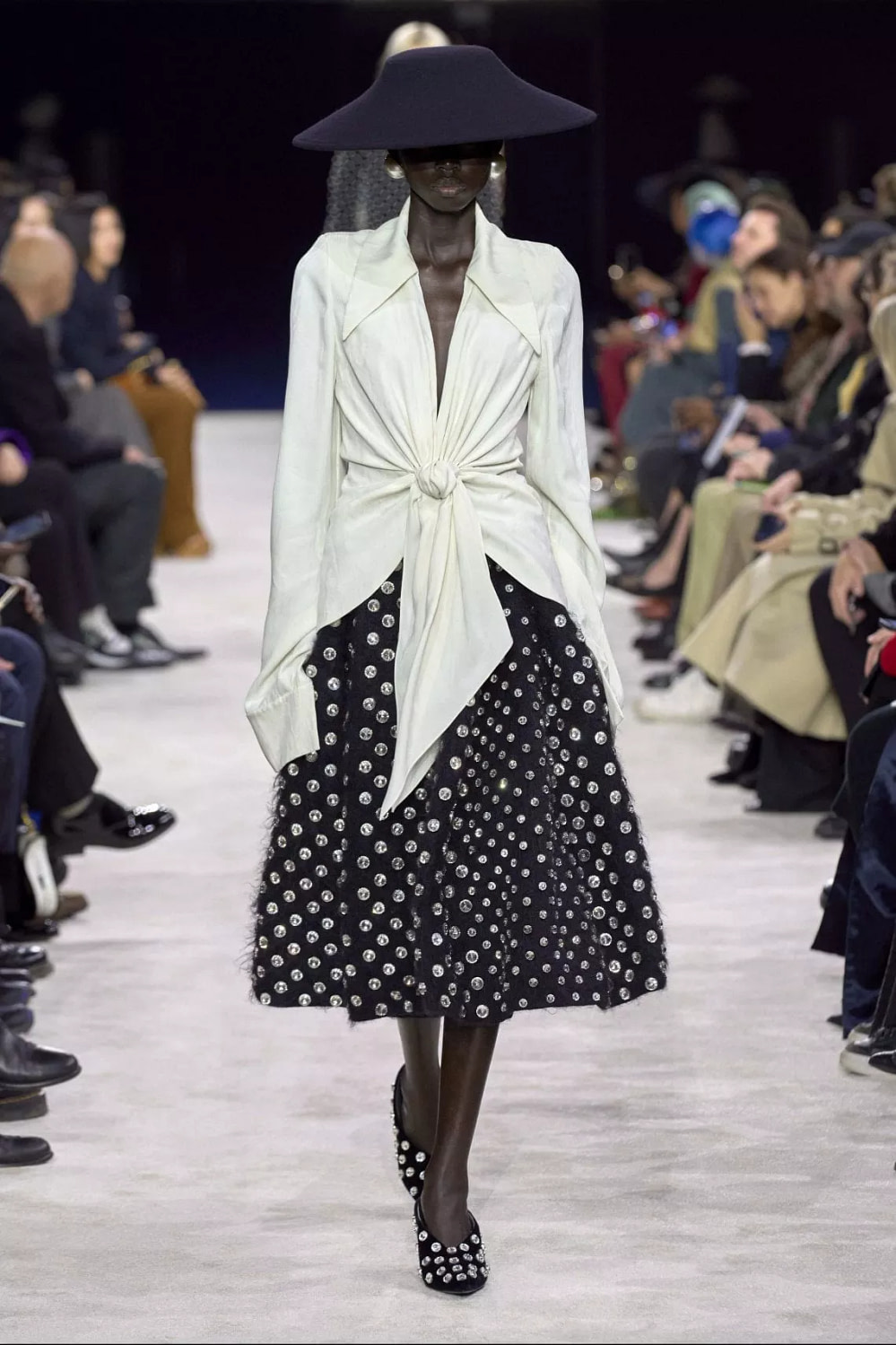 Major fashion designers including Balmain, Proenza Schouler, and Prada showcased a range of full skirts in their Fall Winter 2023/2024 shows, adapting the garment to suit every style and occasion.
Tory Burch and Proenza Schouler offered full circle skirts in monochromatic looks featuring dark, elegant, and sophisticated shades. Prada, on the other hand, created full skirts characterized by a midi length and soft, light volume, perfect for formal occasions. Balmain added a touch of rock and punk to classic elements, creating full skirts with a modern and bold design, ideal for alternative and edgy outfits.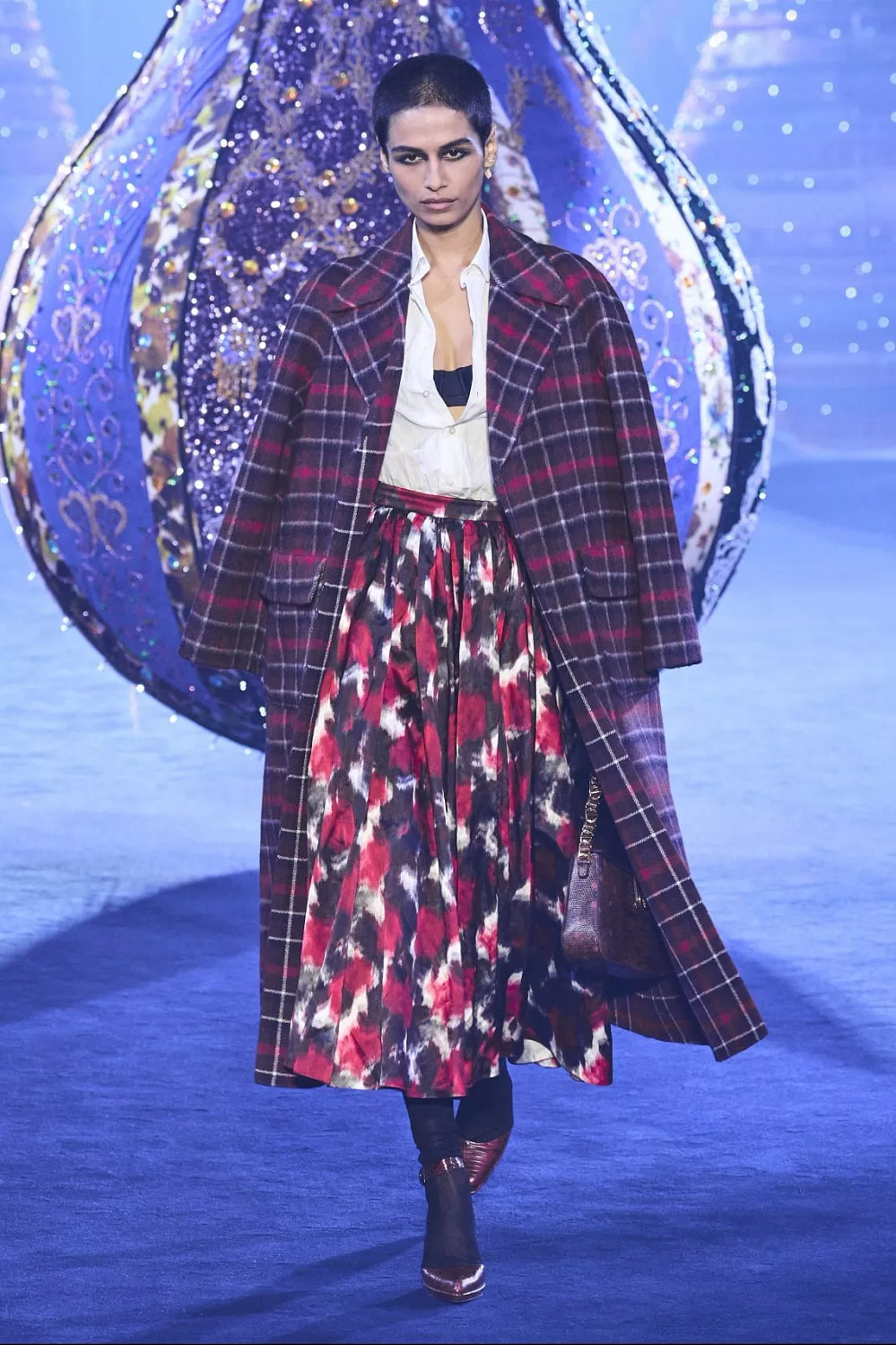 The ANTEPRIMA Fall Winter 2023-2024 collection exudes elegance and refinement, with a range of full skirts in black, beige, and patterned designs. Schiaparelli opted for a full white skirt, pairing it with a white turtleneck sweater, white boots, gold jewelry, and a white turban for a stunning monochromatic look. Dior presented a beautiful floral circle skirt, perfect when paired with an elegant plaid overcoat, for a refined and trendy outfit.
---
Choose the right fabric to create your full skirt
With its timeless appeal, the circle skirt is very versatile and can be worn for a variety of occasions, from a casual brunch to a formal event or a chic office outfit. It's flattering and feminine, yet still sophisticated and stylish. And above all, it looks good on everyone, since its shape helps to balance proportions and draw attention to the waist, creating a visually appealing look.
The modern styling of this trend is a combination of casual staples, pristine layers, and bold accessories. Cropped jackets, fitted tops, hoodies, T-shirts, crewneck knitwear and turtleneck sweater are all playful updates to this classic trend.
Full skirts for Fall Winter 2023 come in different colors, prints, and textures, including stripes, checks, floral patterns and pastel tones. What's new is the versatility of the full skirt, which can be customized to create a unique and original outfit.
At new tess, you can find the perfect fabric to make the circle skirt look that reflect your individuality and mood. Discover our fabric selection and create your own unique and stylish garment!