Have you decided to get married in the autumn period? The big names in fashion have thought of you too. There are many suggestions to be trendy and absolutely glam at this time of year when the pleasant climate, the romantic atmosphere and the intense colors create a fantastic setting for fairytale weddings.
If, on the contrary, you prefer the winter period to the autumn, all you need to do is make your wedding dress ideal for this special and fascinating season.
Read the article to find out what are the fashion trends and models to be inspired to create your unforgettable wedding dress.
---
Minimalist wedding dress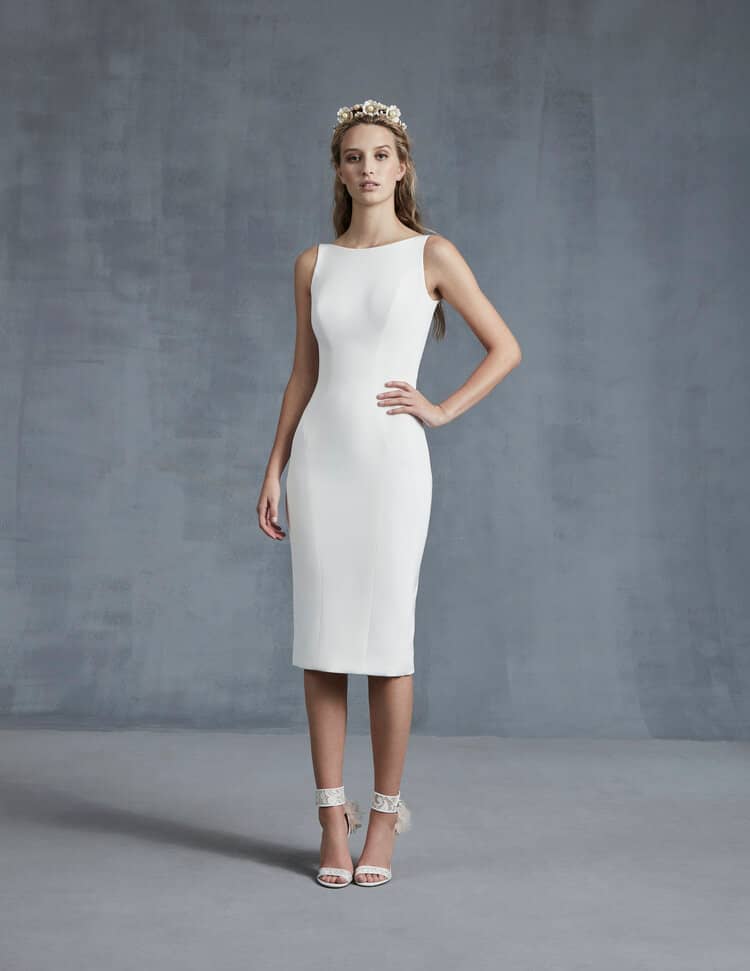 There are many proposals for minimal wedding dresses for the fall / winter season 2021/2022. These are dresses that focus on clean cuts, medium lengths or skimming and clean lines for elegant yet understated looks, perfect for an essential and simple bride.
Ines di Santo presented a minimalist midi dress with a bateau neck and side zipper. The clean line of the dress highlighted the silhouette, giving a unique touch of elegance and sophistication.
In her fall-winter 2021/2022 bridal collection, Vivienne Westwood proposed a minimal skimming dress in silk Cady. The only quirk? A sensual off the shoulder neckline for a dress that combines femininity and elegance.
Savannah Miller in her Fall/Winter 2021 collection, The Lady of the Lake, also focused on minimal wedding dresses with modern, understated lines.
---
Petticoat wedding dress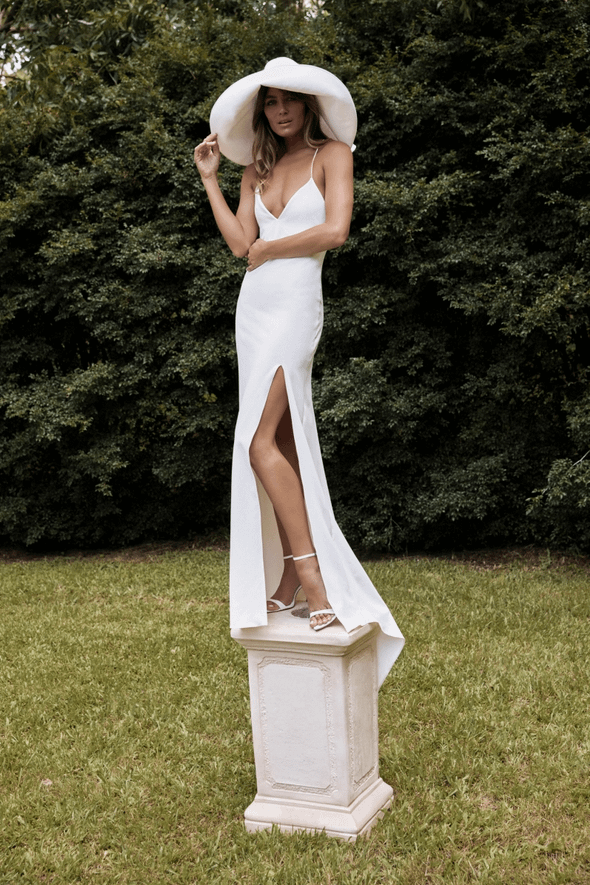 The "petticoat" style wedding dress, which is distinguished by its "underwear" cut and is made of light, often semi-glossy fabric, is also in fashion for the fall-winter 2021 season.
In designer Rita Vinieris' Rivini FW/21 collection, we saw a satin crepe slip dress with thin straps, neckline and buttons at the back for a classic, clean and sensual style.
Also Galvan in the bridal collection fall 2021 has proposed wedding dresses "slipped" in perfect "petticoat style", but playing on wide V-neck to make the look even more feminine.
Are you afraid of not-so-mild weather? Take inspiration from Naeem Khan's collection by enhancing the slip dress with a wide veil and a luxurious cape richly decorated with a floral theme).
---
Wedding midi dress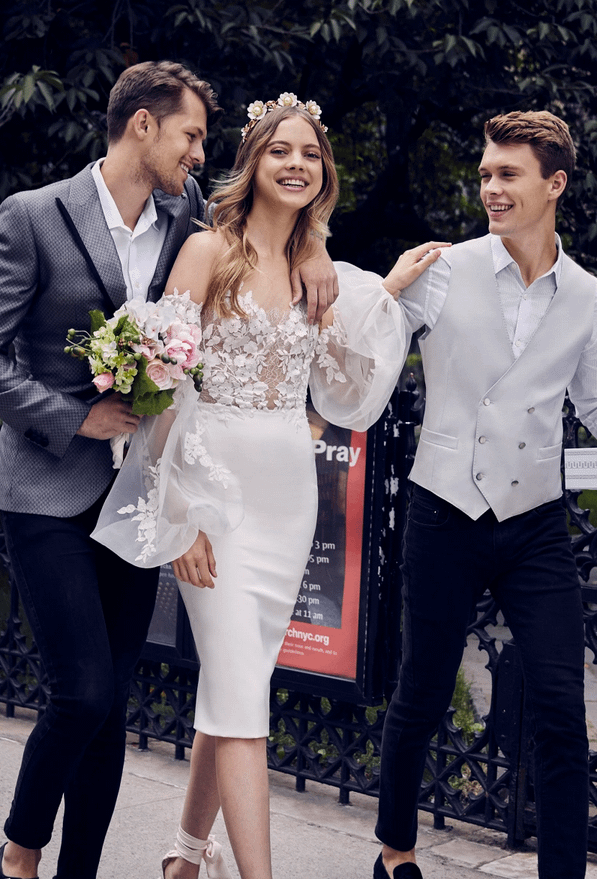 Would you like a dress that is neither too long nor too short? The midi dress, very used in the fall winter 2021 bridal collections is the right solution for you.
Designer Rebecca Vallance presented many midi dresses in shades of white, pink and even black, enriched with glamorous details: bows, boat neckline, one-shoulder and ruffles.
Ines di Santo presented a midi dress with a lace bodice embellished with floral appliqués and puffed sleeves.
---
Vaporous wedding dress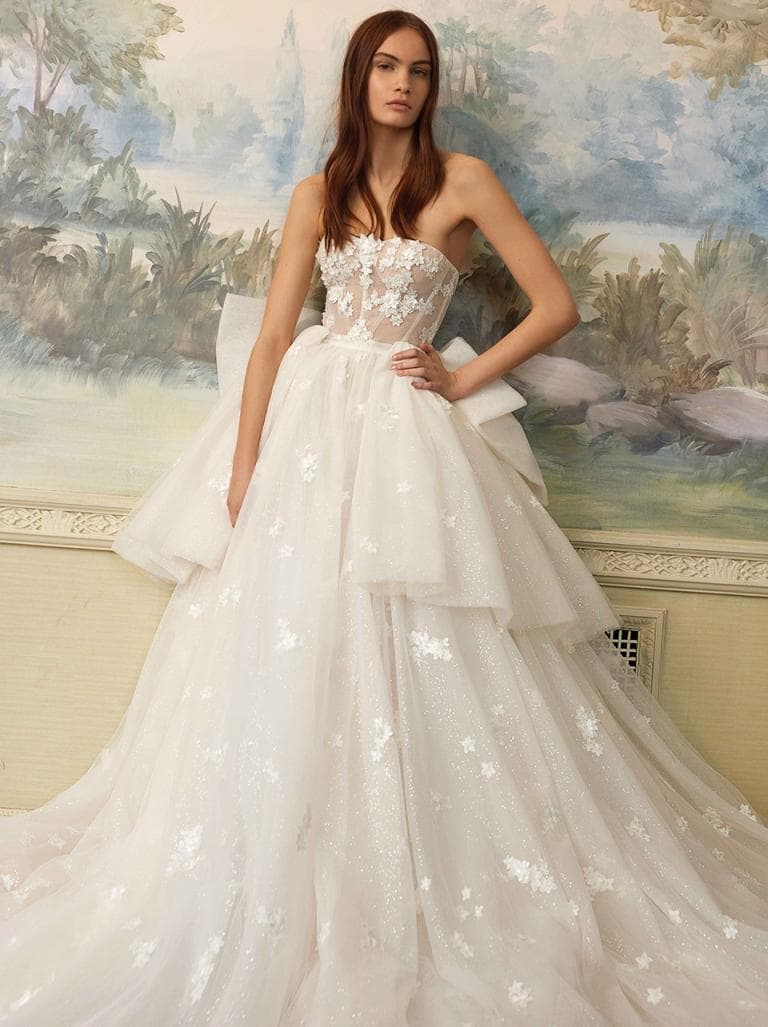 Volume is the main feature of many dresses in the fall winter 2021 collections. Endless layers of tulle or flounced silk are layered to create dreamy dresses.
The Monique Lhuillier bridal collection is an example: regal and timeless, all about epic volumes, intricate prints and unexpected embroidery.
Marchesa Couture's Pre-Fall 2021 collection, inspired by the botanical world, is also full of dreamy, romantic dresses and architectural silhouettes full of lush embroidery.
Galia Lahav followed this trend in her collection called "Dancing Queen", proposing wedding dresses with large volumes, richly decorated and with beautiful corsets that accentuate the natural curves and the waist.
---
Wedding dress: Pant suit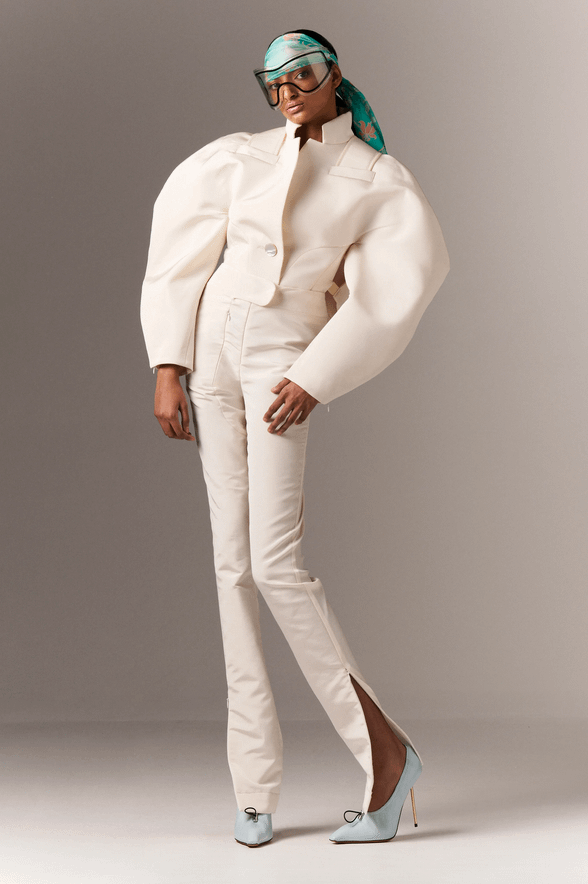 If you've always felt comfortable in pants and can't give them up even for your wedding day, the choice of a pants dress is always a must even for the fall/winter 2021 -2022 bride.
Savannah Miller offered an understated and elegant pantsuit in her collection that was comfortable and beautiful; Viktor&Rolf presented a sculptural pantsuit with pearl-inspired jewelry and eco-friendly materials.
In Danielle Frankel's fall-winter collection, we saw a look from which to take inspiration for an extremely elegant trouser dress to be worn with a corset and with a special tulle work to highlight the waist.
Original and perfect for an over the top bride is the dress proposed by Conner Ives with maxi ballon sleeves and cigarette pants with side slit. The bandana in shades of teal and beautiful sugar paper pumps complete the look.
---
Off-the-shoulder wedding dress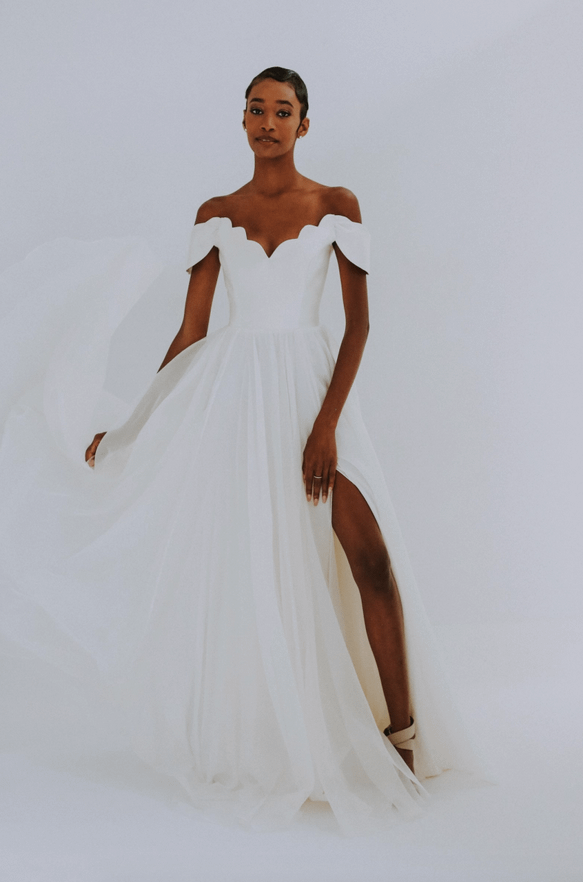 Off-the-shoulder dresses, whether long or short sleeves allow for a versatile neckline that flatters the décolletage and can be adapted to any silhouette and multiple fabrics: from cady to organza, from chiffon to duchesse. This is a very trendy romantic style for this fall that can combine elegance and sensuality.
Rebecca Vallance presented a refined minimal gown with boat neckline and wide slit on the skirt; Kelly Faetanini strapless dresses with sweetheart neckline that combine the romanticism that the "heart" shape represents with the strapless neckline, perfect to enhance the silhouette and femininity of the bride; Monique Lhuillier enchanted us with beautiful strapless wedding dresses rich in elegant and refined floral details.
---
Wedding dress with square neckline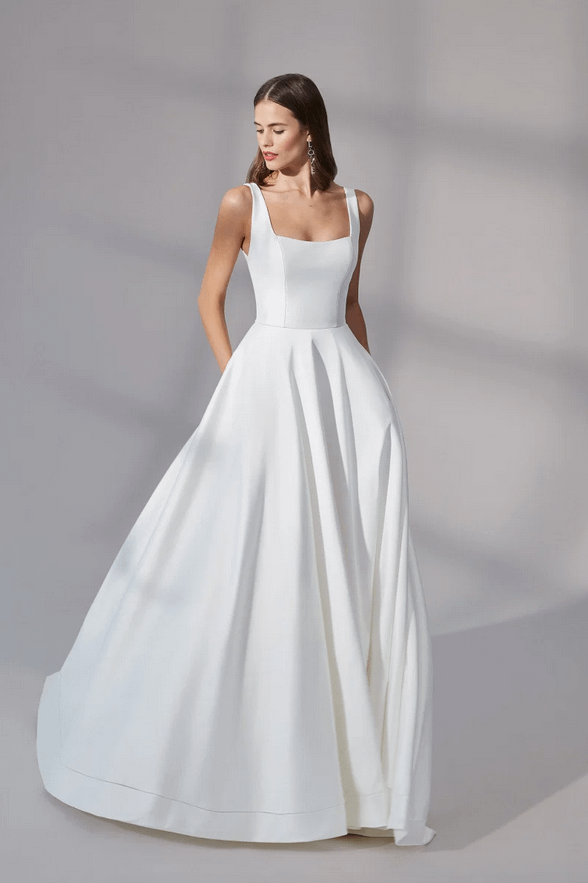 Among the trends for the autumn-winter 2021/2022 bride there is also that of the dress with square neckline, a geometric neckline that highlights the collarbones and shoulders and represents a real return to the past. Popular in the Renaissance, the square neckline is very versatile and adapts to multiple styles: from classic and romantic to the most original boho style.
The square neckline is perfect for the bride who wants to be elegant and simple, an example are the models that have presented for the fall-winter collection 2021/2022: Justin Alexander Signature, Galia Lahav, Savannah Miller.