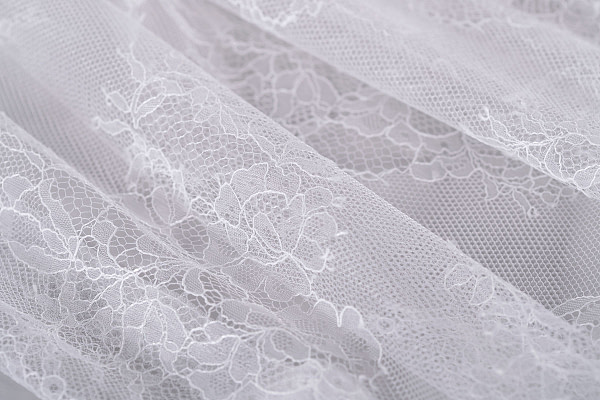 Chantilly Lace
Register to view prices, place an order or request free samples
Login / Register
61% CO, 23% VI, 16% PA
90 cm
99 g

/ m
Chantilly lace is a classic lace of French origin, that owes its name to the place where it was created, a small town in the heart of France, where it is still produced today.
Precious and of great elegance, this lace has very precise characteristics: it is a lace made on a tulle base with scalloped edges, light, impalpable and transparent, with floral garland patterns.
The patterns are created using a fine thread, often silk or metallic, which is meticulously worked into the fabric to form intricate motifs of flowers, leaves, and vines. The result is a breathtaking lace that appears almost weightless and transparent, with a timeless charm that has captivated generations.
For which type of garments is chantilly lace suitable?
This romantic lace has been cherished throughout history for its versatility and grace. It has adorned the gowns of royalty, adding a touch of romance and sophistication to their attire. From delicate wedding veils to exquisite evening gowns, Chantilly lace has found its place in the world of high fashion, symbolizing timeless elegance and femininity.
Although it has its roots in France, its influence has spread across the globe. Today, it is used by designers and fashion houses worldwide, who continue to reinterpret and innovate with this exquisite fabric. Its delicate beauty can be seen in bridal couture, romantic evening gowns, lingerie or accessories.
For the religious wedding celebrated on Lake Maggiore, Beatrice Borromeo wore an ivory white dress with flared lines, in chantilly lace and layers of silk chiffon, made especially for her by Giorgio Armani Privé. The dress was completed by a romantic and delicate silk tulle veil, also with a chantilly lace border.
Discover our selection of exclusive chantilly lace for wedding dress or special occasion dress.