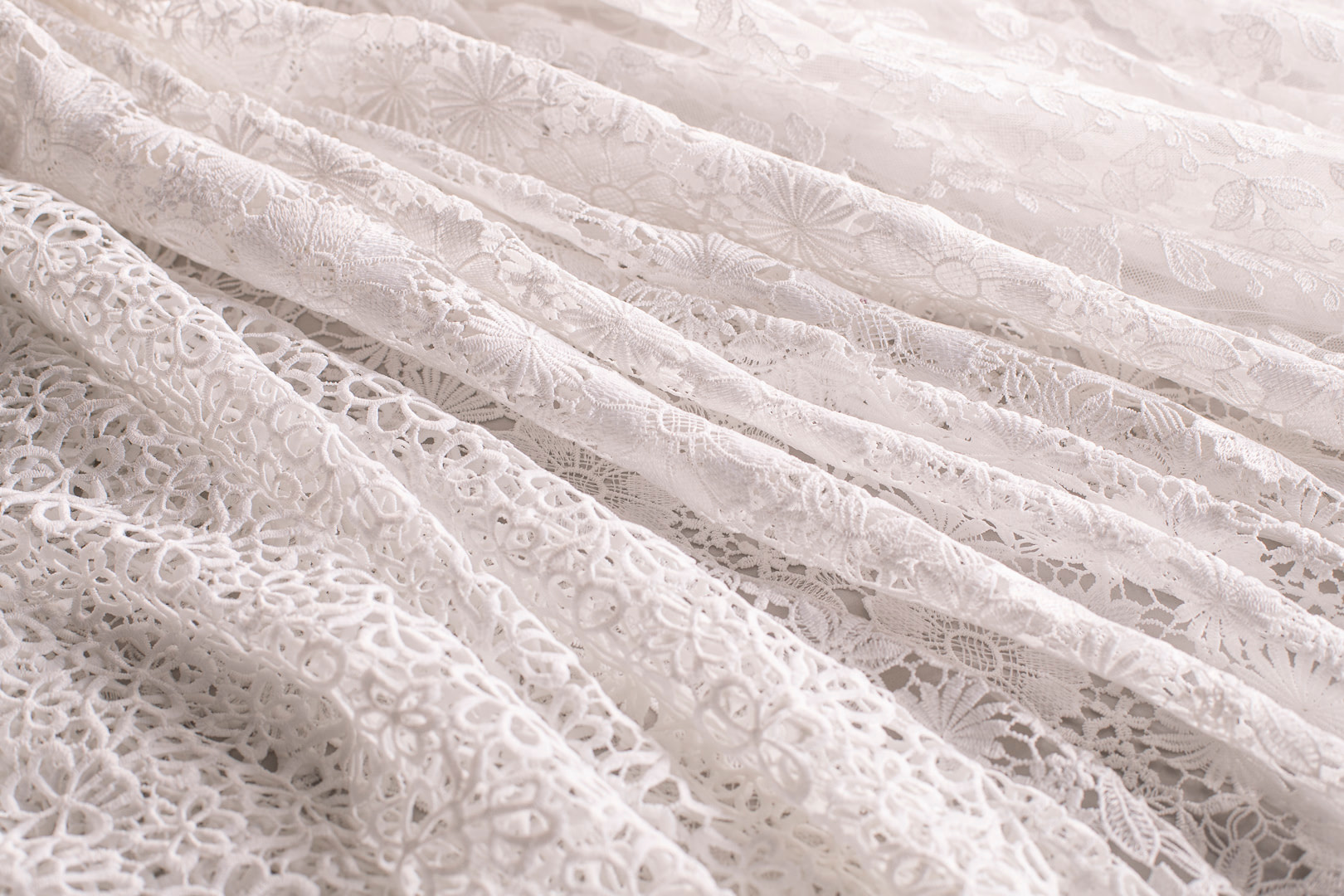 Bridal Lace
View fabrics
Bridal Lace: Adding Elegance and Romance to Wedding Gowns
When it comes to wedding gowns, one element that never fails to captivate is the delicate beauty of bridal lace. Lace has long been synonymous with romance, femininity, and elegance, making it the perfect choice for brides who want to create a timeless and ethereal look on their special day.
new tess offers a large selection of fine bridal lace in a variety of styles, each with its own unique characteristics and charm.
Chantilly Lace: Chantilly lace is a delicate and lightweight lace that originated in the town of Chantilly, France. It is known for its fine ground and intricate floral motifs, often featuring scalloped edges. Chantilly lace is timeless and romantic, making it a popular choice for bridal gowns.
Macramé Lace: Macramé lace is a type of lace that is created using knotting techniques rather than weaving or embroidery. It often features elaborate patterns and designs, with the knots forming intricate motifs. Macramé lace adds a bohemian and artisanal touch to wedding gowns.
Rebrodé Lace: Rebrodé lace, also known as Venetian lace, is characterized by its raised embroidery. This type of lace is created by stitching a design onto a sheer or net background, giving it a three-dimensional effect. Rebrodé lace is luxurious and elegant, often featuring floral or geometric motifs.
Embroidered Tulle: Embroidered tulle is a combination of delicate tulle fabric and intricate embroidery. The embroidery can feature a variety of patterns, such as floral motifs, swirls, or geometric designs. Embroidered tulle lace adds texture and depth to wedding gowns, creating a stunning visual impact.
Tulle with Applications: Tulle with applications refers to lace that is created by attaching appliqués or motifs onto a tulle base. These appliqués can be made from lace, beads, sequins, or other decorative elements. Tulle with applications adds a touch of glamour and sparkle to bridal gowns, making them stand out.
For which type of wedding dress is lace suitable?
One of the most alluring aspects of bridal lace is its versatility. It can be used in various ways to embellish a wedding gown, adding exquisite details to different parts of the dress. From the bodice to the sleeves, back, and hemline, lace can be strategically placed to create a stunning effect. Whether it's a full lace gown or subtle lace accents, this fabric has the power to elevate the overall aesthetic of the dress, adding an element of grace and sophistication.
Bridal lace has a long-standing tradition of making wedding gowns truly special. Its delicate intricacy and timeless appeal continue to captivate brides and designers alike. Whether it's a vintage-inspired lace gown, a bohemian lace creation, or a modern and sleek design with lace accents, this fabric remains a symbol of romance, femininity, and elegance in the world of bridal fashion.
75% VI, 25% PA
130 cm
301 g

/ m