Discover the 5 fabric print trends that will define spring-summer 2023 fashion and be inspired by the hottest patterns of the moment.
Flowers: Large, eye-catching floral prints will dominate the fashion scene this spring. Expect to see everything from delicate floral patterns to bold, oversized florals.
Polka Dots: A classic print that never goes out of style, polka dots will make a comeback this spring. Whether it's a dress, skirt or shirt, polka dots will add a touch of fun and playfulness to any outfit.
Stripes: Stripes can be used creatively to create garments of all kinds, from pants to skirts, shirts to dresses. In the spring/summer season, stripes come in various shapes and colors, from vertical and horizontal stripes to bold multicolored stripes.
Animal prints: Animal prints are a timeless classic and will continue to be popular this spring. From leopard prints to zebra prints, these prints will be featured in everything from clothes to shoes. –> View Flash Sale
Abstract prints: For those who prefer a more modern look, abstract prints will be a popular trend this spring. These bold and graphic prints can be found in a variety of colors and designs, perfect for adding a pop of color to any outfit.
---
Guide to fashion show looks
Let's find out together what are the season's most trendy fabrics and how they have been used by the big fashion brands.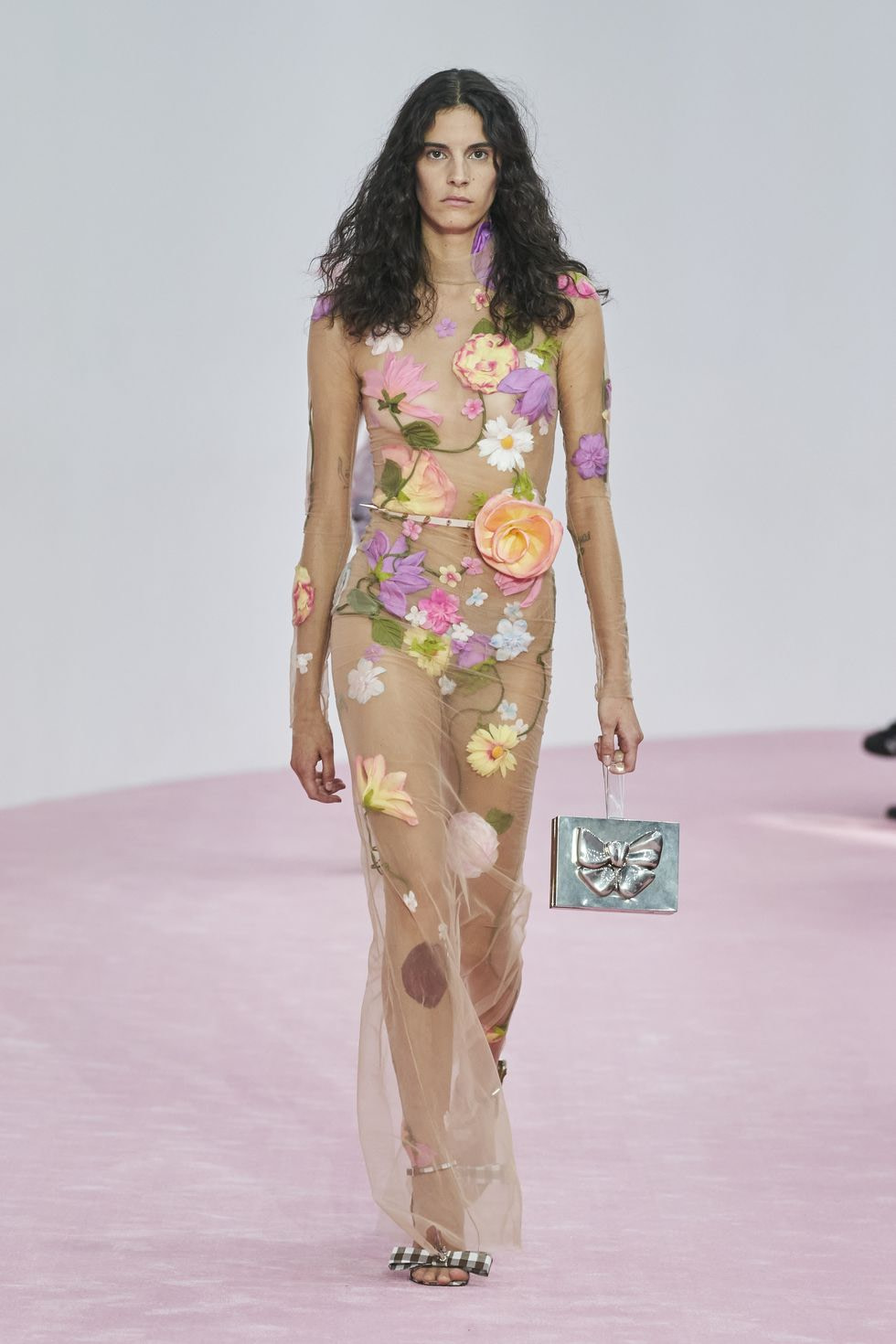 The fashion trend of floral fabrics for spring summer 2023 is a classic that renews its appeal every year. On the catwalks of Milan, London and Paris, flowers have become an indispensable element in fashion collections.
Flowers were presented in a variety of forms, from embroidery and draping to imperceptible silk-screen prints, combined with bold details and inserts, and were declined in a variety of colors and shapes, paying homage to the beauty and vitality of spring.
Even accessories were not excluded from the floral trend, with shoes and bags featuring floral motifs and themed decorations. In particular, the anthurium became a major player due to its distinctive figure, bright colors and heart-shaped spathe. The innovative and creative use of flowers to create unique and original clothing and accessories was demonstrated by Loewe's Jonathan Anderson's choice to use anthurium as the central element of his latest summer collection.
Acne Studios presented a transparent long dress with floral appliqués for the spring/summer season, made to create a three-dimensional effect. Dior offered floral dresses, pants, raffia coats and crop tops, while Carolina Herrera chose to let the silhouette speak for itself with a pink dress entirely covered in red roses, with a circle skirt.
---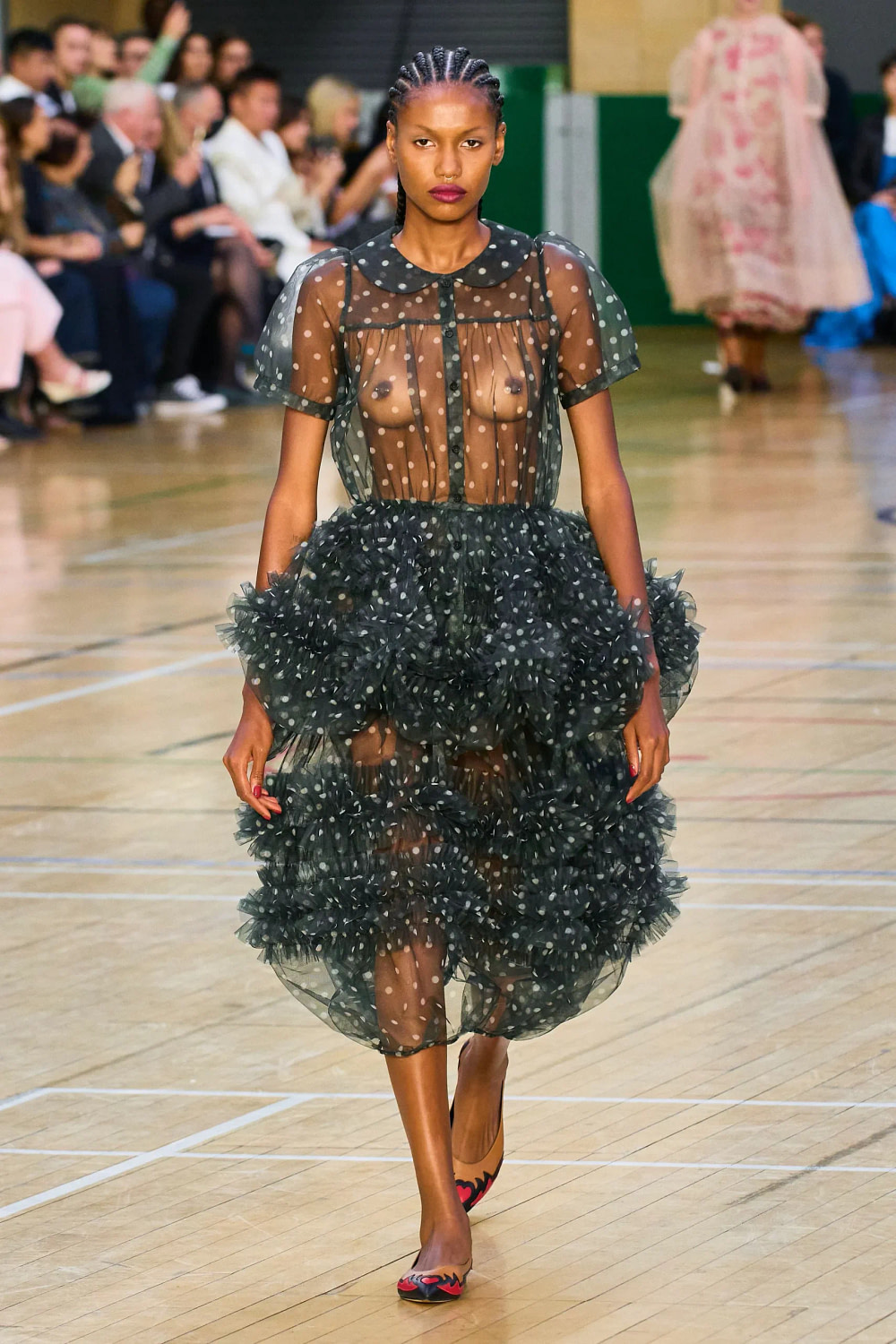 In the spring-summer 2023 collections, polka dots were interpreted in innovative ways, both in size and color. From large, showy polka dots to smaller, delicate ones, polka dot fabrics were used to create fun, romantic, and sophisticated garments.
Molly Goddard presented a black dress with white polka dots, made even more sensual by the use of sheer chiffon fabric that elegantly reveals the skin. Chanel proposed a white suit with black polka dots, while Burberry made a jumpsuit with bold and irreverent cuts with orange polka dots on a yellow background.
At Alaïa, on the other hand, we saw a strapless dress with a leather bodice and contrasting yellow polka dots. The essential leather bodice, combined with the light skirt with yellow polka dots, creates a contrast of fabrics and styles that gives the dress an aura of elegance and originality.
The use of polka dots both large and showy and small and delicate demonstrates the versatility of this print, suitable for a variety of occasions, from the most formal to the most informal. Polka dot fabrics are a winning choice for the spring/summer 2023 season to create garments ranging from romantic to sophisticated.
---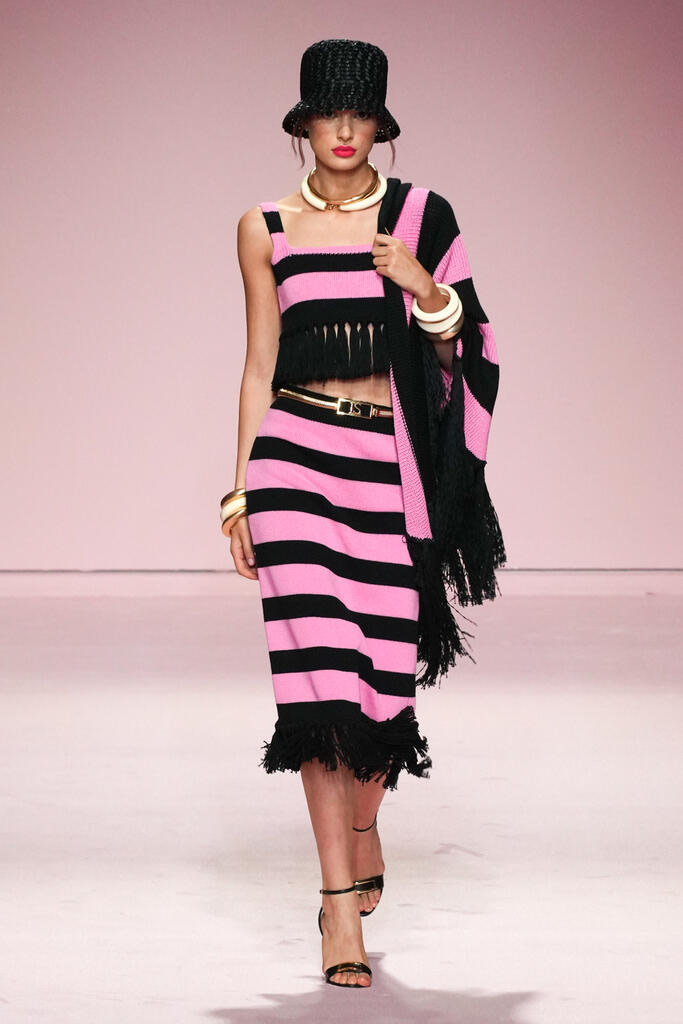 Striped fabrics are a timeless classic of summer fashion that have appeared on the runways of numerous designers in the spring/summer 2023 collections. Stripes were used in innovative ways to create unique and original garments, alternating horizontal and vertical stripes to create optical effects that play with body proportions and shapes.
Cotton, silk and linen were the most widely used materials to create light and fresh garments perfect for the summer season. Stripes were presented in a variety of shades, from classic white and navy-blue stripes to brightly colored stripes that can add a cheerful touch to one's outfit.
Stripes were used to create versatile garments suitable for different occasions, such as business suits, cocktail dresses, and casual garments to wear during leisure time. Monse breathed new life into the classic striped suit, adding corset ties on the front to give it a unique twist. Dior proposed beige and light blue striped pants paired with a matching corset, creating a sophisticated yet original look.
The Miaou brand designed an asymmetric striped dress with bare shoulders, equipped with leather eyelets and straps. Luisa Spagnoli and Ralph Lauren, on the other hand, used maxi and colorful stripes to create long skirts, shirts and sweatshirts, resulting in cheerful and vibrant summer outfits.
---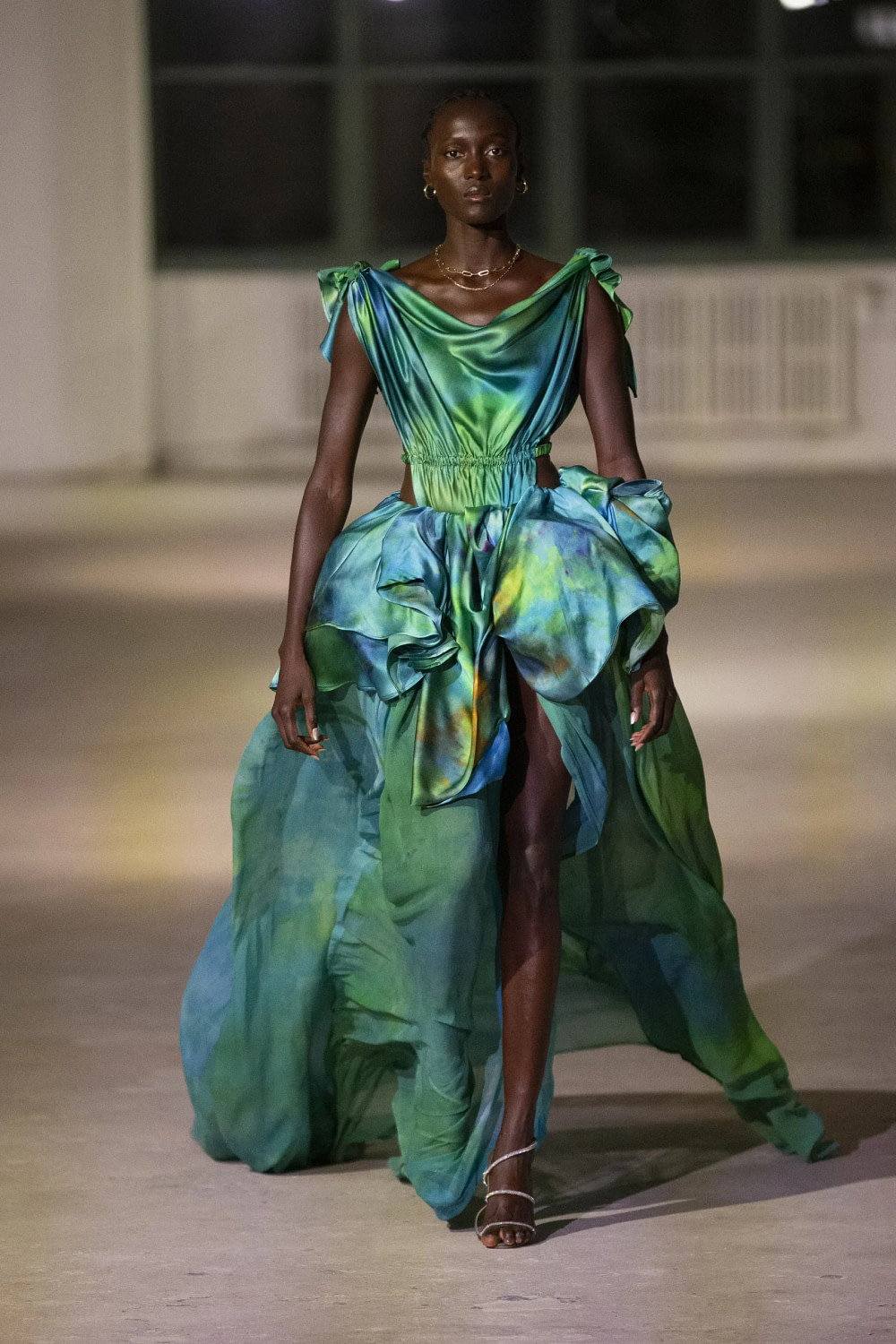 Abstract print fabrics are an extremely versatile and original fashion trend for the spring/summer 2023 season. These prints stand out for their ability to create unique and imaginative patterns, often inspired by contemporary art, where colors and shapes blend together harmoniously and delicately.
Designers used fabrics as a veritable canvas on which to paint museum-like motifs: Prada presented satin dresses that looked as if they had been hand-painted with light watercolors; Christian Wijnants a pale blue dress with a face print; Fe Noel a draped silk dress that combined elements of tie-dye in an extremely refined and sophisticated way.
This trend shows how abstract prints can lend a touch of eccentricity and originality to any garment, creating a sophisticated and exclusive look for spring
---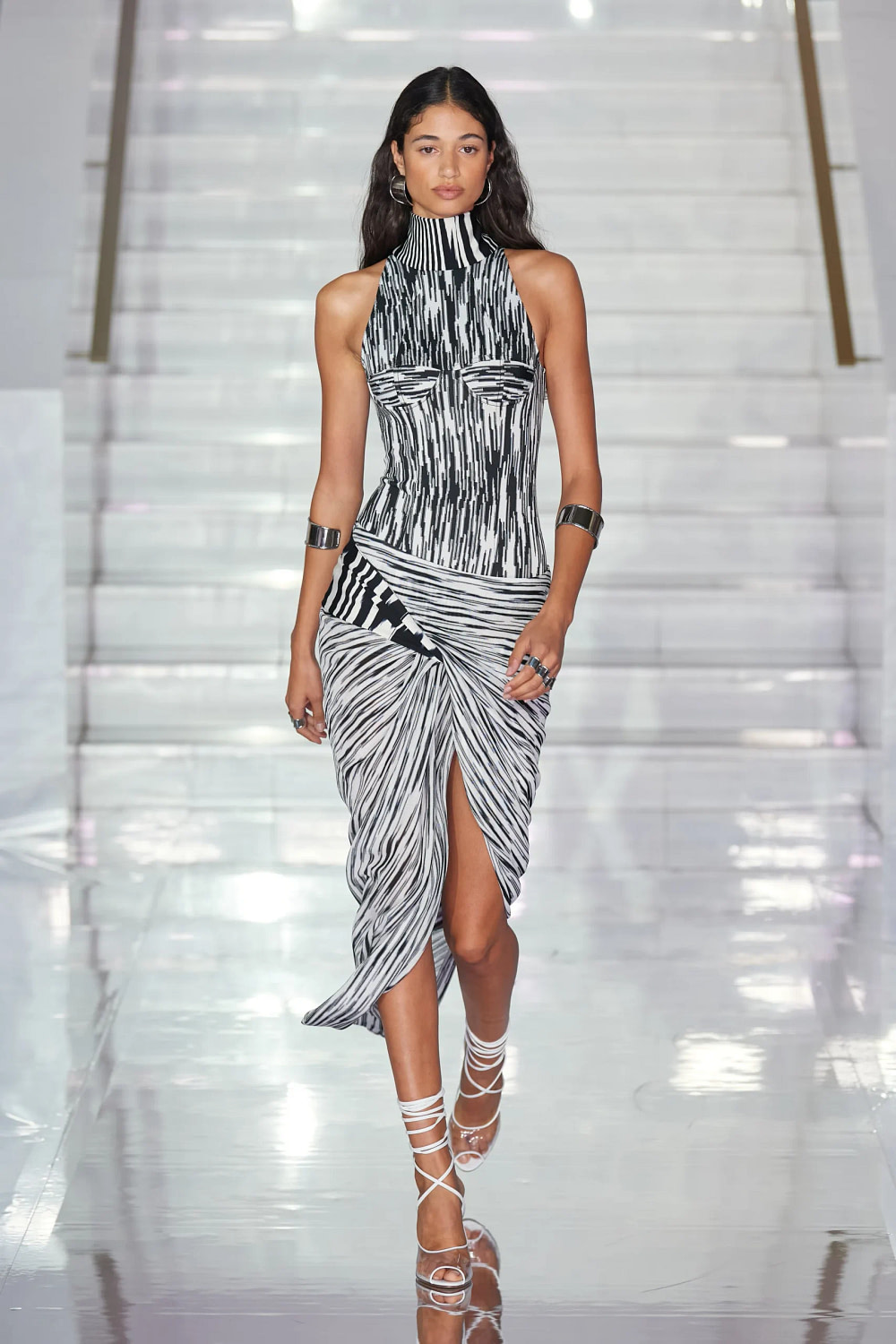 Animal print is a timeless fashion trend, and for the spring-summer 2023 season various brands have proposed it in different forms and interpretations.
Python is back to have a place of honor among the animal trends of spring-summer 2023 fashion. The bewitching and fascinating effect of this print makes it a must-have in women's wardrobe, but how best to wear it?
American brand Khaite opted for an oversized animal-print maxi blazer paired with a turtleneck sweater and leather pants, all in black. Italian fashion house Tod's chose an animaliir-patterned pencil skirt to wear with a simple white tank top or shirt for a minimal and elegant look.
The 16Arlington collection was able to enhance the python effect print in an innovative and creative way, presenting a wide range of garments all in this print. Dresses, pants, cardigans, blouses, and coats were made with matte sequins, satin, and patent leather trim to give the print a scaly and sophisticated effect.
For the spring-summer 2023 season, the fashion house Missoni opted instead for zebra print, offering a white jumpsuit with a sleeveless bodice and a rounded collar. Roberto Cavalli and Chanel opted for leopard print. Roberto Cavalli presented dresses, skirts and jackets in leopard print, using animalier in an exuberant and bold way. Chanel, on the other hand, offered a more sophisticated version of the leopard print, using high-quality fabrics and combining the print with leather and metallic details.
‍