Satin, a shiny fabric that is soft to the touch, has been a strong trend in fashion for several years and continues to be a must-have in women's wardrobes. Satin dresses are perfect for special occasions such as weddings, elegant evenings and parties.
In recent years, satin has also become more popular for everyday wear because of its versatility. Satin dresses can be worn for both daytime and evening, depending on how they are paired.
For spring/summer 2023, satin garments will still be a major trend, with a wide variety of styles to choose from. From midi dresses to maxi dresses, from asymmetrical to crisscross patterns, satin suits many shapes and styles.
Popular colors for satin dresses include pink, red, blue and green, as well as pastel and neutral tones such as beige and gray.
Pairing it with the right accessories can make all the difference. If you want an elegant and sophisticated look, you can wear high-heeled shoes and a chic handbag. For a more casual look, however, you can choose low sandals and a shoulder bag.
Satin garments are a real must-have for the spring/summer 2023 season and can be easily adapted to different styles and occasions.
Be won over by the beauty and sophistication of satin.
---
Satin fabrics: a guide to catwalk looks
Let's take a look at the use of satin fabrics that have made an appearance on this year's fashion runways, lending a touch of elegance and sophistication to many iconic garments.
Bally offers a satin mini dress with a wide rose-colored V-neck. With its sheen and softness, satin lends a touch of luxury and femininity to the outfit.
Emporio Armani chooses satin to make elegant purple pants: the fluid fabric that softly follows the body's shape creates natural folds that give the garment dynamicity.
Prada for spring-summer 2023 offers a light blue satin dress. Thanks to its below-the-knee length, the garment is perfect for both a formal occasion and an elegant evening. The light blue color of the fabric also gives the dress a delicate and romantic look, ideal for a special event.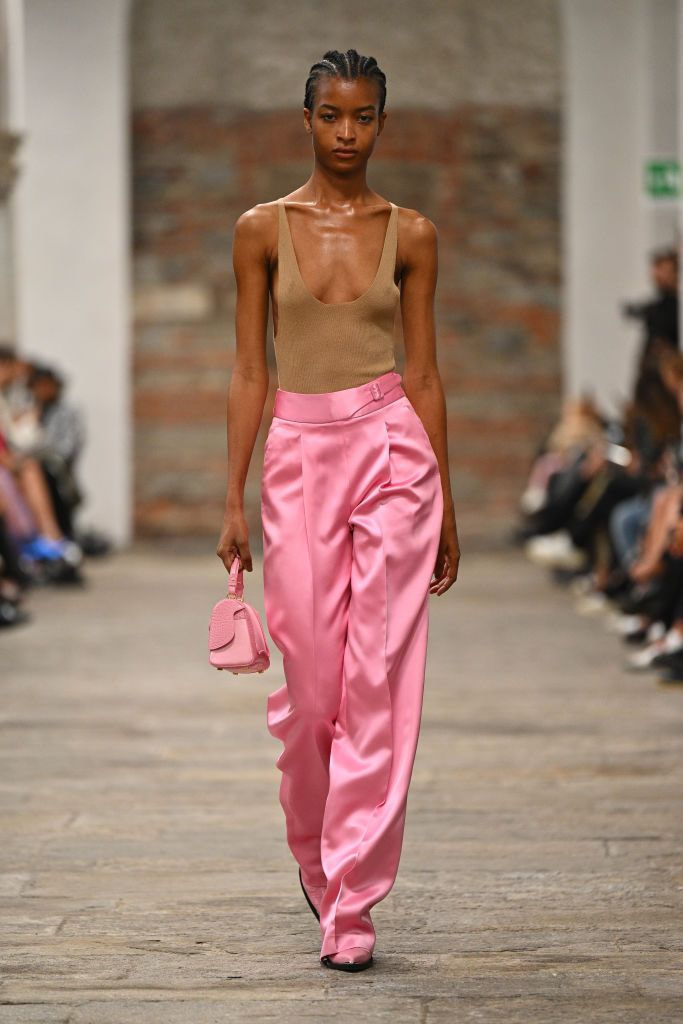 Among Ermanno Scervino's most iconic garments for summer 2023 is a pink satin trouser. The soft cut gives a comfortable and casual, yet elegant and balanced look to the outfit. The delicate pink color of the satin fabric gives the pants a feminine look perfect for a sophisticated daytime look.
Fendi chooses satin for an ankle-length sky-blue overcoat. Satin gives a bright and shiny look to the overcoat, moreover, thanks to its softness, it perfectly fits the body shape, creating a sinuous and feminine image.
Also among the spring-summer 2023 collections is Altuzarra's "Kaya" dress made of satin-crepe in a cheerful "Butterscotch" hue. The fitted, ruched bodice features subtle cutouts that are tucked into drawstring-embellished ties.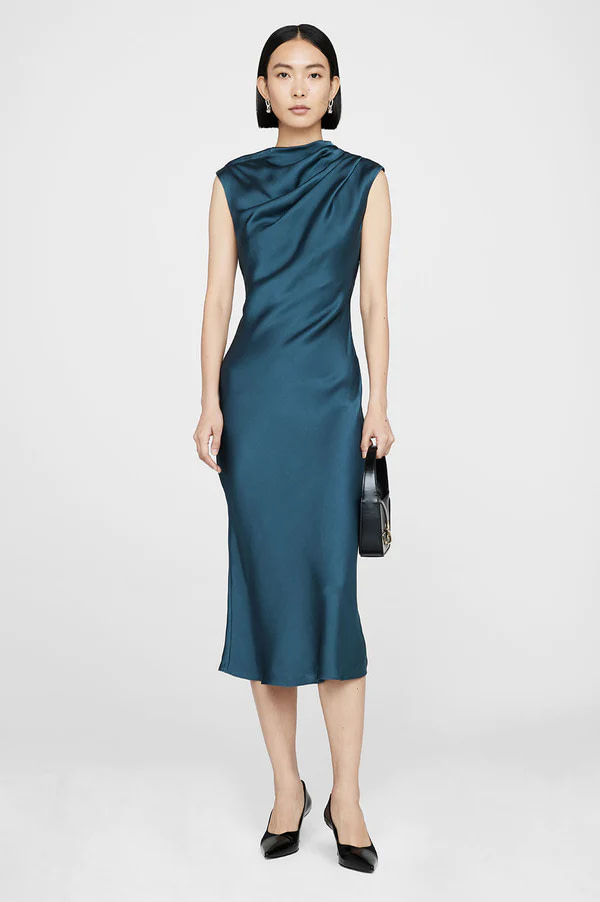 Mango offers a satin shirt dress with a soft, flowing silhouette inspired by the classic shirt with a knee-length and asymmetrical cut.
The "Samantha" midi dress by Anine Bing spring-summer 2023 collection is made of lustrous steel blue silk satin, has an elegant draped neckline and lightly padded shoulders.
French brand Paul & Joe also chooses satin for its sky-blue jacket and pants. The look is extremely refined and the fit soft.
Satin fabric for skirts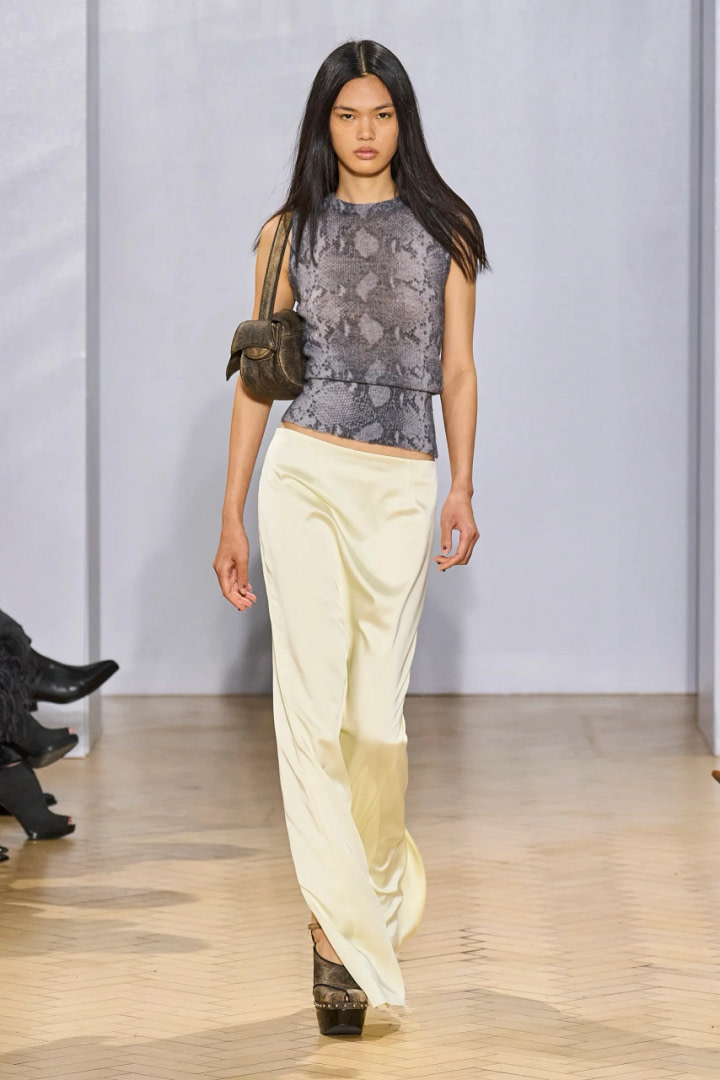 Skirts in satin fabric are a must-have for the Spring/Summer 2023 season and certainly don't go unnoticed on fashion catwalks. They perfectly adapt to a wide range of occasions, from casual chic to more formal styles. They can be paired with sweaters, shirts, tops, or jackets, depending on the occasion and desired look.
Among the designers who have presented skirts in satin fabric in their collections, Anna October and 16Arlington stand out with their elegant and sophisticated proposals. Anna October presented a Spring/Summer 2023 collection that celebrates femininity and timeless elegance, with silk satin skirts featuring sinuous and fluid lines. The predominant colors are pastel shades such as blush pink, sky blue, and yellow. 16Arlington also proposed satin skirts in its Spring/Summer 2023 collection, with models featuring more structured and geometric lines. The skirts are available in pastel shades as well.
But it's not just the runways that propose satin for skirts for the upcoming season. Celebrities like Jennifer Lopez have also chosen this fabric for unforgettable looks. In fact, at the recent Met Gala, Jennifer Lopez wore a light pink satin skirt by Polo Ralph Lauren, paired with a black crop top. The look has garnered the admiration of many, thanks to its refined yet daring choice.
new tess offers a wide range of high-quality satin fabric, available in different colors and patterns. You can choose from a wide selection of luxurious fabrics to create your own customized satin skirt, perfect for the Spring/Summer 2023 season.
---
Our Plain Silk Satin Fabrics
new tess offers three types of plain silk satin fabrics: 100% silk crepe back satin, 100% organic silk crepe back satin and silk satin stretch. All our satins are of the highest quality and are made in Italy in our weaving mill.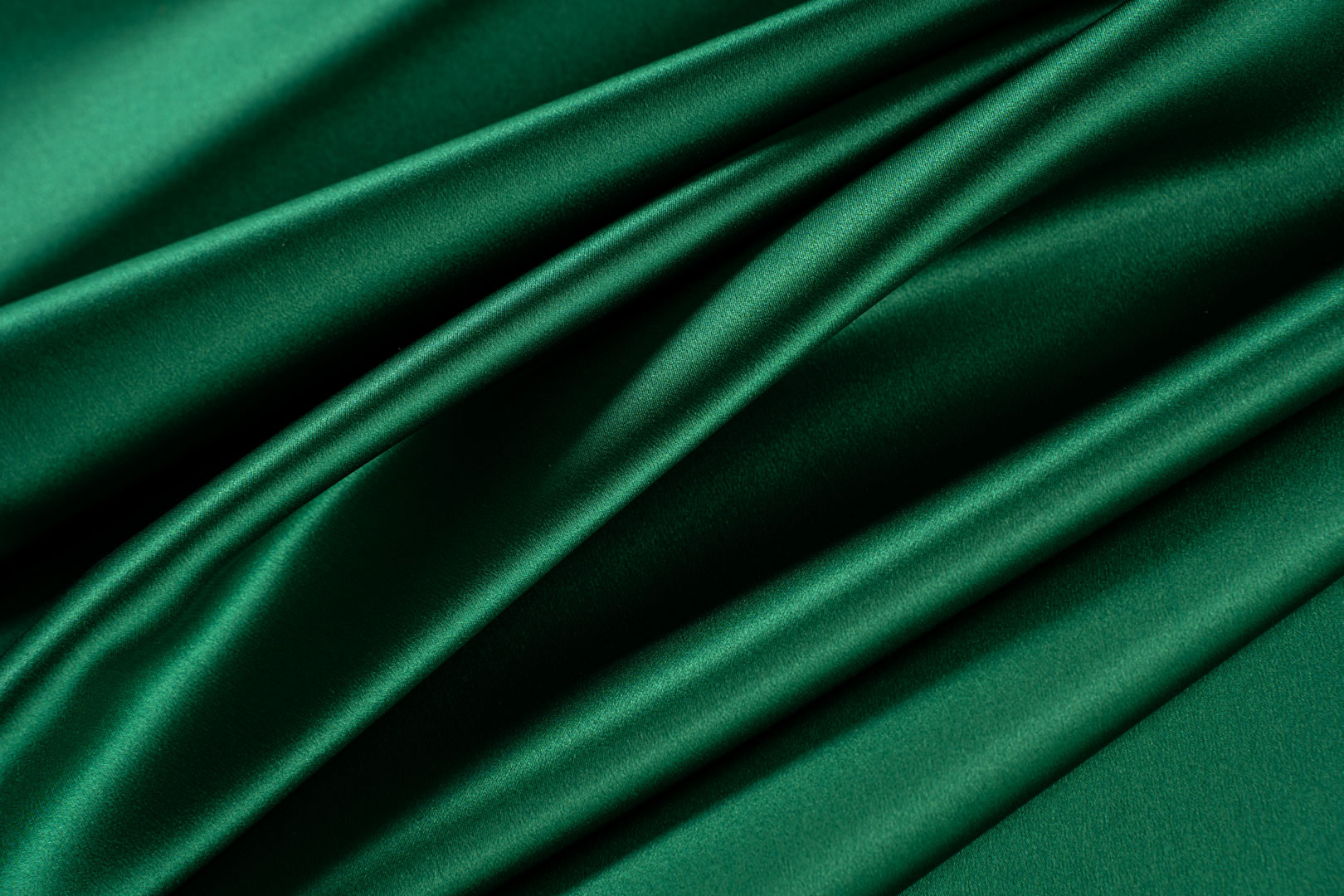 ‍