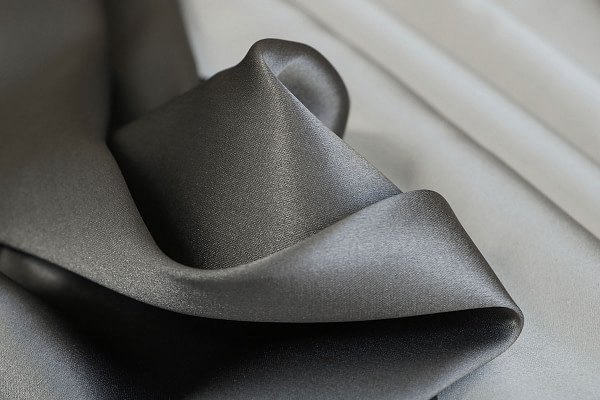 Silk Satin Stretch fabrics
Register to view prices, place an order or request free samples
Login / Register
94% SE, 6% EA
140 cm
97 g

/ m
Shop online our premium quality silk stretch satin for dressmaking, high fashion, lingerie and couture, made in Italy.
What kind of material is silk stretch satin?
Our apparel and fashion stretch silk satin, made of 94% pure silk and 6% elastan, is a seductive, slinky, lightweight and softly draping fabric that clings to the body.
It combines the sheen of silk with the comfort of stretch.
Made with very closely spaced warp threads of lustrous silk and a weft of satin crepe spun with a fine elastomer called soyeline. Satin weave. Its principal features are fluidity and comfort.
For which garments is silk satin stretch suitable?
It's one of our most popular satin fabrics and is ideal for alluring evening gowns, mermaid dresses, tops and blouses or luxurious lingerie.
Choosing the right colour
Our crêpe back satin fabric in 100% pure silk is available in many beautiful solid colours, sold online by the metre.
In order to choose the most suitable colour for your sewing project, you can order our free Sample Set.
Draping qualities of crepe-backed satin.
Our stretch silk satin fabric is a very flowy fabric that hugs and conforms to the body. It holds pleats and gathers well.
Watch the following video to get a better idea: