In fashion, color blocking can be defined as mixing items in blocks of solid colors that create a strong contrast, or wearing single items that are color blocked with panels of different colors.
You can create a color blocking outfit with a dress made of three solidly colored fabrics, as well as wearing a solidly colored top, jacket, and skirt combination.
The Mod trend of the 1960s, started by Yves Saint Laurent now-iconic Piet Mondrian-inspired sack dress debuting at the fashion house's Fall/Winter 1965–66 runway show, brought color blocking into mainstream fashion.
Since then, color blocking has been a staple of fashionistas around the world, no matter the trend cycle we are in.
---
Color blocking on RTW Spring-Summer 2023 runways
The big question is – how can you figure out which color combinations will look good together?
Let's take a look at the color combos that have popped up in RTW Spring 2023 designer collections from New York, London, and Milan, both through two-toned pieces and specific styling choices.
Analogous colors
Matching analogous colors is one of the easiest ways to venture into color blocking. Colors close together in the color circle are called analogues and produce harmonious color schemes such as brown paired with green, blue with purple, and yellow with orange. The final effect is that of a homogeneous and harmonious outfit without strong contrasts.
Carolina Herrera uses fuchsia in combination with orange for a daytime sheath dress. It is a similar eye-catching, glamorous and balanced color combination, perfect for the summer season.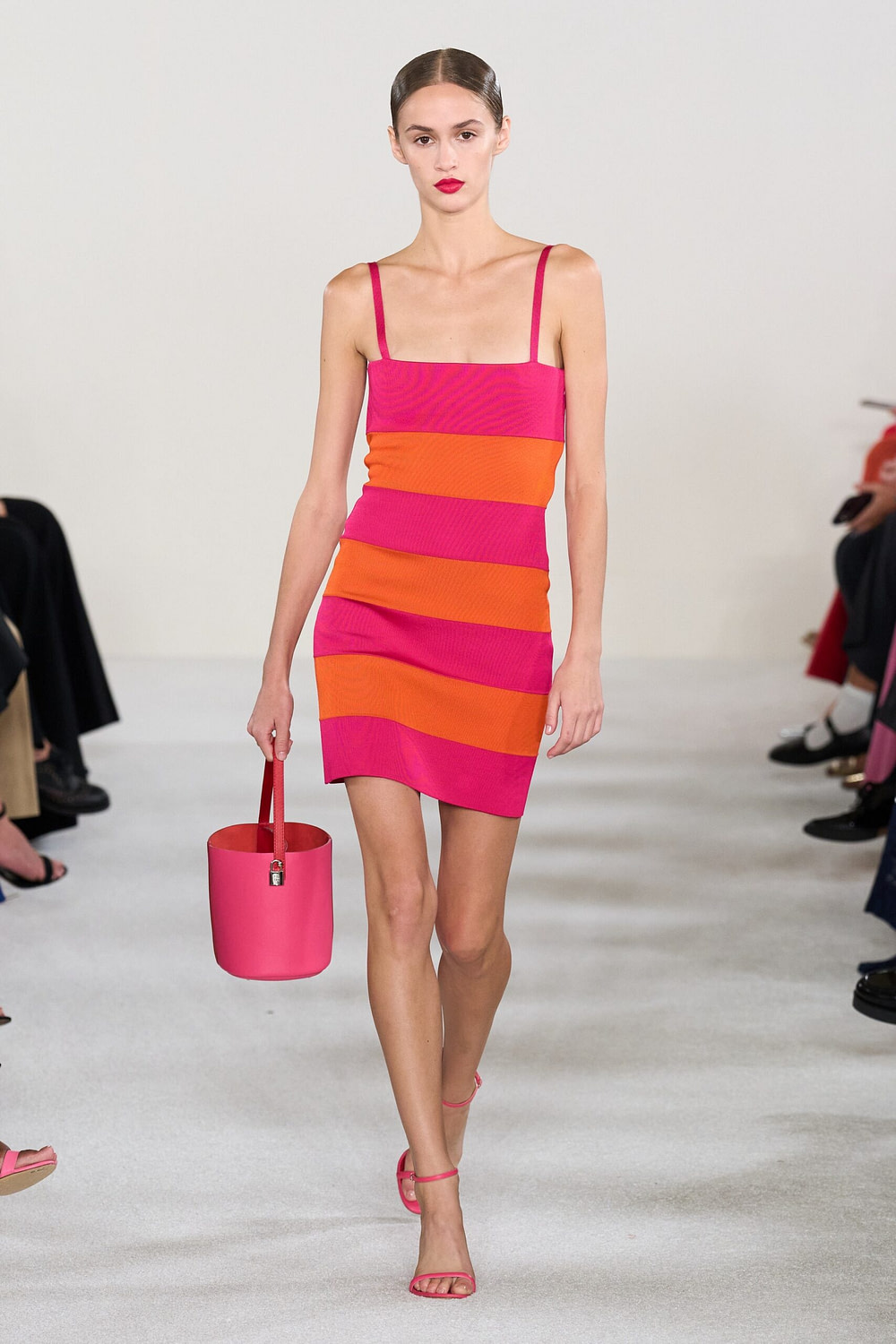 Hermes offers a dress with pink and red/orange color blocks. Replicating the colors of the sunset, the brand makes asymmetrical dresses for spring-summer 2023 in which bright reds and pinks are mixed on light, modulating garments.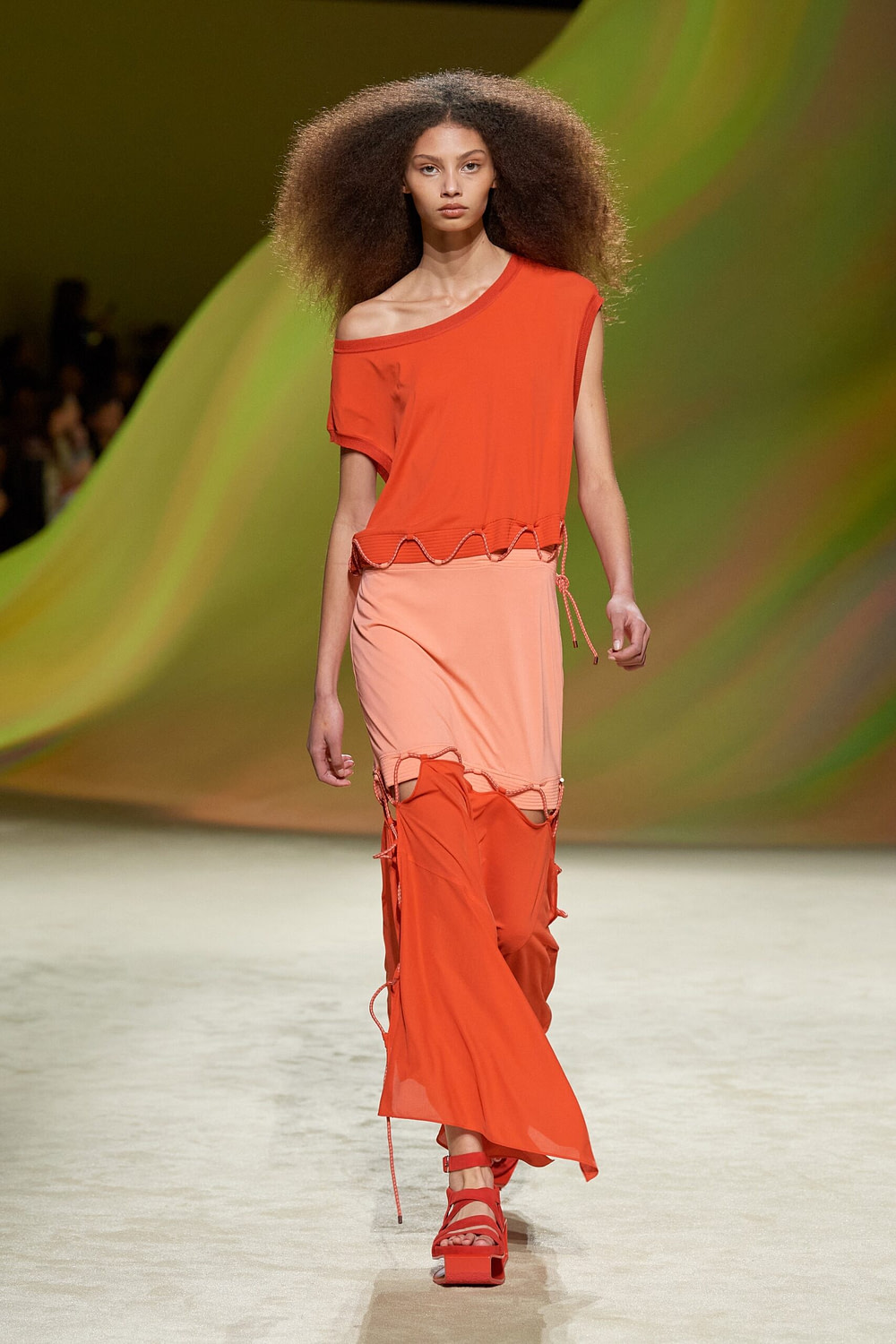 Puglisi for Roberto Cavalli reproduced costume designer Gilbert Adrian's famous hourglass silhouette on a cocktail dress with a white and powder pink one-shoulder top, purple skirt and blue belly-defining sash. The color blocking achieved with these shades ensures a sophisticated and stylish result.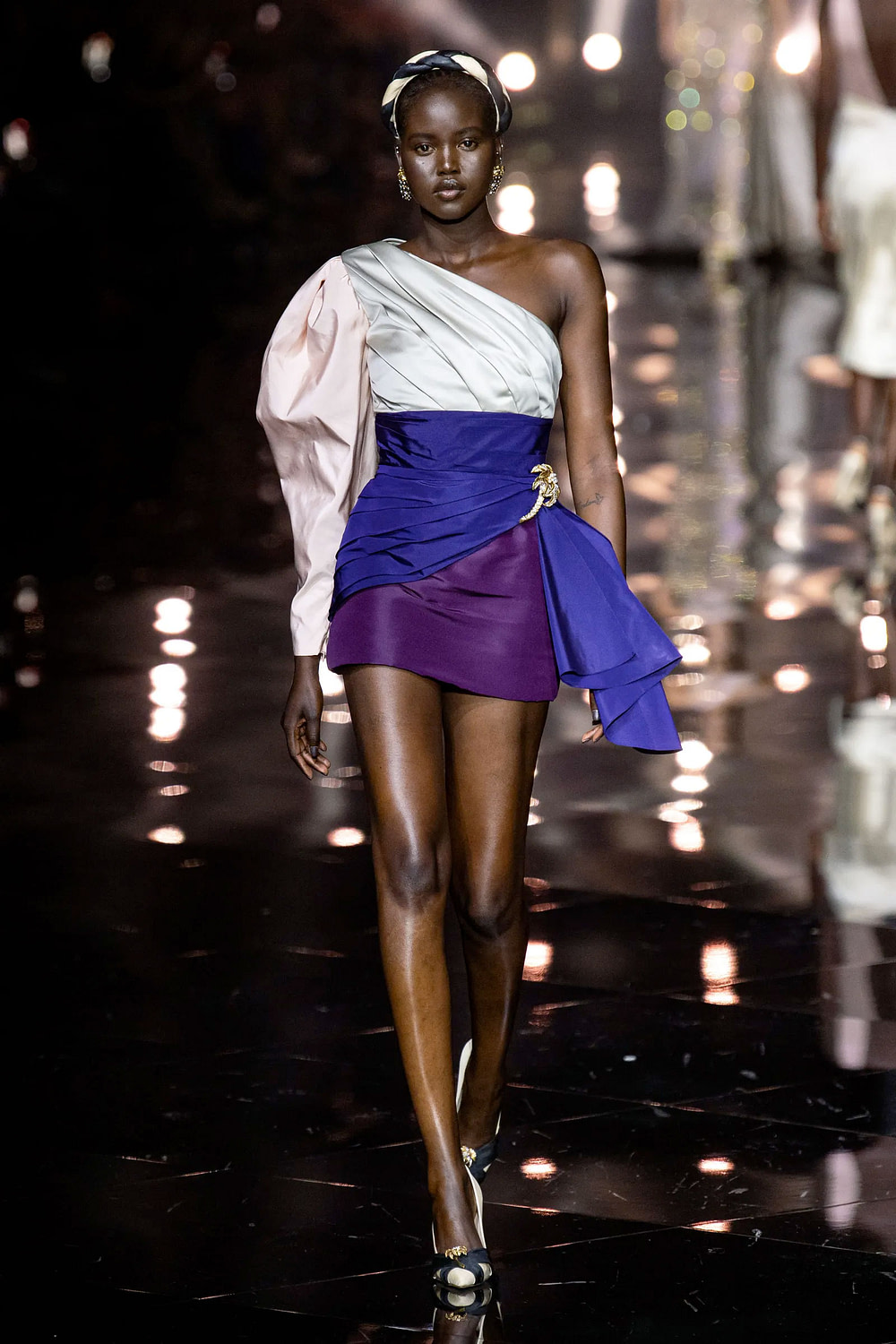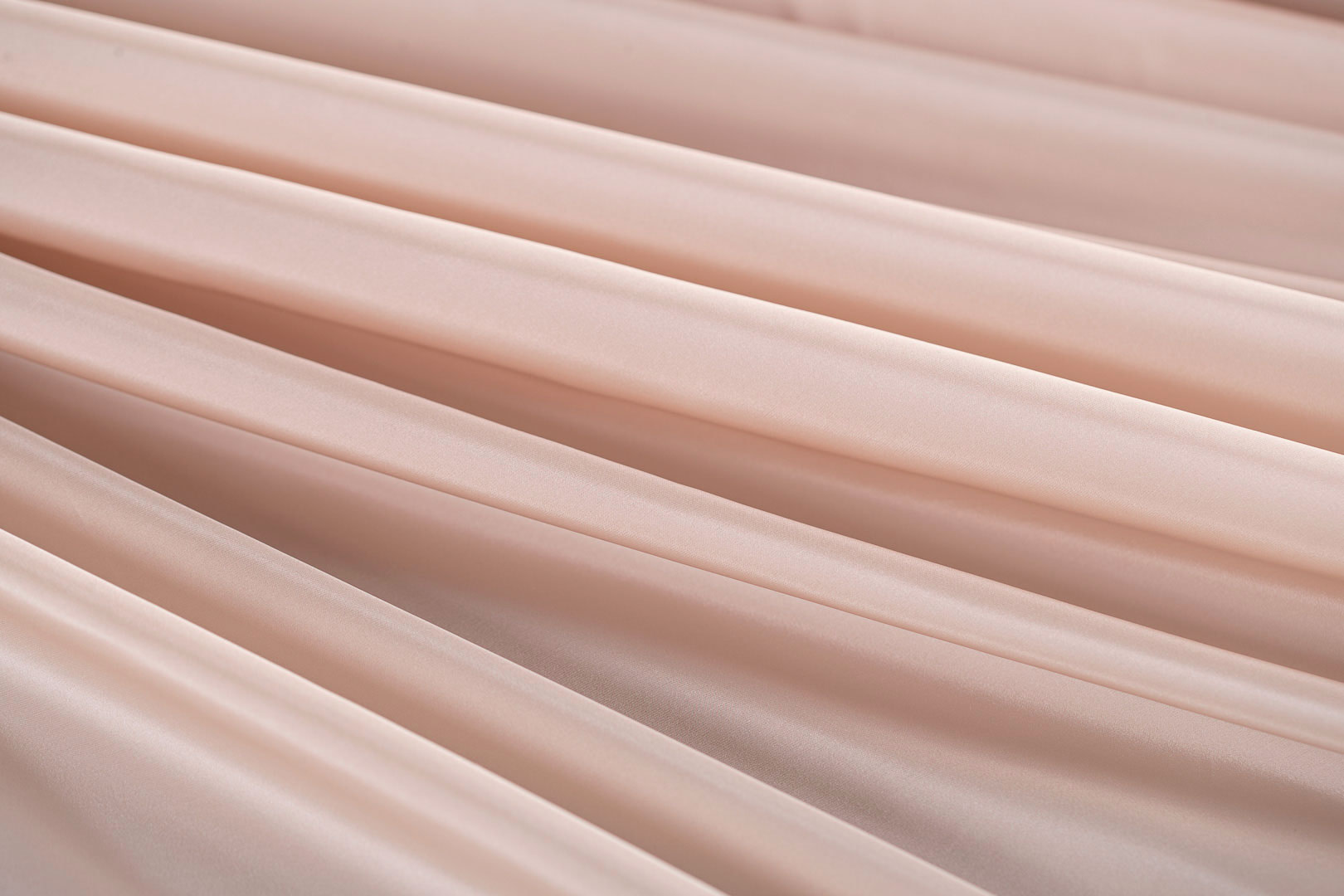 ---
Complementary colors
Complementary colors are two opposite colors on the color wheel that worn next to each other reinforce each other's brightness such as yellow and purple, blue and orange, red and green. Pairing strong contrasting colors is the right choice for those who want to achieve striking looks.
On the Alberta Ferretti runway, a light blue blazer is worn with an orange dress: the double-breasted linen-blend jacket with a tailored, masculine-inspired cut for a color block effect is paired with an orange dress with soft silk chiffon draping.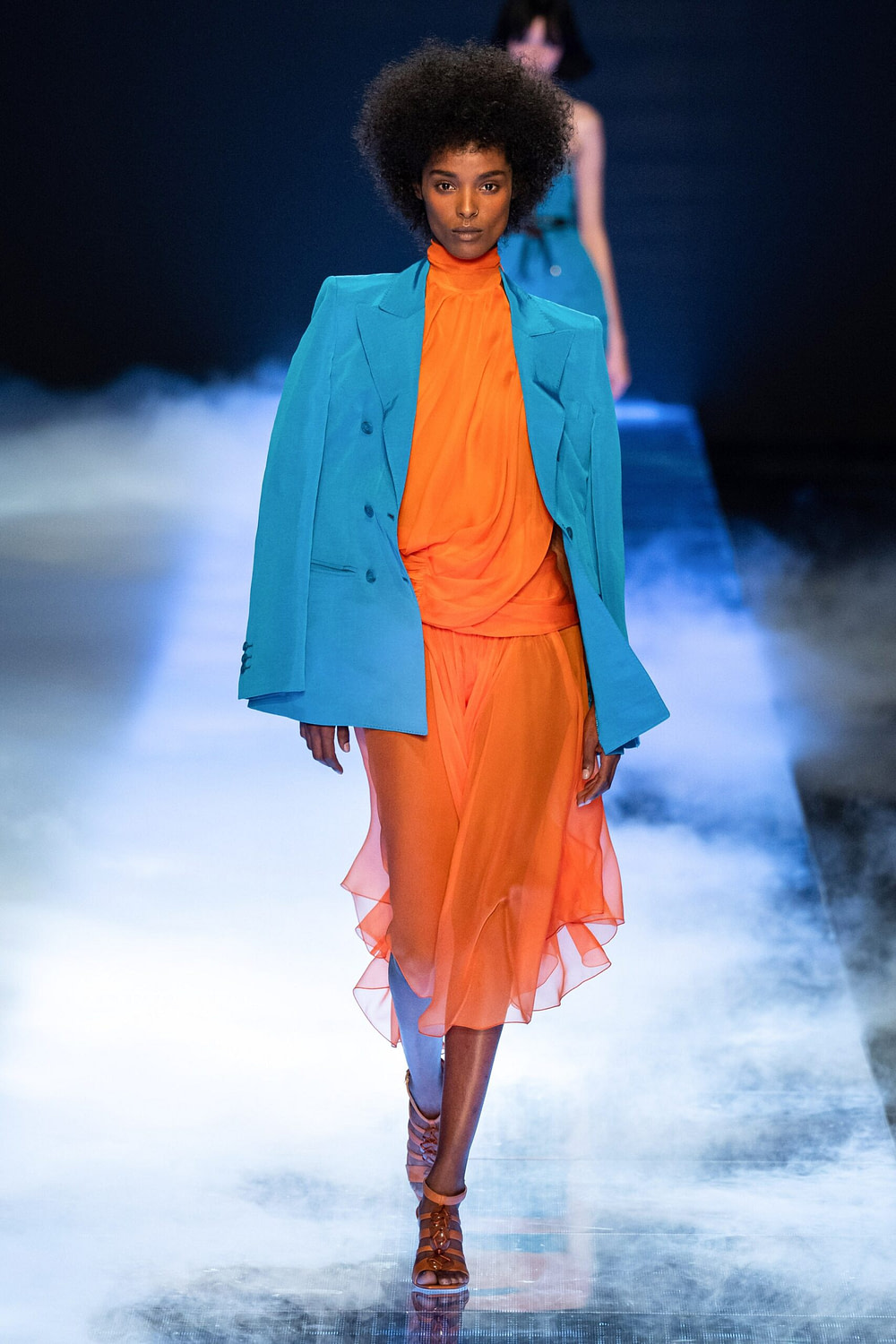 Same combination for Victoria Beckham, who offers a light blue and orange color block dress. Playfulness and sophistication come together in this dress embellished with a subtle cut-out above the waist, ruffle detail at the front and an open back.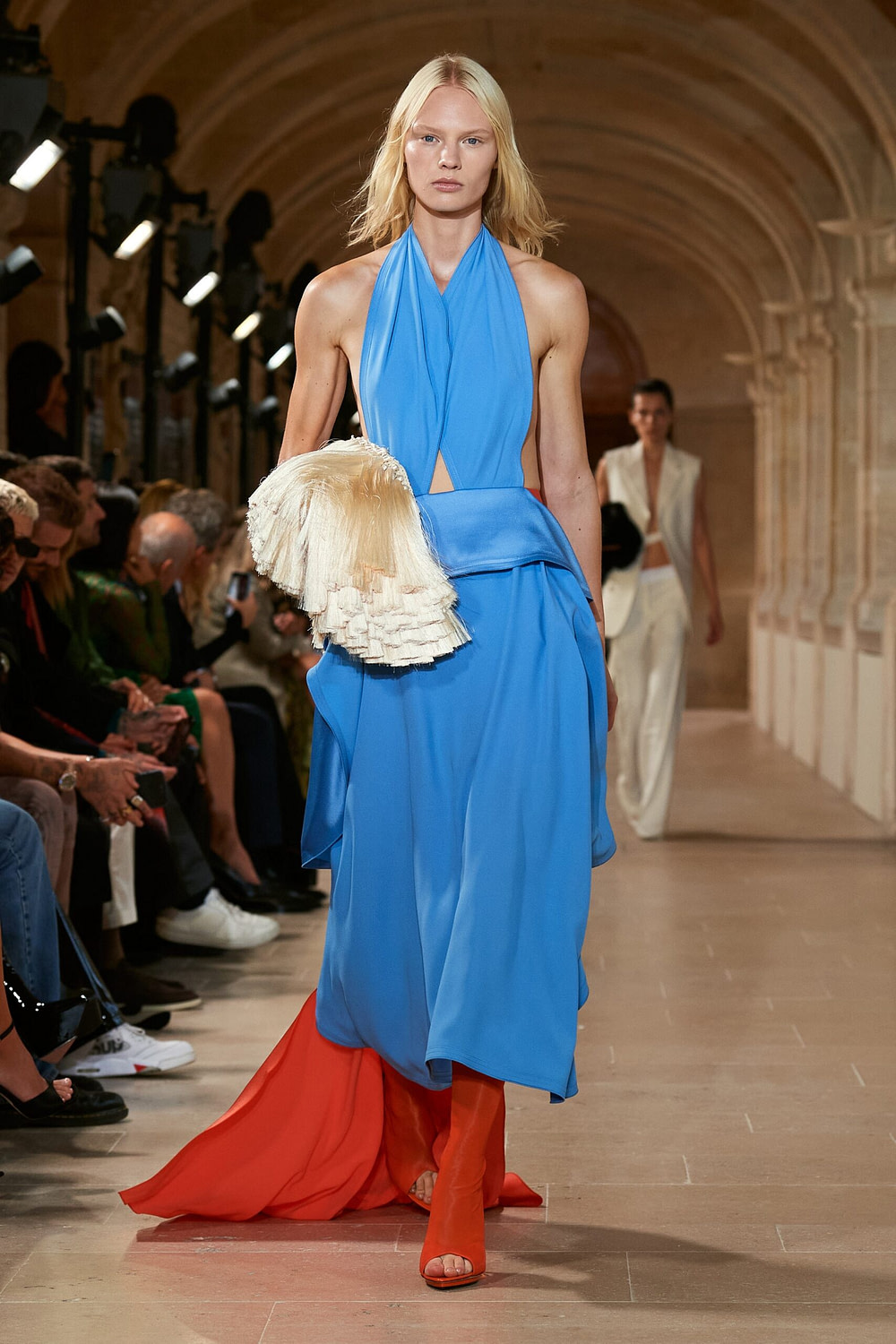 Ralph Lauren uses complementary yellow, purple/blue, and orange colors to create an eclectic, youthful look that combines athletic wear with tailoring: purple and yellow polo shirts over an orange ball gown. Here the color block is created by juxtaposing three different hues to create a contrasting and unusual mix.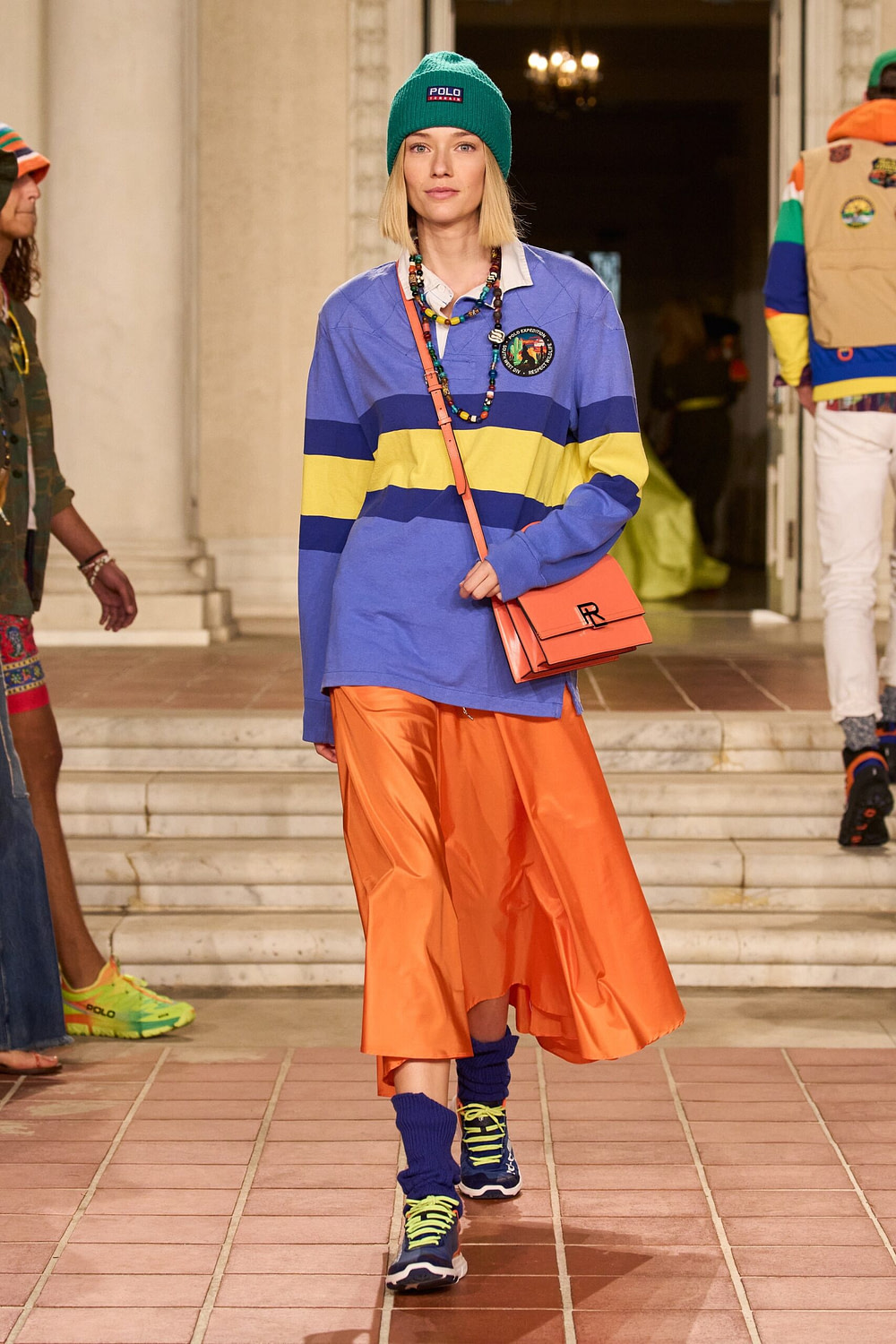 Aliette combines pink with green, proposing a pink top with a wide green skirt.
This combination is reminiscent of nature: a bouquet of buttercups or a water lily. Pink is warm, delicate, feminine and elegant while green with its sparkling and lively tone makes it cooler and more casual.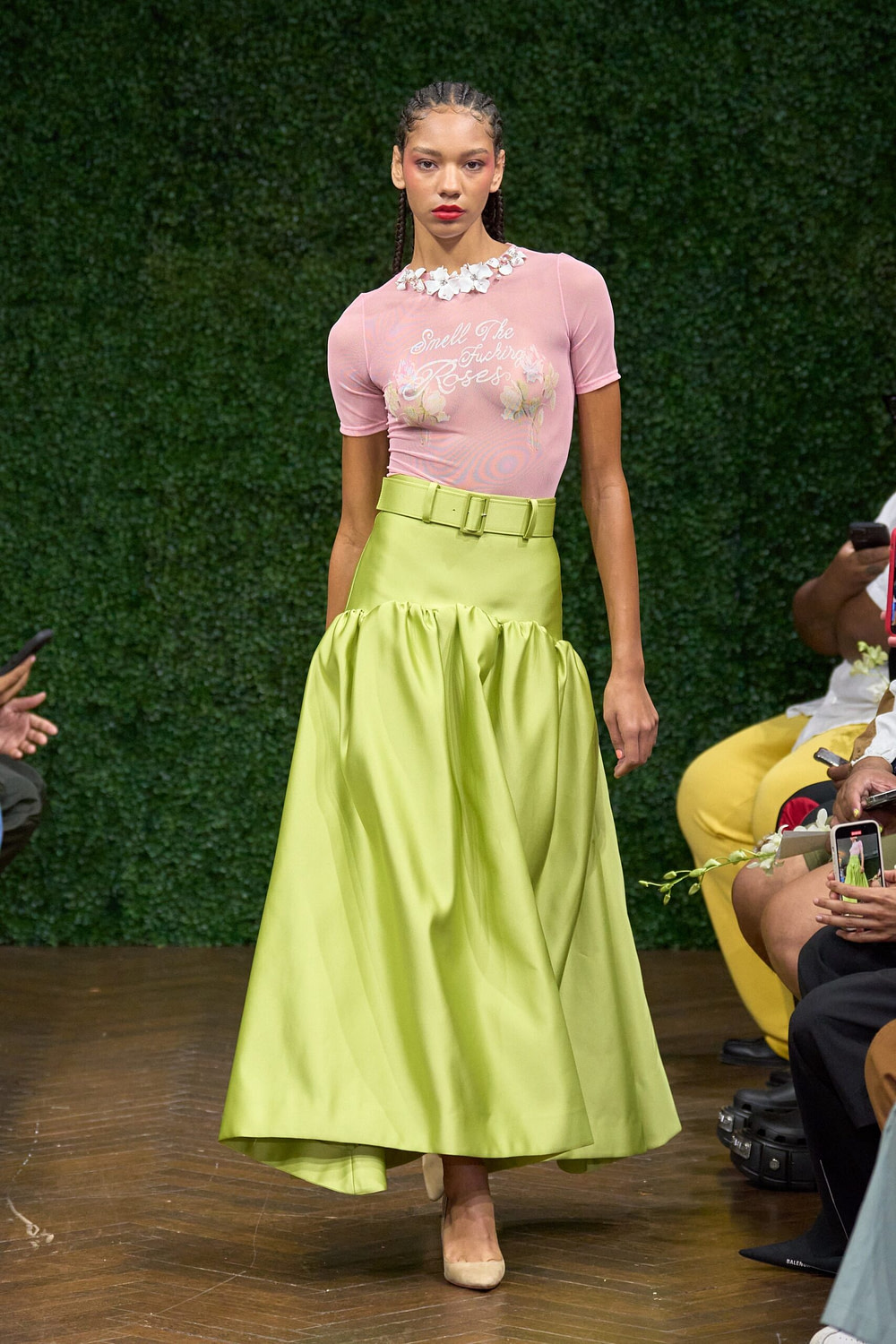 Sergio Hudson in the spring-summer 2023 collection presented bold looks played on complementary colors and striking color combinations, including a yellow and fuchsia layered trench coat paired with a geranium pink over-the-knee dress.