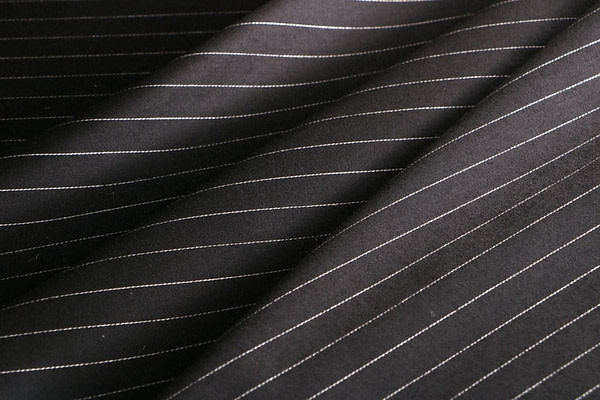 Pinstripe Fabrics
Step into the world of refined sophistication with our fine woolen pinstripe fabrics, designed to elevate your wardrobe with timeless style.
Read more
Register to view prices, place an order or request free samples
Login / Register
Whether you're envisioning jackets, dresses, skirts, or trousers, our premium quality woolen pinstripe fabrics are designed to elevate your wardrobe with timeless style.
Classic Pinstripes: A Symbol of Timeless Elegance
Pinstripes have long been synonymous with sartorial elegance, and our woolen pinstripe fabrics pay homage to this classic pattern. The fine lines create a subtle yet powerful visual impact, making it an ideal choice for those who appreciate the art of refined dressing.
Luxurious Wool Comfort: Warmth Meets Style
Indulge in the luxurious comfort of wool. Our fabrics are carefully selected to provide not only impeccable style but also the warmth and coziness that wool is renowned for. From crisp autumn mornings to chilly winter evenings, these fabrics ensure you step out in style without compromising on comfort.
Versatility Redefined: From Office to Evening
The versatility of our woolen pinstripe fabrics knows no bounds. Tailor them into sharp jackets for boardroom meetings, sophisticated dresses for evenings out, or chic skirts and trousers for a polished everyday look. These fabrics effortlessly transition from professional settings to social occasions, allowing you to make a seamless style statement wherever you go.
Meticulous Craftsmanship: Detailing Matters
At new tess, we take pride in the meticulous craftsmanship that goes into every inch of our fabrics. The precision of the pinstripe pattern is a testament to our commitment to delivering textiles that not only meet but exceed your expectations. Experience the difference that attention to detail makes in your finished garments.
Timeless Appeal, Modern Aesthetic
While pinstripes carry a timeless appeal, our collection is curated with a modern aesthetic in mind. The interplay of classic patterns with contemporary design elements ensures that your creations are both timeless and on-trend, making a statement in any era.