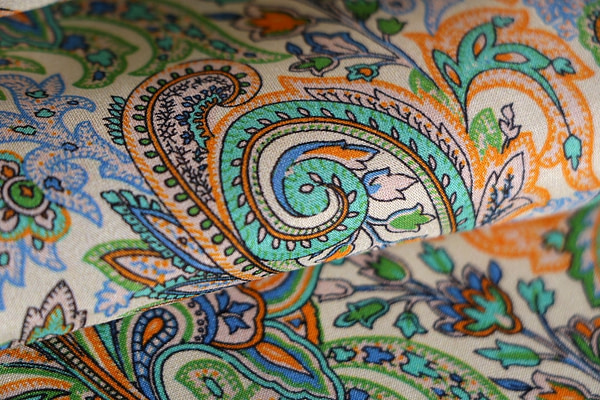 Paisley patterned fabrics
Register to view prices, place an order or request free samples
Login / Register
Discover our selection of fabrics with decorative Paisley pattern, also known as Cashmere pattern.
The Paisley pattern, widely recognized for its timeless elegance, is an ornamental design of Persian origin that has captured the imagination of the fashion and textile design world for generations. This pattern is characterized by a teardrop or curving leaf-shaped motif with an elongated center and decorative curls that expand outward.
When people talk about Paisley they are actually referring to the better known cashmere pattern print. Instead, the name Paisley comes from the Scottish town that made the production of textiles, and especially shawls decorated with these ancient motifs of Persian and Indian origin, its economic center.
This is how Indian and Persian culture met Victorian-era Anglo-Saxon taste, giving rise to a new ethnic motif, born from the right mix of exotic elements and classical rigor British style version.
The Paisley pattern is known for its versatility, as it can be used in a wide range of colors and sizes to create unique visual effects. This ornamental design, often associated with a sense of luxury and sophistication, we see it on dresses, skirts, bandanas, and accessories.