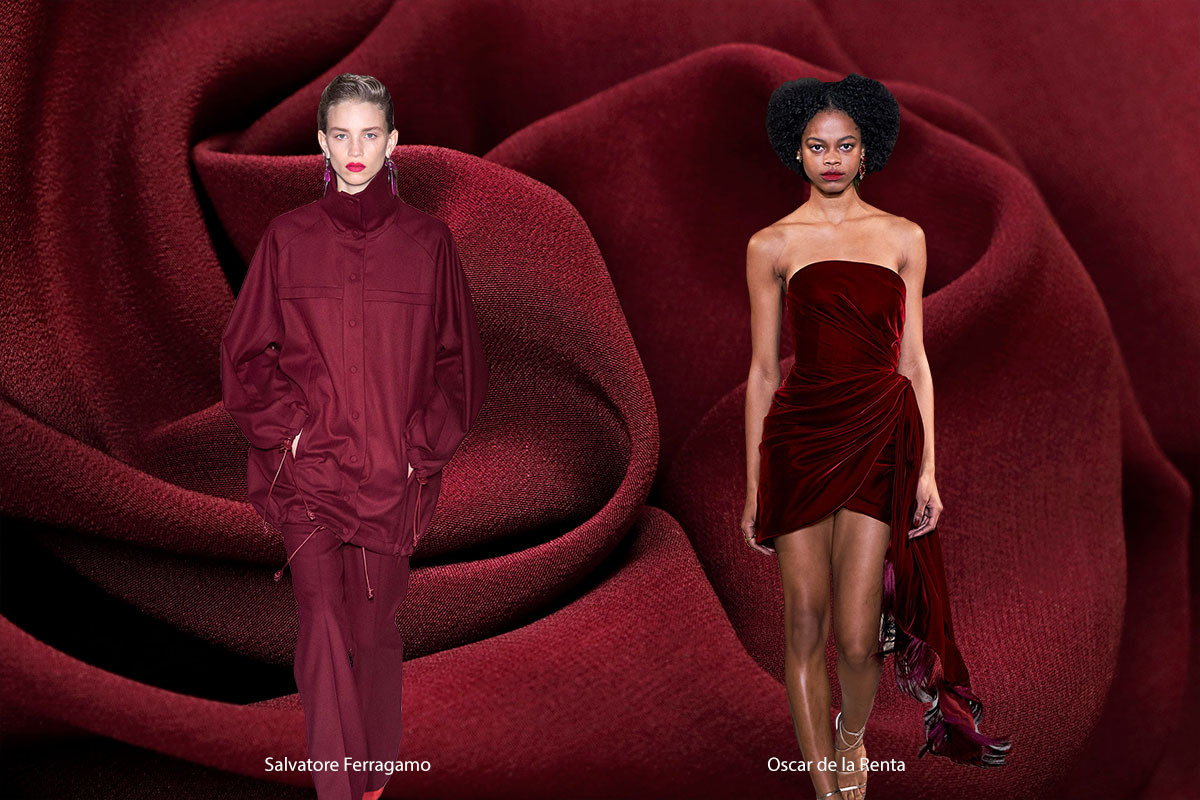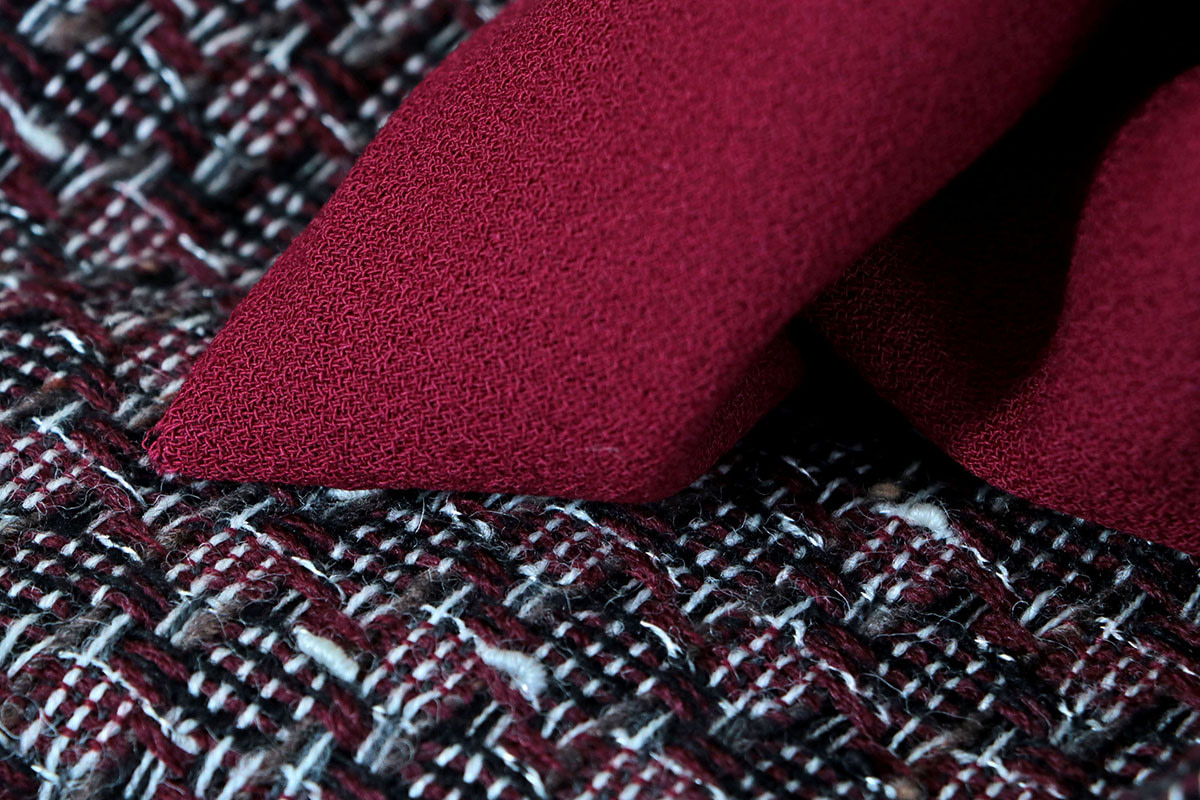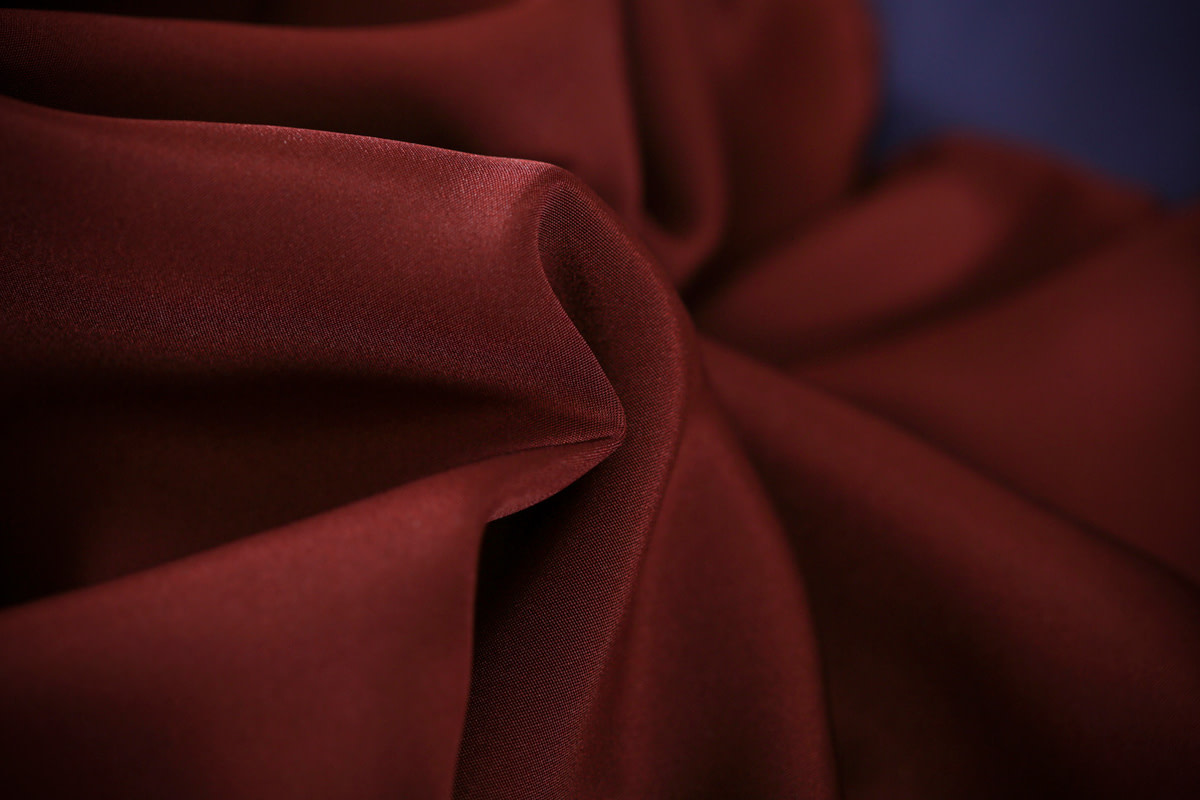 Fall / Winter 2019-2020 Colour Trends: Biking Red
Seductive, captivating, with a gritty appearance and a refined soul, biking red is a deep ruby red with a hint of purple and brown, perfectly in tune with the colours of the autumn season.
Warm and enveloping, this nuance takes its name from the wine and the nuances from the best bottles of red.
---
Biking Red triumphs in the fall 2019 runway colours
This deep shade of red has been a hit on the runways of the Autumn-Winter 2019/2020 season, colouring evening dresses, mannish suits and tunics, in satin or velvet.
At Oscar de la Renta, the shade was used for gorgeous evening gowns, as well as trousers, long jackets and light coats.
Tom Ford proposed a deep, red and monochromatic garçonne look: a red velvet blazer, maroon bodysuit, exquisitely androgynous shiny silk cuffed suit trousers and velvet peep-toe platforms.
Stella McCartney has chosen a red fabric with eco-leather inserts to create wide and light monochrome dresses with loose belts for an original style with soft lines.
Salvatore Ferragamo used the biking red to propose elegant but reserved outfits: sportswear in Japanese technical wool capable of transmitting a natural and spontaneous luxury.
Richard Malone presented numerous outfits that combine biking red with warmer shades of burgundy or bright red, including his classic suits with a masculine cut: trousers paired with jackets with a mannish style and a retro flavour for formal but extremely chic women.
At the Gran Palais in Paris, Chanel presented the Autumn-Winter 2019/2020 collection "Chanel in the Snow", offering warm and enveloping garments, including a double-breasted coat with large pockets and red processing.
Elie Saab gave us a lot of beautiful total look in biking red, gritty and glamorous. From high-necked midi dresses with tone-on-tone high boots, to bold evening dresses playing with transparencies and sequins.
Zimmermann has instead chosen a more purplish shade, creating a bohemian style dress.
---
Make your stylish outfit with our premium quality Italian fabrics for dressmaking
new tess offers a wide range of fine biking red fabrics in silk, wool or polyester, available in the Bordeaux, Rubino (ruby) and Burgundy shades.
Let yourself be inspired by the looks of the fashion shows and buy online the fabric that best reflects your style.
In order to choose the most suitable colour and fabric for your sewing project, you can order our free Sample Sets (available only for plain fabrics in continuous supply).